Are you prepared to say a permanent goodbye to your Snapchat account? The reason could be whether you're concerned about privacy, looking to reduce screen time, taking a break from social media, or just want a fresh start. Closing/removing your Snapchat account is a pretty easy process.
This guide will discuss the procedure of deleting your Snapchat account using a mobile phone (Android or iOS) or a desktop.
Before You Begin
Before jumping right into the process, you should be aware that this is an irreversible act! Furthermore, you should also consider these essential points:
Backup Important Data – Deleting your Snapchat account means losing all your Snaps, Stories, chats, and friends. If you want to save any important snaps or memories from your account, be sure to back them up.
Account Password – To delete your Snapchat account, you will require your account's password. In case you don't remember it, firstly ensure to reset your password by utilizing the "Forget Password" feature.
30-day Deactivation Period – Once you delete your Snapchat account, it will deactivate it for 30 days. Throughout this time, you can prevent the deletion by logging into your account and reactivating it. After the passage of 30 days, your account will undergo permanent removal, and there will be no possibility of its recovery.
Now, we are all set to dive into the procedure of deleting your Snapchat account.
How to Delete a Snapchat Account on a Phone
Open Snapchat and press the "Profile" icon located on the left side of your screen, this will open your profile, then press the settings gear icon displayed on the top-right position.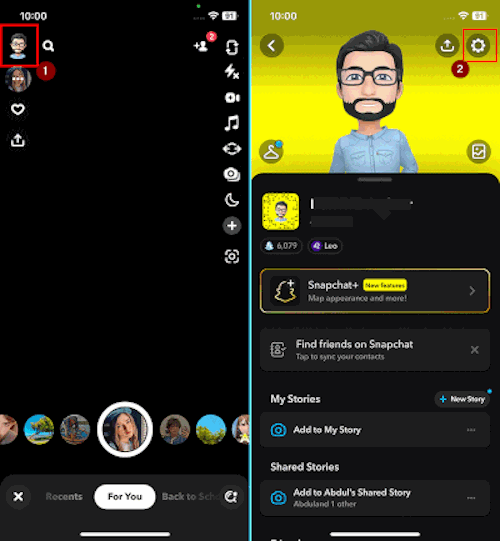 In the settings, scroll down to the "ACCOUNT ACTIONS" section and click on the "Delete Account" option. After choosing this option, the login screen will appear. Here, provide your Snapchat account email or username and click the "Next" button.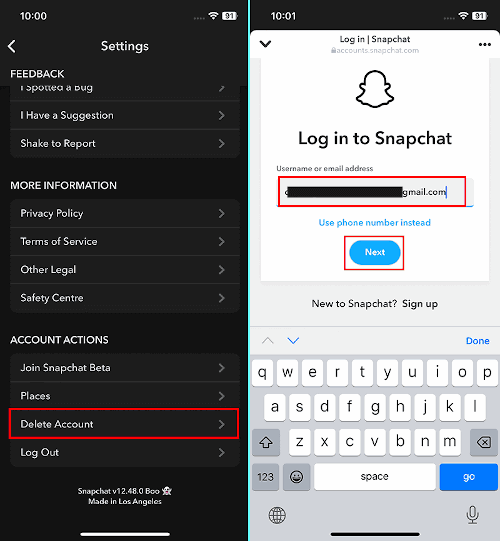 Afterwards, you will be prompted to enter your Snapchat account's password. Snapchat will send an OTP to your phone number or email for security verification. Enter the provided OTP code and proceed further.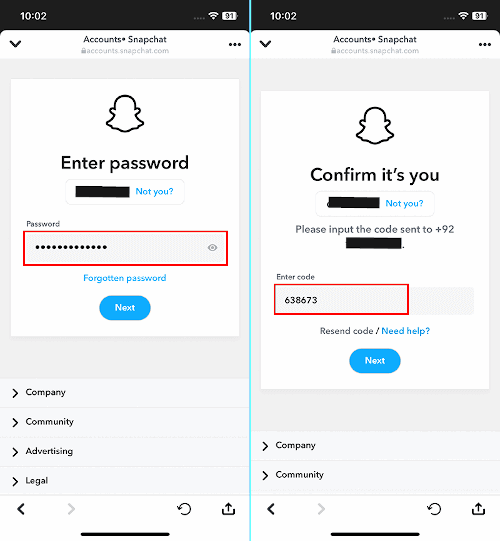 Next, you will encounter the "Delete account" screen, as shown below. This screen contains the goodbye policy and explains the deactivation and deletion policy. It also prompts you to provide your account's username and password to confirm account removal. Finally, you will see the "Account Deactivated" screen.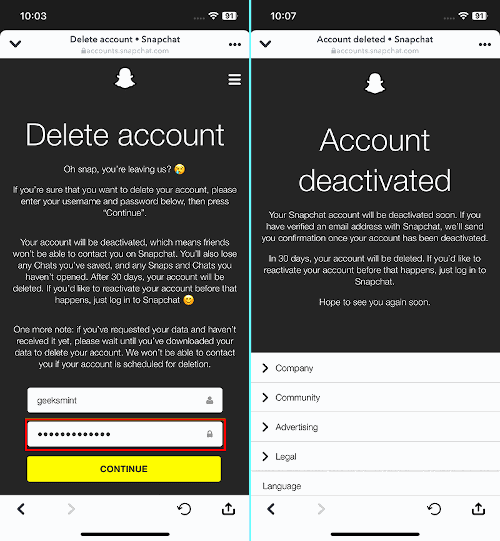 That's all! Your account will be inactive for 30 days before it's gone for good. But If you use the iOS app to delete your account, you'll get an extra 30-day grace period before it's permanently removed.
Note: You can log in with your username and password during the tenure of this 30-day deactivation, in case of a change of mind. If you log in, the deletion process request will be discarded.
However, if you don't have access to your phone and want to delete your account, you can still delete your account using the desktop (web application of Snapchat).
How to Delete a Snapchat Account on a Desktop
Open any of your favorite web browsers and simply head to Snapchat's official login web page. Here, enter your account's username or email and click on the "Next" button.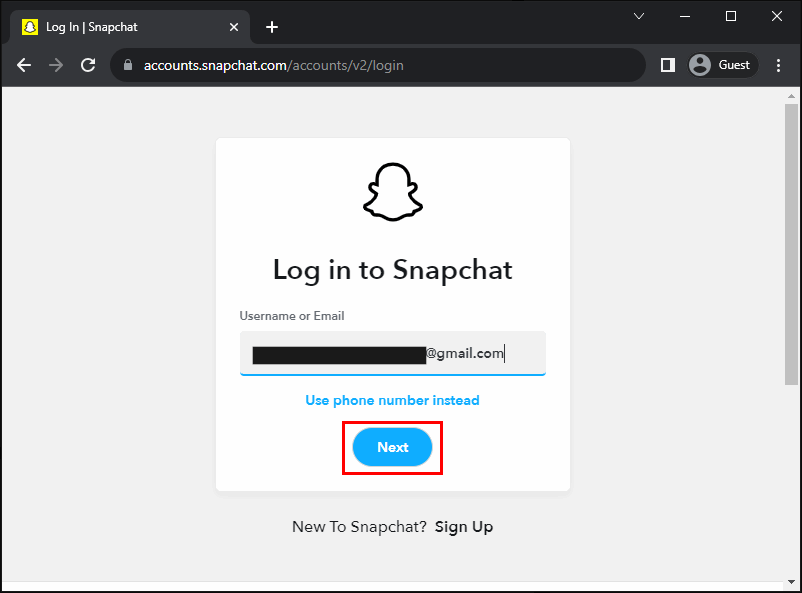 Next, it will prompt for the password. Provide your account's password and proceed further.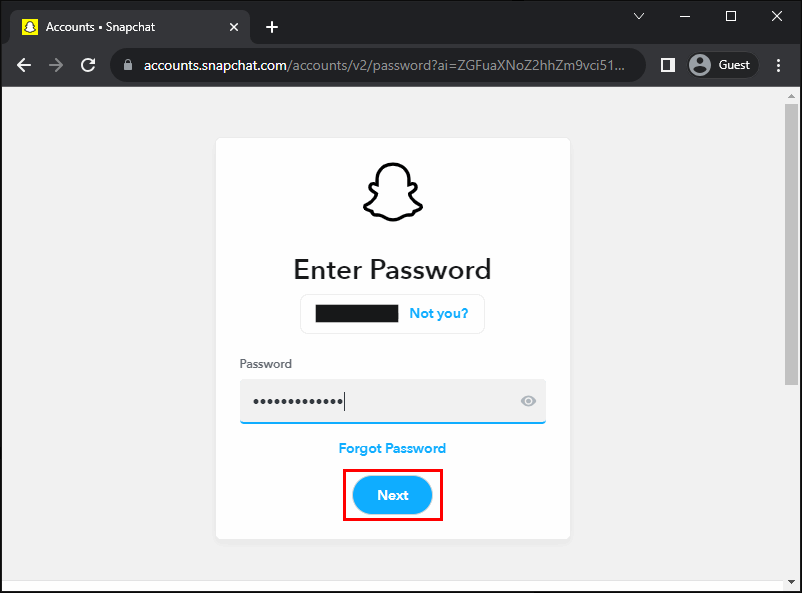 After successfully logging into your account, you will get a welcome screen containing multiple options. Simply choose the "Delete my account" option.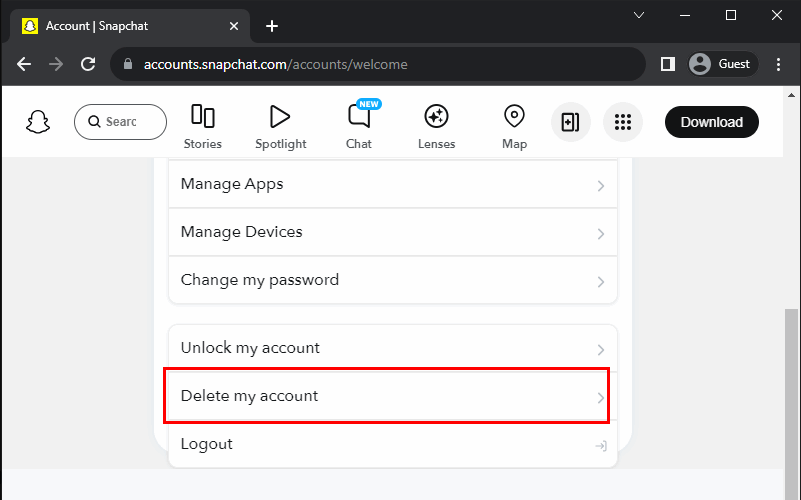 Moving further, Snapchat will display the account deletion policy along with the fields to enter your username and password for confirming the deletion. After entering your Snapchat account's credentials, press the "Continue" button.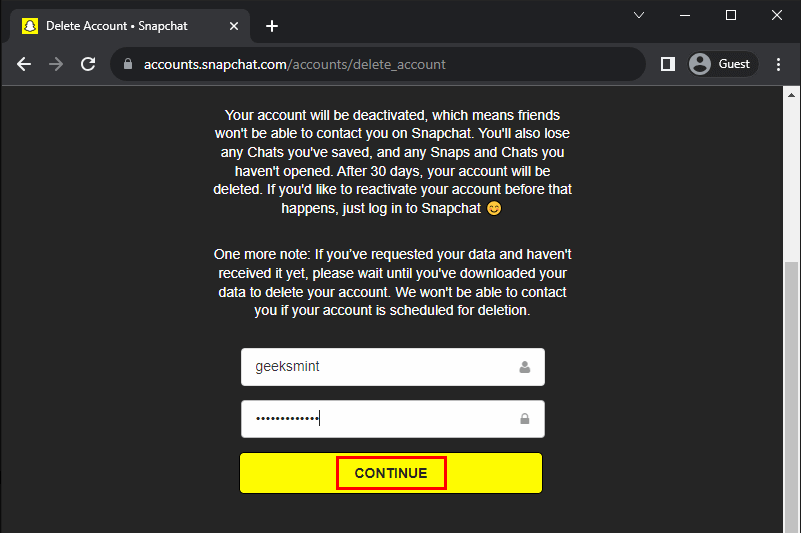 Your deletion request has been successfully submitted, and your account will remain inactive for 30 days before being permanently deleted.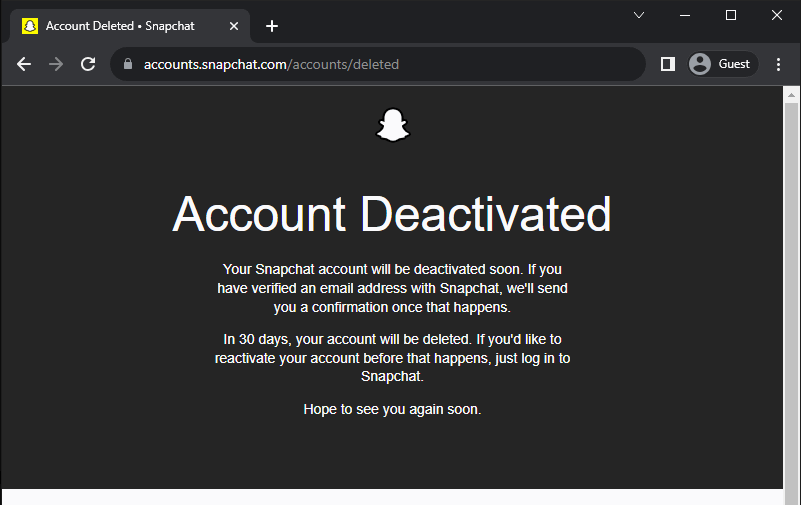 Alternative Solution: If you don't want to permanently delete your account but only wish to deactivate it temporarily, consider choosing "Deactivation" for your Snapchat account instead of deletion.
How Can I Delete My Snapchat Account Instantly?
If you're curious whether you can delete/remove your Snapchat account without waiting for 30 days, the answer is that Snapchat does not currently offer this feature.
However, during these 30 days, no one can send you messages or search for your account. This is effectively equivalent to deletion until you change your mind and attempt to log back into your account.
Can I Get My Deleted Snapchat Account Back?
No, you cannot access the deleted account or any data associated with that account once it is completely deleted (after the deactivation period).
What Data Does Snapchat Keep After Deleting Account?
After deleting your Snapchat account, Snapchat retains some information about the user for legal, security, and business purposes. Moreover, it also secures the data related to purchases you made using this account.
Conclusion
If you are thinking of getting rid of your Snapchat account for any reason, you will be happy to know that our above guide offers a simple yet comprehensive method for deleting your account forever, irrespective of whether you use your desktop or phone.
I hope you find this blog helpful. If you have any suggestions for future topics, feel free to leave a comment below as your feedback is valuable to us!