fman, is a smart console-driven, an alternative file manager with an eye candy UI, a swift performance, a responsive app window, and support for extensibility using plugins. Its modern design and speedy operation have arguably earned it the right to be referred to as a "present day file manager for power users".
Like common file mangers, e.g. Nautilus and Dolphin, you can use fman to browse directories, perform CRUD (Create, Read, Update, Delete) operations on files, mount external drives, e.t.c.
Because fman is console-driven, it replaces the option to navigate its interface and interact with it functions via clicks with numerous command options you can enter into its pop-up command palette.
Open the command palette by pressing Ctrl + Shift + P and move between directories by pressing Ctrl + P.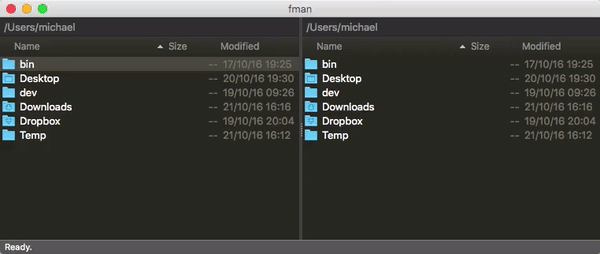 Features in fman File Manager
Beautiful UI – a nice color theme and icon set that are easy on the eyes in both sunny and dark light environments.
Cross-Platform – available for Ubuntu, Arch Linux, Windows, and Mac.
Customizable Keyboard Shortcuts – feel free to edit fman's keyboard shortcuts to working preferences.
Multiple Directory Panels – display the contents of two directories at once by setting them side-by-side.
Free to Evaluate – fman is free for a while when you would have been using it regularly for which you would have to buy a license.
Easy Navigation – easy-to-navigate panels and panel controls.
Plugin Support – boost your customized productivity with plugins you write yourself or ones made freely available by others in the community.
Reliability – fman has been in active development since its launch in 2016, so be rest assured it wouldn't become an unmaintained platform.
GoTo on Steroids – search quicker and more reliably thanks to fman's ability to remember your latest and most used files and directories.
After you must have "evaluated" fman for a while, you would have the option to use the key to auto-complete file paths and directory names.
Keyboard shortcuts
By default, the main file operations are invoked via the function keys:
F4: Edit (with a text editor)
Shift+F4: Create and edit
F5: Copy
F6: Move
Shift + F6: Rename
F7: New directory
F8: Delete
F9: Open terminal in current directory
F10: Open native file manager (Explorer/Finder)
F11: Copy path(s) to clipboard
The following are also frequently useful:
Ctrl/Cmd + P: Go to directory
Alt/Cmd + F1/F2: List drives / volumes
Ctrl/Cmd + .: Toggle hidden files
Ctrl + Left: Open in left pane
Ctrl + Right: Open in right pane
Alt/Cmd + Left/Right: Go back/forward
Ctrl/Cmd + D: Deselect (clear the selection)
Remember, that fman is free to evaluate but ultimately a paid, since you would have to purchase a license if you intend on using it regularly.
[mks_button size="medium" title="Download fman File Manager for Linux" style="squared" url="https://fman.io/download" target="_blank" rel="nofollow" bg_color="#3d7911″ txt_color="#fff" icon="fa-download" icon_type="fa" nofollow="1″]
Its license costs $14 with the main updates offered on a membership-based model beginning at $12/year. You can purchase a license here and get early access to updates and priority when it comes to feature requests.
Do you think fman is deserving of your cash? There sure are alternatives you can use if you don't have the means. In the meantime, feel free to try it out and give your feedback on the title in the comments section below.