Building an online presence is crucial to grow your reach and stay ahead of the competition in today's digital age.
Naturally, the next task on your 'to-do' list would be to create compelling content for your site. You are going on the right track. However, your website's success depends on more than just its design and content.
Ensuring your site is up and running 100% of the time is equally important. After all, a website that's down is like a closed shop in the digital world.
But in reality, even the best websites may experience occasional downtime or slow loading speed due to various factors such as software bugs, server issues, or cyberattacks.
A study has revealed that 40% of visitors leave a website if it takes more than three seconds to load.
According to a survey, 82% of visitors agree that slow page speeds impact their purchasing decisions.
Customer satisfaction can go down by 16% if there is even a one-second delay. This can harm your business and result in revenue loss.
That's where website uptime monitoring services come into play. The word 'uptime monitoring' refers to the amount of time your website is operational and available to visitors. There are lots of online services out there which can help you to monitor your site's uptime.
In this blog, we will list the top 12 online services to monitor site uptime so you can make an informed decision.
1. Host Tracker
Host-Tracker is intended for site admins who want to monitor key metrics like page errors, database connection problems, and network issues. You can get instant alerts about your site and share them with as many contacts as possible. The platform also checks to see if your domain/IP is black-listed.
With Host-tracker, you cannot monitor real users. This is not a problem if your goal is to focus on the server's resources, but for websites that deal with many users, like e-commerce/online stores, RUM (real user monitoring) will be essential for providing the best experience possible.
The platform offers value for your money. You can get the basic plan at $9.9/month and eventually purchase the enterprise plan for $75/month if you find Host-tracker valuable.
Key features of Host-Tracker:
Availability checks
Easy-to-use dashboard
Content Monitoring
Alerts from Email, SMS, Slack, Facebook, and voice calls.
API monitoring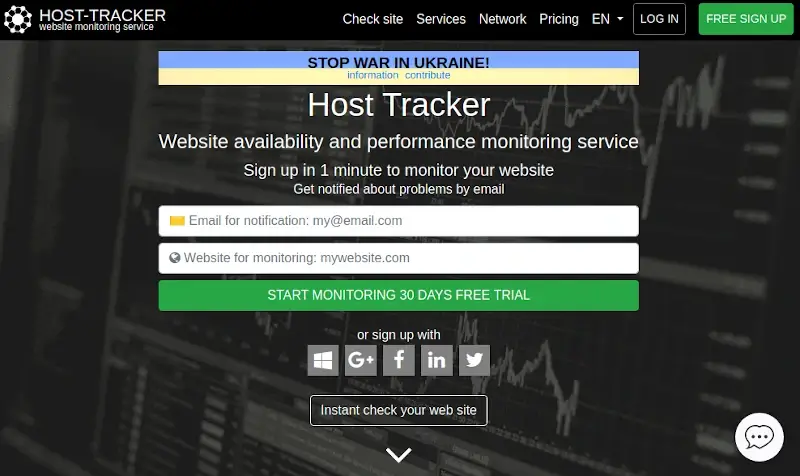 2. Site24x7
Site24x7 was created by Zoho, a leading SaaS organization in the business growth and productivity space.
It is a one-stop shop for website, server, and application monitoring and comes with advanced features like synthetic and real user monitoring (RUM). If there is any disruption on your site, the platform sends real-time alerts via emails/SMS and integrations with third-party services like PagerDuty and Zapier.
You should note that the platform is designed for professional teams and support departments responsible for DevOps and IT Operations. Thus, best suited if you have a tech team.
Site24x7 only has paid plans, with the cheapest starting from $9/month. It also offers a 30-day free trial period. You can give this platform a shot and decide on whether it works for you.
Key features of Site24x7:
DNS Server Monitoring
Website Defacement Monitoring
Multi-support environment
Monitors the health and availability of the entire server stack.
AWS Monitoring (50+ Cloud Services)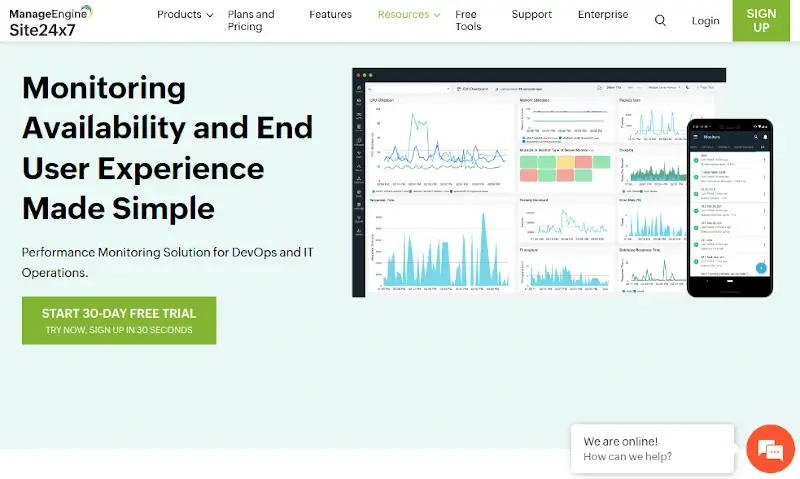 3. Uptrends
Uptrends monitor sites, servers, APIs, and more with customizable checks from 223 machines spread around the globe to identify downtime and latency.
The platform is equipped with some of the great free instruments like website speed tests, SLA and uptime calculators, IPv6 ping tests, and many more. Your sites are checked between 1 to 60 minutes intervals to ensure you are always at peak performance.
It offers an intuitive dashboard with a single view of site status, performance metrics, and historical reports. On top of that, you can customize the dashboard the way you want and export the data in PDF or Excel format.
The starter plan for Uptrends is a bit more expensive than Site24x7 and lacks some of the more popular features, such as maintenance modes or multi-browser monitoring.
The pricing ranges from $17.5/month to $250.09/month. However, like many other tools on the list, Uptrends offers a 30-day free trial.
Key features of Uptrends:
Intuitive dashboard
Real User Monitoring (RUM)
Network inspection and monitoring
Location-based performance metrics
Agent-based internal server monitoring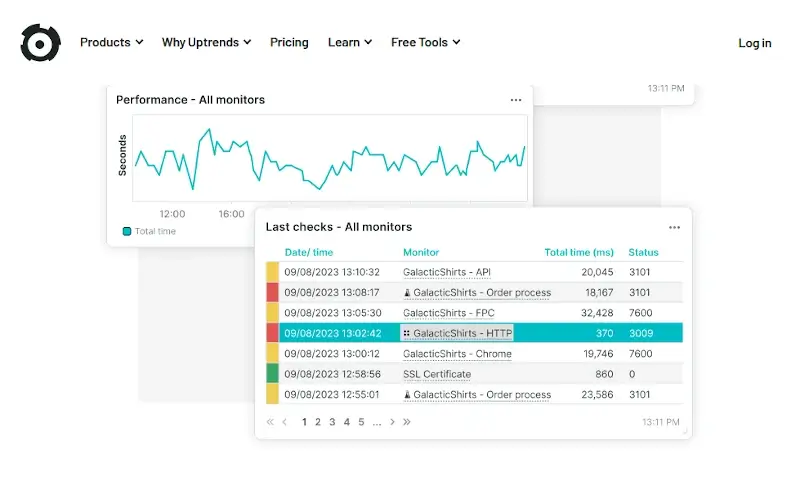 4. Pingdom
Pingdom is a widely recognized uptime monitoring service that provides real-time alerts and detailed reports on your website's performance.
With its user-friendly interface and extensive network of monitoring servers worldwide, Pingdom is a great choice for businesses of all sizes. Although Pingdom is known for its robust uptime monitoring services, the platform offers actionable insights into transaction performance and user experience.
Over the years, Pingdom has established itself as a leader in uptime monitoring services. It is not a coincidence that big names like Spotify, Pinterest, Facebook, Twitter, and MailChimp put their trust in Pingdom.
The tool will promptly alert you whenever a service or resource goes down. However, sometimes there are inconsistencies with the platform as occasionally it can send false positive alerts to the users.
Let's discuss the pricing. You can get the basic plan for $10/month, which offers up to 10 uptime monitors and 1 advanced monitor with tests from their 100 + locations. Higher-tier plans offer more sites, checks, metrics, and integrations.
They also offer a 30-day test trial where you can experience everything the platform offers.
Key features of Pingdom:
Instant alerting system
Allows you to test performance while in development.
Troubleshoot issues in production
Customizable KPIs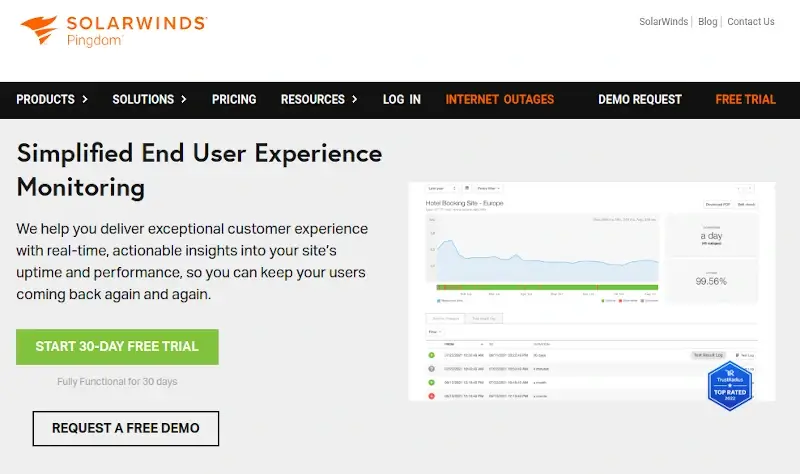 5. Statuscake
If you don't want all those fancy features that previous platforms offer, Statuscake is the one for you. The platform primarily focuses on monitoring, providing only core functionality for tracking website errors and server downtime. For server monitoring, users can get instant alerts on custom RAM, CPU, and disk usage thresholds.
This is not much, but it suits solopreneurs and young entrepreneurs perfectly. Another good thing about StatusCake is that they offer a free plan, unlike others in the list who only offer free trials.
If you want additional features, you simply update to their Superior plan for $20.41/month or Business plan for $66.66/month.
Key features of Statuscake:
Automated availability testing
Root Cause Analysis
Domain monitoring
SSL monitoring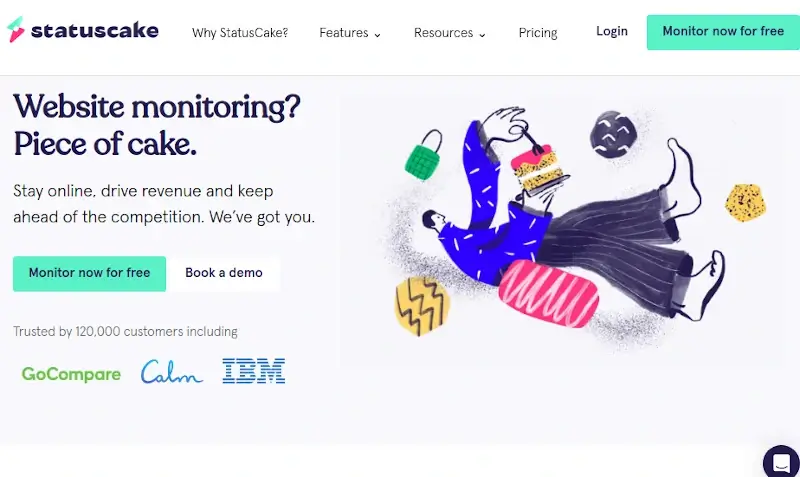 6. Smartbear
Smartbear is another platform offering a comprehensive product suite to businesses that wish to monitor almost every aspect of their website.
The platform has more than 350 testing nodes around the world. Besides website monitoring, Smartbear can also run a check-up on your mobile applications, API status, and database health.
It is worth noting that Smartbear does not have a real user monitoring product. So, if you want that feature, you'll have to look for another platform.
The pricing plan is only available on request.
Key features of Smartbear:
Eliminate testing blind spots
Quicker regression testing
Distributed tracing for developers
Seamless integrations with third-party services.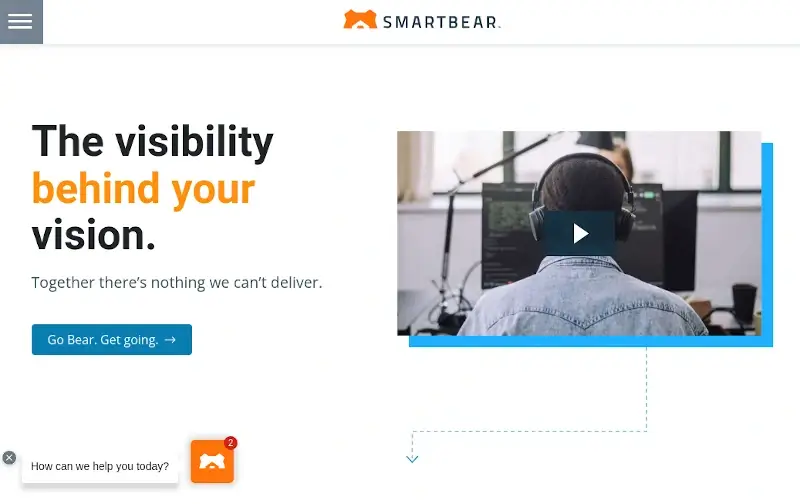 7. Pulsetic
Whether you are starting or a unicorn, Pulsetic can cater to your every unique requirement regarding site monitoring. The platform is user-friendly and intuitive; you do not need a tech specialist on your team to monitor your site Pulsetic.
Pulsetic's free plan has all the necessary features to monitor a website. Even the premium plans are pocket-friendly, starting at $9/month, so you can level up your game whenever you are ready.
Key features of Pulsetic:
Keyword monitoring
Detailed regional information
Shareable dashboards and alerts
Advance add-ons on request
8. Calibreapp
With Calibreapp, you can deliver a seamless experience to your users irrespective of location or connection speed. It enables you to automate testing and understand the impact of third-party code on your systems.
The platform generates automated insights reports and saves a lot of work that would be spent building traditional reports out of dashboards.
Pricing-wise, it is expensive if compared to most of the platforms in this list. You can get the basic plan for $75/month, which allows you to run 5,000 tests per month for one team. This pricing can go up to $1500/month for 50,000 tests per month and unlimited teams.
If you are interested in giving this tool a shot, you can try their 15-day free trial and test drive all they have to offer.
Key features of Calibreapp:
Testing for the public as well as password-protected sites.
Core Web Vitals support
Third-party tracking
Pages Leaderboard
Command line interface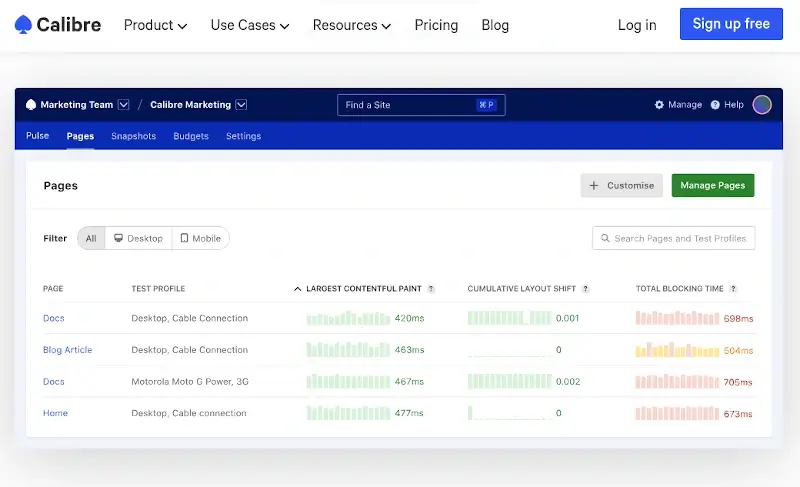 9. Server Density
While not focused solely on uptime, Server Density delivers great value for monitoring full tech stacks. It monitors servers, websites, applications, and networks with customizable checks to scale your site without any hindrance.
The service has one of the best APIs for creating dashboards and configuring alerts using code. This sounds like the platform is for tech-savvy users. However, Server Density has done an excellent job of ensuring that it can be efficiently leveraged by non-tech savvy users as well.
Unfortunately, the platform doesn't have a free plan. You can, however, get hands-on experience of Server Density's capability with its 14-day free trial. The pricing is reasonable, ranging from $10/month to $250/month.
Key features of Server Density:
Docker, Kubernetes, and container cluster monitoring.
Automated alert management
Cross-platform monitoring
Secure content delivery network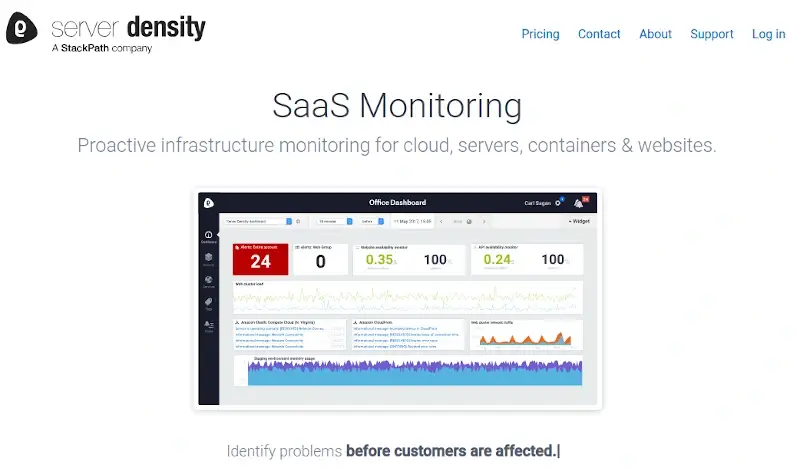 10. UptimeRobot
UptimeRobot is one of the most popular uptime monitors, allowing you to track up to 50 sites for free indefinitely. It monitors sites for HTTP and ping response and notifies you through email or SMS if a site goes down.
One of the major drawbacks of the platform is its lack of features like speed insights. However, 2 years of log storage and 1-minute checking intervals for the paid plan are great bonuses.
The free plan offers 50 monitors and 5 alert contacts. With paid plans, you can unlock more features like custom checks and SSL monitoring. Pricing for paid plans ranges from $7/month to $54/month, making UptimeRobot ideal for basic monitoring on a budget.
Key features of UptimeRobot:
Domain expiration monitoring
Cron job monitoring
Port monitoring
Ping monitoring
Maintenance windows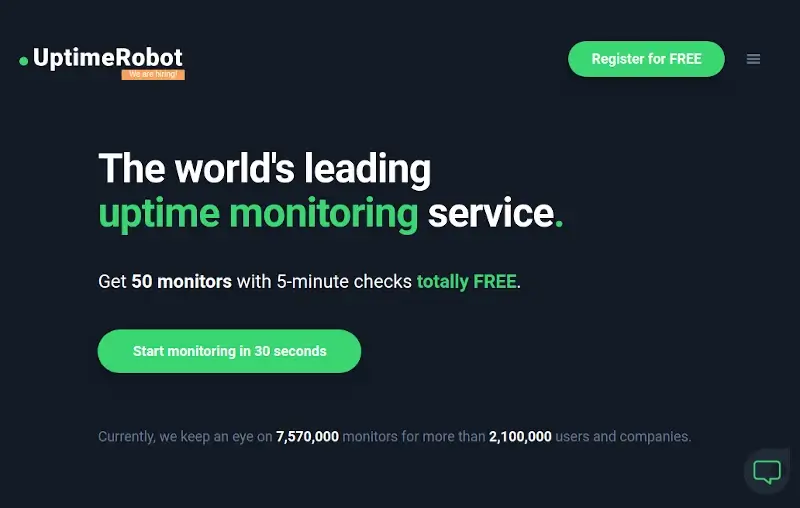 11. Dotcom-Monitor
Dotcom-Monitor offers real browser monitoring, allowing you to simulate user interactions and test your website's functionality.
With the increasing importance of mobile optimization, the platform also offers mobile monitoring to ensure your site functions seamlessly across multiple devices. You can conduct load tests to understand how your website performs under heavy traffic conditions.
Dotcom-Monitor offers a 30-day free trial, allowing ample time to explore its abilities. Even the paid plans are cost-effective, ranging from $19.99/month to $79.99/month.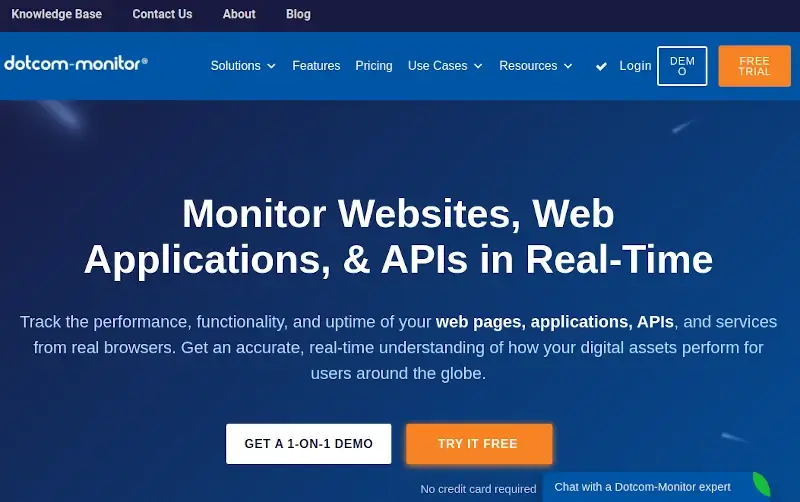 12. Hyperping
Another site uptime monitor worth mentioning is Hyperping, an up-and-coming website and API monitoring tool designed with a user-centric approach. It aims to make monitoring your online services as simple and efficient as possible.
Hyperping offers competitive pricing plans starting from $14/month, making it an excellent choice for startups and small to medium-sized businesses looking for a modern and user-friendly monitoring solution. They also have a free plan that comes with 5 monitors.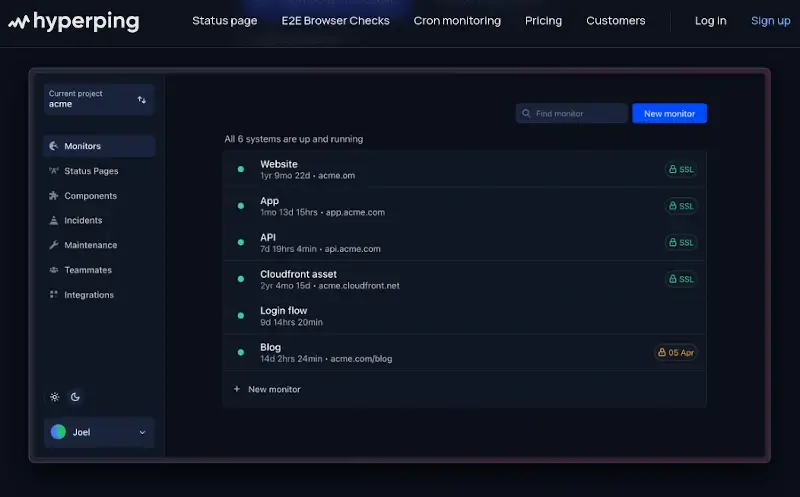 Conclusion
There you have it. These were the top 12 online services to monitor site uptime. Monitoring your website's uptime is vital to maintain your online presence and keep your customers happy.
With the wide range of website uptime monitoring services available, you can find the perfect fit for your business, regardless of its size or complexity.
Choose wisely to ensure your website stays up and running smoothly!