The quality of image and video capture has improved tremendously over the years and the capabilities of our digital devices continue to push the limits of image quality. However, there is a bummer! The high-res images we take do come at the hefty price of an increase in the size of images taken.
For this reason, uploading images on the internet can be painfully slow especially if you're on a network with minimal bandwidth.
While there are varying online services and softwares for other platforms that will effectively convert your image files while still maintaining the original quality, it is rather hard to come by native clients for Linux systems.
XnViewMP – Image Manipulation Tool
XnviewMP is a full-featured cross-platform freeware image manipulation software; albeit not in the league of GIMP and Photoshop, the software does own up to its advertised features and capabilities.
It supports a wide range of image formats, including JPEG, PNG, GIF, TIFF, RAW, and PSD, and has a number of features for image manipulation, such as resizing, cropping, rotating, and adjusting colors.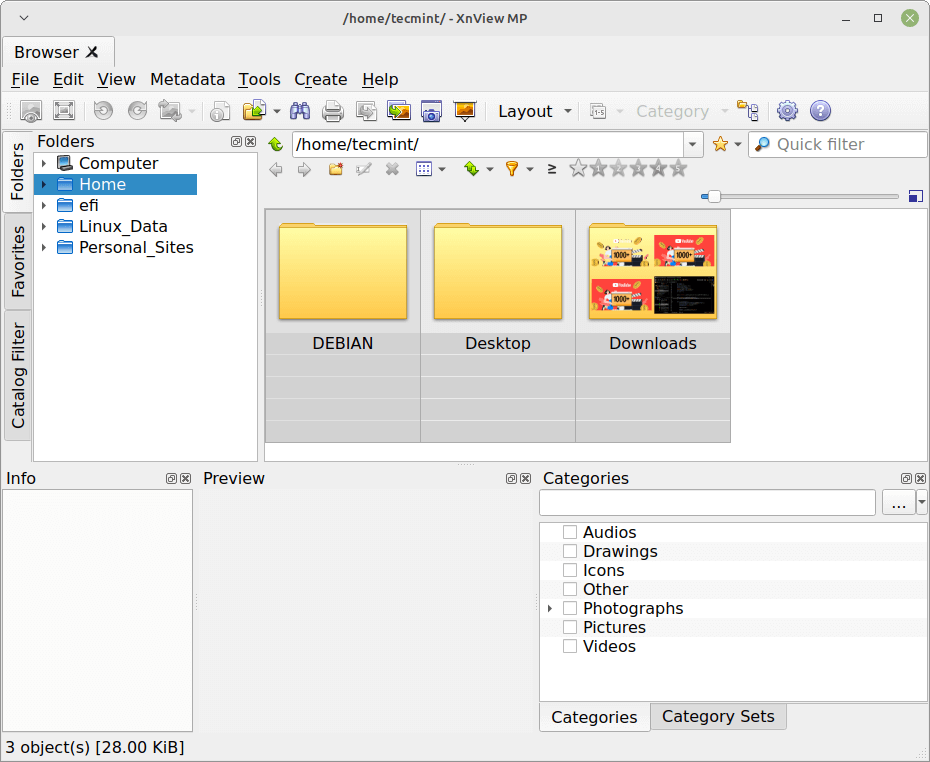 XnViewMP Features
Here are some of the noteworthy features of XnView's Linux client include:
Supports over 500 image formats.
99% of features are available for free.
Multi-platform support (Windows, macOS, and Linux).
A wide range of image manipulation features.
Fast and efficient.
User-friendly interface.
Overall, XnViewMP is a powerful and versatile image manipulation tool that is freeware. It is a good choice for users who need a basic image viewer and editor with a wide range of features.
The free version of XnViewMP includes all of the basic image manipulation features, such as resizing, cropping, rotating, and adjusting colors. However, some more advanced features, such as batch processing and watermarking, are only available in the paid version.
If you are looking for a image viewer and editor with a wide range of features, then XnViewMP is a good option to consider.
It is fast, efficient, and easy to use. However, if you need more powerful image editing features, then you may want to consider using another software.
Alternatively, if you prefer minimalistic, we recommend Trimage or XnConvert (a stripped-down version of XnViewMP) both of which are also quite the functional batch image converters without the bells and whistles XnviewMP ships with, of course.