Zoom is one of the most popular applications for online meetings. Seeing its most significant user spike in 2020 during the COVID-19 lockdown, the communication platform integrates cloud video conferencing, media sharing, and real-time messaging into a simple application.
Zoom has become a go-to software for hosting webinars, creating conference rooms, and organizing online meetings on all platforms including Linux distros.
In today's article, we present you with the quickest guide on how to install the latest version of Zoom on your Ubuntu machine. Not to worry, the same instructions apply to all Debian-based operating systems.
Installing Zoom on Ubuntu
There are two methods to install Zoom via the terminal, or via the GUI. You decide which you prefer.
Using the Terminal
The first step is to launch your terminal and update your system with the following commands:
$ sudo apt update
$ sudo apt upgrade

Thankfully, Zoom is available as a snap package so if you've got snap set up on your machine, just run the next code. This should be the case if you're running the latest Ubuntu version.
$ sudo snap install zoom-client

Now that Zoom is installed, simply run the following command to launch the app. Create a new account or sign in to an existing one and you're good to go.
$ zoom-client

Using the GUI
As you might have already guessed, this method uses the Software Center. From your Activities search bar, locate and launch the Software app.
Search for Zoom and click to install it. Zoom and zoom-client are the same things. Once the installation is complete, just click the launch button to open the app.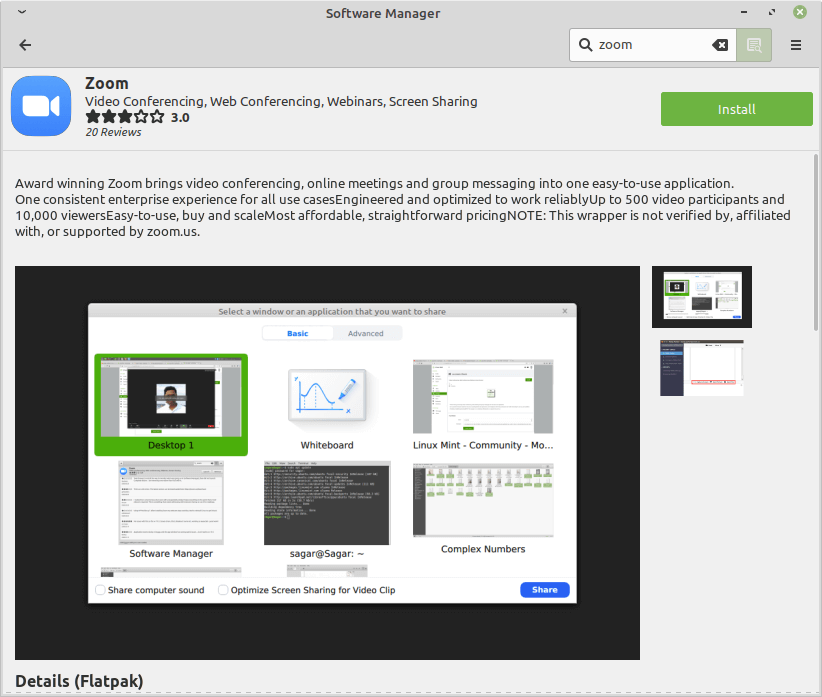 From here on, you can create a new account or log in to an existing one. Zoom is set to go!
Installing Zoom on other Linux distros isn't any more difficult to install on other distros like openSUSE, Fedora, and Arch Linux especially if you use their software manager app.
Uninstalling Zoom in Ubuntu
To uninstall Zoom from Ubuntu via the GUI, simply locate it in your Software Center and remove it. To do so via the terminal, just enter the code below:
$ sudo apt remove zoom

I thought Zoom's usage would sink after news of data breaches but they seem to have bounced back from it and are doing well for themselves. Are you a Zoom customer or do you fancy using an alternative VoIP app? Drop your comments in the section below.