The age of Web3 has ushered in an era of the next evolution in web-related services. Many have gone down the blockchain route considering the proliferation of services exclusive to that space but only a few have been able to keep transitioning in mind like Internxt.
From Web 1 to Web 2 and now Web3, there's always a different take on the whole idea of internet privacy and that includes the ability to store your files securely in the cloud without ever worrying about any security breach.
Internxt is a service platform that has been around for a while with a focus on storage. Internxt boasts a trustless protocol together with other nifty features including encryption by default.
For a platform that has only been around since 2020, Internxt already boasts a respectable user base – thereabout a million and counting – and over thirty awards and mentions.
Since Internxt is private by design with origins in Valencia, Spain, European Union, it has GDPR compliance by default as well. Together with an open-source stack for both server and client, Internxt takes a radical but much-needed decentralized approach to storing your files on its network.
Furthermore, the encryption mechanism isn't just client-side but end to end with an encrypted data shard responsible for the consolidation of your files whenever you need to
access it.
As at the time of this writing, Internxt is officially offering two products: Drive and Photos both of which are arguably intertwined. With a token economy in the mind, Internxt is promising more with its upcoming send product.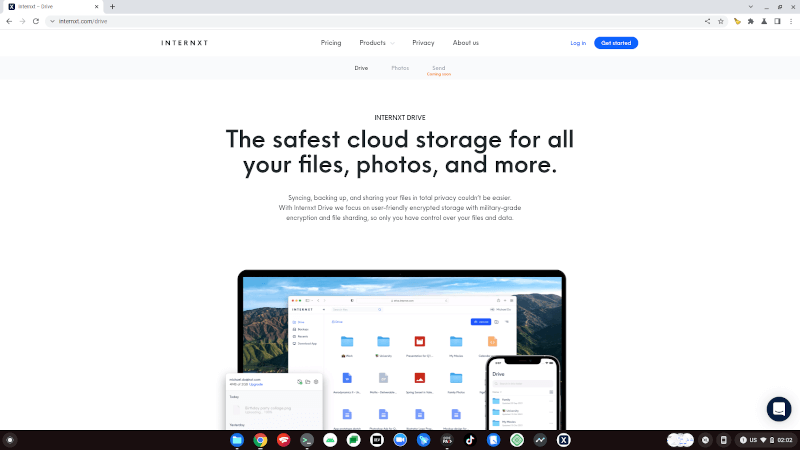 Zero-knowledge Encryption by Default
With military-grade AES-256 encryption, Internxt is directly challenging the status quo by facing off with the cloud storage giants you're already familiar with.
As a platform that advertises privacy, Internxt has gone far and wide to ensure that there's zero tolerance for any form of unauthorized file manipulation.
Trustless Protocol
With end-to-end encryption baked in, internxt doesn't need you to trust them, the technology itself is completely certified to work without the need for any third party's intervention.
The system ensures that in the process of storing or transferring data, encryptions are applied by default thereby ensuring that when the said file is accessed by a third party, they will not be able to decrypt it without your explicit authorization.
For what it's worth, neither Internxt nor any governmental agency can request any form of decryption or handover of your data. Your files, photos, and pretty much everything remains encrypted and impossible to access without your prior permission.
To further enhance the security of the architecture, you're only allowed one password which you'll need to remember in order to access your files. Additionally, Internxt supports 2FA which should be a critical component in your arsenal of security tools.
Web3 Oriented
With decentralization baked in by default, Internxt is looking the capitalized on the new age of the so-called Web3. For the uninitiated, Web3 is the next frontier in human connection, collaboration, and interaction via the internet with the benefit of a tokenized economy and privacy features such as that which Internxt is advertising.
A critical standout feature is the advertisement of a token which – for what it's worth – means there's blockchain involved in the deployment of the internxt architecture hereby giving us the ability to pay for our internxt membership with a decent discount attached.
With a traditional Web2 service orientation, we can also enjoy the benefits of decentralization (popularized in Web3).
Installation of Internxt Secure Cloud Storage
Internxt has done well for itself by making its storage system cross-platform from the get-go. This essentially signifies the strategy of the company in terms of customer acquisition and overall vision together with the long-term goal of the company.
Making Internxt cross-platform basically means that there's no question on the interoperability of the platform and future potential, especially considering that the platform is still pretty new.
Installing Internxt is pretty straightforward as the platform currently provides Debian packages for Debian-based systems, together with an Appimage Installer for other systems. This is especially convenient for those using Linux-based operating systems. For those that prefer other operating systems, there are installation packages available as well.
Proceed and download the Internxt package. In this case, we're downloading the Linux Debian package for the program. Essentially, we're able to facilitate a quick install either by using gdebi, or the terminal route using dpkg.
$ sudo apt install gdebi

After installing gdebi, locate the app in your application launcher and proceed to use it to facilitate the installation of your Debian package.
Alternative route using dpkg.
$ sudo dpkg -i internxt-drive_1.6.0_amd64.deb

Once you're done with the install, go to your system app launcher and search for "InternxtDrive". Once opened, proceed to enter your account details or create a new account.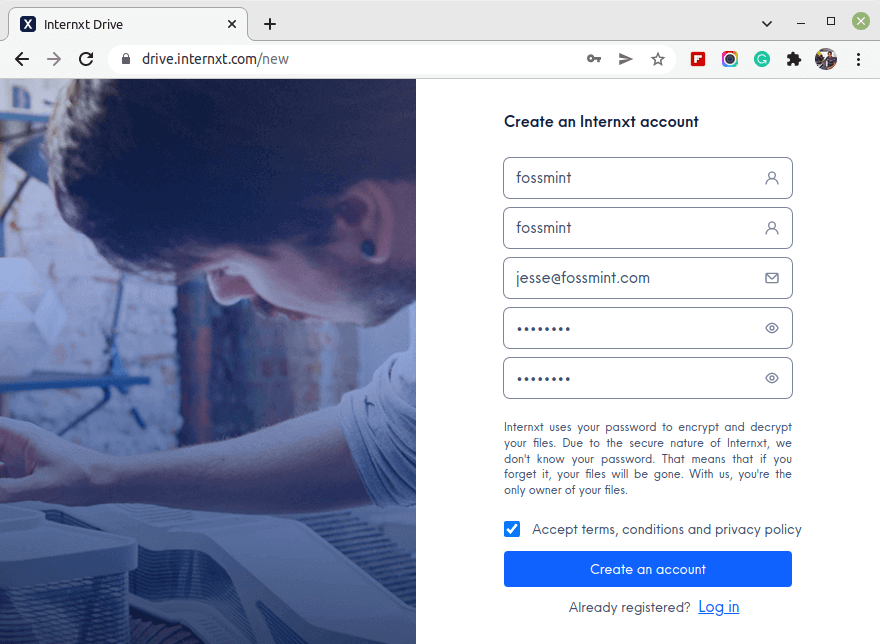 Photos and Drive
With a generous 2GB available with a free account, you can maximize your free account potential by going through a series of challenges that includes you inviting your friends and performing your first uploads using their desktop app.
My brief test with uploaded documents, it's a pretty solid and quick experience. This is especially true across the board as I tried installing their client on my smartphone together with my Windows PC.
Backup and Sync
One of the prominent features Internxt advertises is the ability to backup and synchronize your files across multiple devices. This convenience is particularly delightful considering how new the platform is.
That is, you can already replace your current provider by simply pointing your Internxt desktop app to the previously configured upload directory for your current cloud provider so you can automatically synchronize the files within that directory to your Internxt cloud.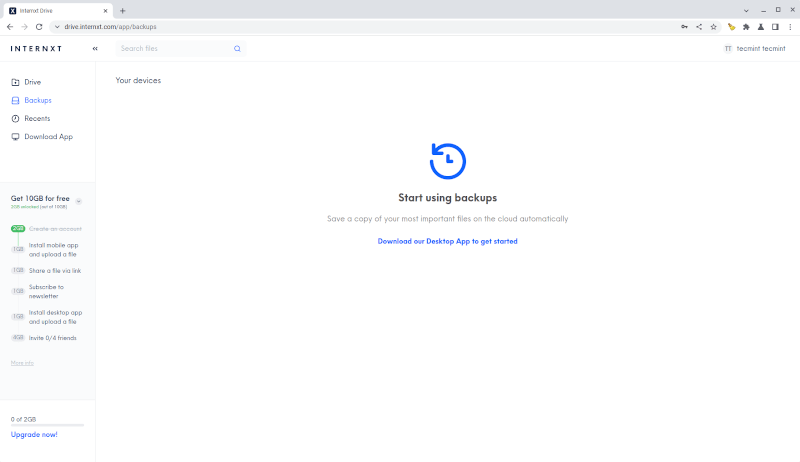 Pricing and Lifetime Deals
With the options of free to individuals and businesses, Internxt has taken the time to optimize their available plans for the market. With a slightly cheaper price when compared to the current industry standard. Internxt is clearly doing a good job in trying to win potential customers from established players like Google and Microsoft.
If you're in the market for reliable and reasonably priced cloud storage, then you can't go wrong with internxt pricing considering they accommodate the different needs of individuals and potential enterprise customers as well. What not to love about the platform?
Even better? Internxt currently has a number of lifetime deals going for the almost unreasonable price of 99 Euros for 1TB, 299 Euros for 5TB, and 499 Euros for 10TB. This is an insane but also incredible deal with a tiny caveat. It's only available for the rest of the month of February 2022 so you'll be wise to jump at the deal.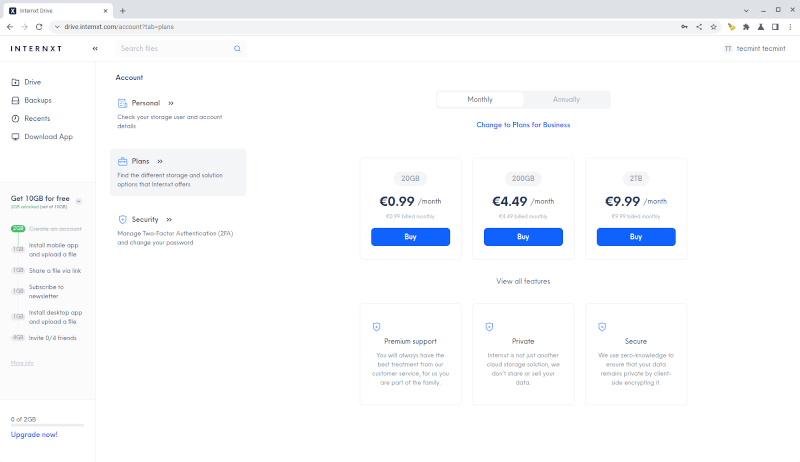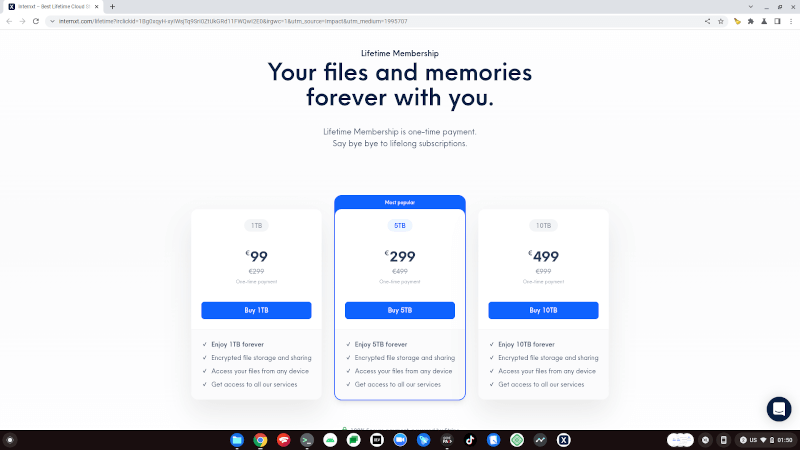 Limitations
As with any great system, there are always a few cons but these are hardly cons if we're being honest. For the most part, we can honestly live with them. So if you're wise, you'll do well to take note of the current limitations of Internxt.
For starters, try not to lose your password because you'll not be able to recover your files if you do.
Internxt is relatively new so if you have concerns over long-term reliability, I'll be sure to just play the role of an observer.
Synchronization requires manual triggers for now but that is bound to change with time. Internxt has promised real-time synchronization together with selective synchronization which essentially means you're able to specify what files get synced across the devices you own.
There's a limit on the size of the file you can download or upload to internxt via the web browser. This limitation does not apply to the desktop app thankfully.
Internxt system update is still a manual affair for now.