MOC (Music On Console) is a Music player app for Linux/Unix Command Line Interface designed to be simple and robust enough to run smoothly without significantly affecting other I/O operations.
MOC performs sleekly despite system or I/O load because, according to the dev team, it
uses the output buffer in a separate thread. It provides gapelss playback because the next file to be played is reached while the current file is playing.
Top Features in MOC
You will be surprised at how efficient MOC music player is as it has:
An inbuilt simple equalizer
A mixer that you can connect to an external mixer
Theme options
Fully Customizable key mapping
Support for Internet streams
Playlist and directory search
Character set conversion using iconv()
JACK, ALSA, SNDIO, and OSS output types
What's New in MOC 2.5.2?
The latest version was released last year November and it came with a lot of performance enhancements, bug fixes, and some new features including:
Complete support for Sndfile formats
DSD format support via FFmpeg/Libav
OSS sound driver 24-bit support
You can check out more about the latest release here.
Using MOC Music Player
For those who not conversant with the CLI MOC, might seem tedious to use but believe me, it is not. Start it up in your terminal using
$ mocp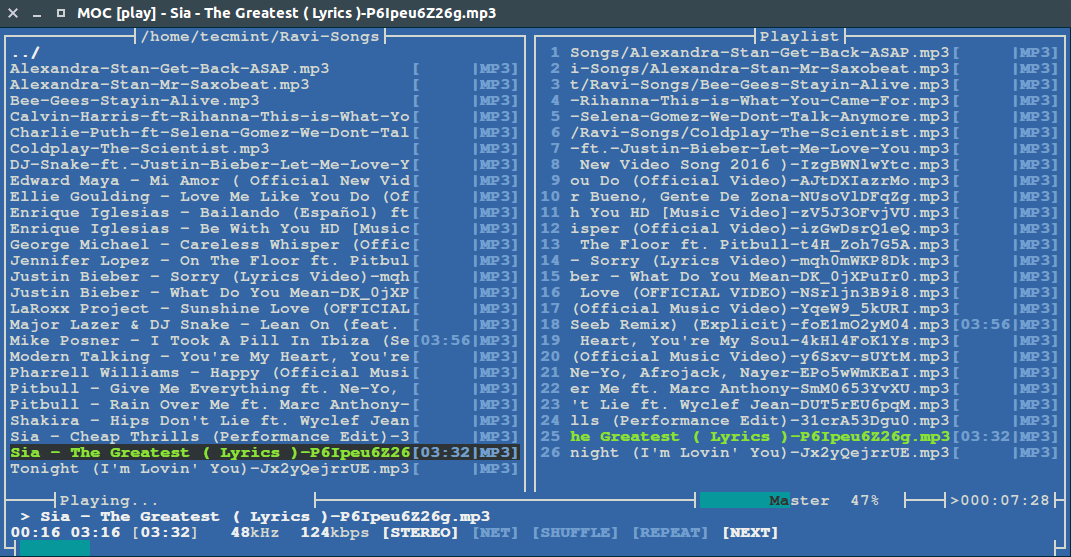 Use your keyboard to navigate to your music directory and hit Enter to begin playing a track. MOC will automatically play all the tracks within that directory so you have no need to create a playlist.
However, you have the option to combine music files from various directories into a single playlist and nd even though your playlists will be automatically stored, you can decide to save them as m3u files and load them whenever you want.
Remember that MOC runs sleekly without interfering with other terminal and I/O operations? Press Q to return to your terminal window without switching off MOC and when you want to return to the MOC interface type in mocp.
MOC's keyboard shortcuts are:
p – plat music
b – previous track
n – next track
q – hide MOC interface
See the complete list of commands by hitting "h" on your keyboard to access the help menu.
Installing MOC Music Player on Linux
Installation is stress-free because its PPA is natively supported and it runs as a plugin. To install via the terminal:
$ sudo apt-get install moc moc-ffmpeg-plugin

If you would prefer to install via .deb package or you're interested in the source code and other formats access them here.
Is this the first time you are hearing about MOC music player? I am considering making it my default music player. How about you give it a try to see for yourself? Don't forget to tell us about your experience in the comments section below.