This post is on an app that brings the power of digital note-taking to PC users across the platform spectrum. If note-taking with a stylus then you would like this one, and in fact, I couldn't have given Notelab (an open source Java-based application,) a better introduction. The team of creatives has done a good job already.
So, to quote:
Using Notelab is just like writing with a pen on real paper… The pen and paper are electronic, you never run out of ink, and you have all the paper you'll ever need".
Notelab treats strokes as individual complex shapes instead of an ink collection on paper, thus you can select "entire words, stretch them, move them, change their color, change their line width, delete them, and bring them back."
Notes are automatically saved as SCG files and this allows you to share your digitally-written notes with all applications that work with SVG formats.
See screenshots of the Notelab.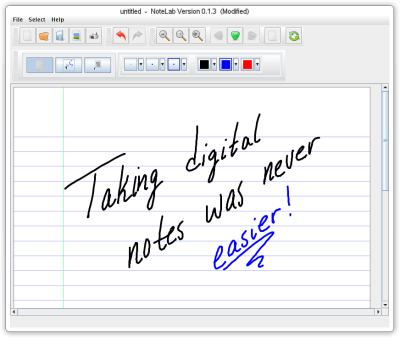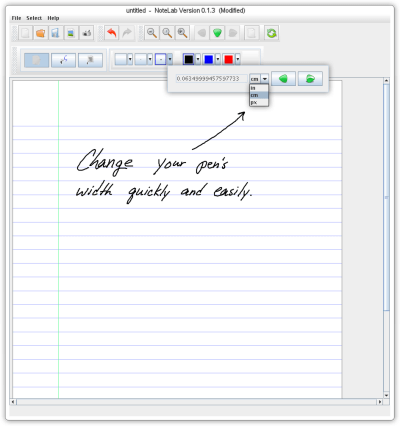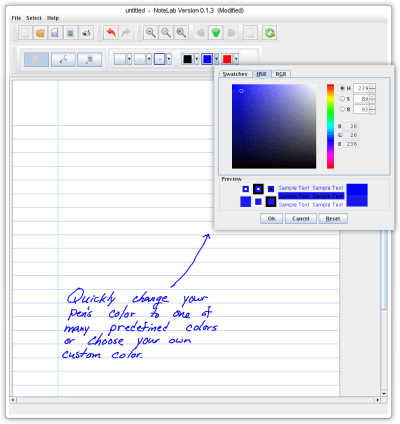 Features in Notelab
Freeware: Notelab is free for everyone to download and use.
Open Source: Contribute to the source code on Source Forge.
Cross-Platform: All Windows, Linux, and Mac users can enjoy the coolness of Notelab.
Saves notes in the SVG standard.
Print your notes.
Export notes to PNG and JPEG.
Customizable with command line switches.
See strokes as you write.
Built to work well with tablets.
Uses a stylus for writing.
Abstracted Rendering: Exported notes look exactly as they display on screen as PNG and JPEG files.
Notelab has a lot more features than I need to mention and the whole package is free of charge. If you'll like to see more details on its features check out its Features Page.
The only software required to run NoteLab is Java, and can be downloaded from java.sun.com and is available for Linux, Windows, and Mac OS X.
[mks_button size="medium" title="Download Notelab" style="squared" url="http://java-notelab.sourceforge.net/downloads.php" target="_blank" rel="nofollow" bg_color="#46698E" txt_color="#fff" icon="fa-download" icon_type="fa" nofollow="1″]
After downloading, run the following command to install NoteLab, which has a graphical installer that will guide you through the installation process.
$ java -jar NoteLab_05-05-2009_04-24-41_v0.2.1beta1.jar

Do we have any Notelab users reading this and what do you like most about the app? If you haven't used it before don't forget to return to share your experience with us in the comments section below.
We're open to suggestions. Perhaps you know about other digital note-taking apps. Feel free to share with us in the comments section below too.