Strimio (formerly Odio) is a beautiful Radio Streaming application. It has an intuitive UI and radio stations filtered by countries, languages, and tags. With the free account, you can play/browse thousands of global live streams. You also get a private library for up to 10 stations with streams automatically synced across your favorite devices.
The main app window is the Home tab which lists radio station suggestions as "Featured". You can filter the listed radio stations by Top Click and Highest Voted.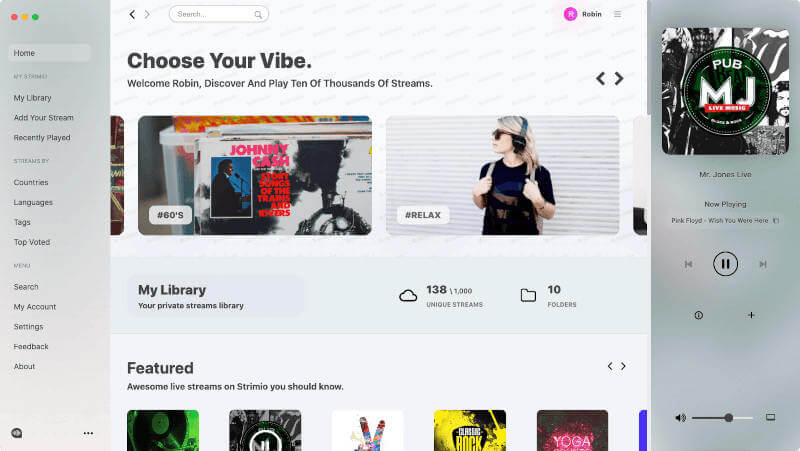 Features in Strimio
Beautiful, clean User Interface.
Free to use.
Proprietary.
Available for on GNU/Linux, macOS, and Windows. Mobile and web coming soon!
Search for stations by country, languages, and tags.
Light and dark theme.
Save stations to the library.
Install Strimio in Linux
Strimio has moved past the "Odio" beta stage and become a full-fledged streaming app. Adapt the theme to your mood using the Light and Dark themes. Play streams on Android TV, Chromecast®, and Sonos® with a single click.
This one is free but it's not open source. That notwithstanding, it's available in the snap store so installation is easy.
[mks_button size="medium" title="Install Strimio from Snapcraft" style="squared" url="https://snapcraft.io/strimio-desktop" target="_blank" bg_color="#529b30″ txt_color="#FFFFFF" icon="fa-download" icon_type="fa" nofollow="1″]
Alternatively, run the following commands on your Linux distribution to install Strimio.
----------- On Debian/Ubuntu ----------- 
$ sudo apt update
$ sudo apt install snapd
$ sudo snap install strimio

----------- On Fedora -----------
$ sudo dnf install snapd
$ sudo snap install strimio

Which app do you use to stream radio channels? And how does it compare to Strimio? Take the app for a test drive and tell us what you think about it in the comments section below.