You must have encountered "Reddit" while using the internet. It's one of the most famous websites after all where there is something for everyone. Claimed as the front page of the internet, Reddit is always flooded with so many questions that could be related to any domain including their further threads.
This discussion platform provides an open forum to all the users to post any query to get all possible answers in return. Now you must be thinking if we already have such a successful website in place then what is the need for its application? Well, that's because of the better user experience as compared to the official website.
Besides, applications are much more handy and easy to use. All you need to do is to install the application and then forget about launching your web browser every time to go to the website.
So if you are a Reddit user and looking forward to some best Reddit apps then this post will surely help you out in deciding which app you should go for!
1. BaconReader
BaconReader is one of the best and well-known applications for Reddit. It comes with a user friendly and material design interface which provides both ease of use and aesthetic appeal to the application. It offers a great range of background themes and colour coded Reddit threads for easy commenting. Besides, its amazing search function and filter option make it better than others.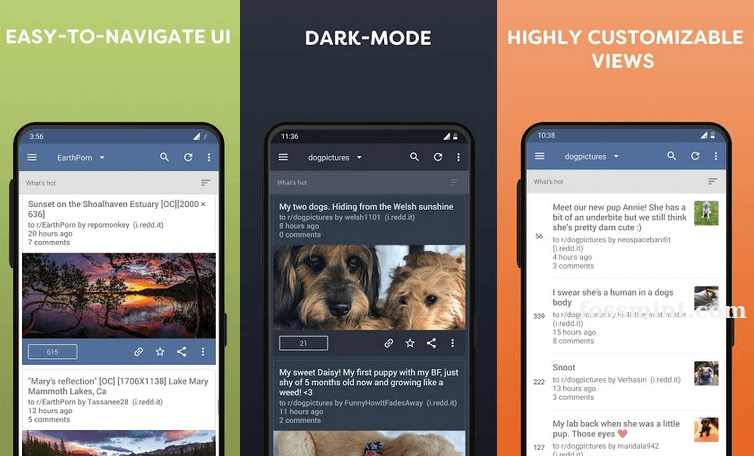 2. Boost for Reddit
Boost for Reddit an another popular Reddit application is equipped with wonderful customisation options. It has eight views to offer which is definitely much more than other applications that have only two to three views to offer. These eight views include a swipe view, three card views and two image-centric views.
The wipe views work best for those who prefer to swipe like on Tinder. Additionally, this application allows you to collapse comment threads back to the parent comment.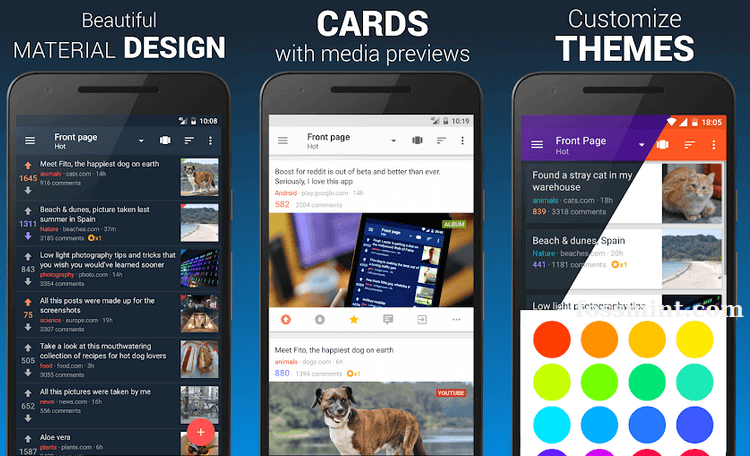 3. Now for Reddit
Now for Reddit is one of the easier apps for Reddit. It is equipped with basic functions such as support for Reddit Gold features, support for different file types and Imgur support. The app now comes with the latest design which lets you swipe for a quick browsing experience so that you can browse through trending and famous subreddits. It's surely a great deal for those who prefer minimal features.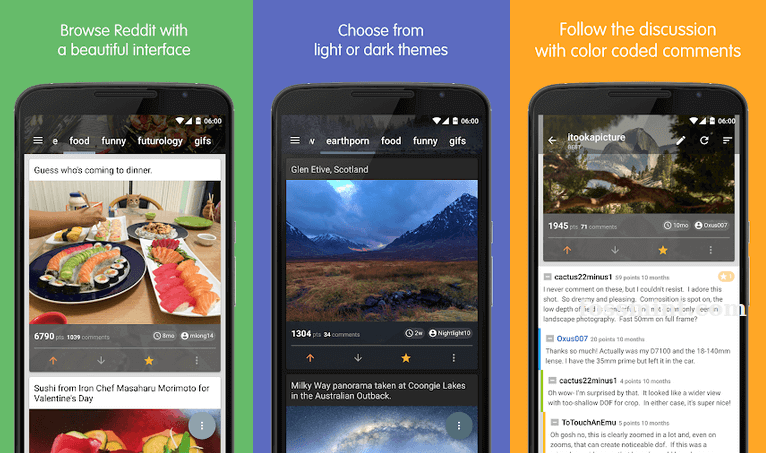 4. Reddit is Fun
Reddit is Fun is yet another popular Reddit app. It houses modern and latest design that provides a great user experience. The app provides support for various files types, theming, moderator tools, the standard set of features and widgets.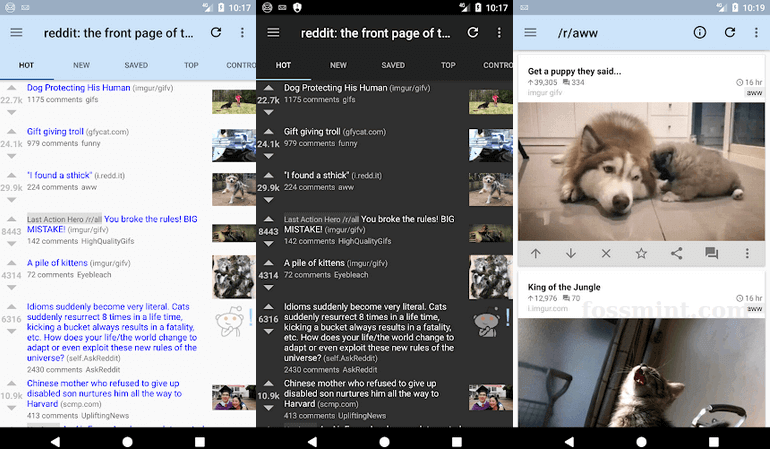 5. RedReader
RedReader is a free of cost app for Reddit is also an open-source which does not include any tracking and advertising.
The app offers support for gifv files, Imgur albums, common file types, night mode theming and multi-account support. All in all, that basic app has all that you need!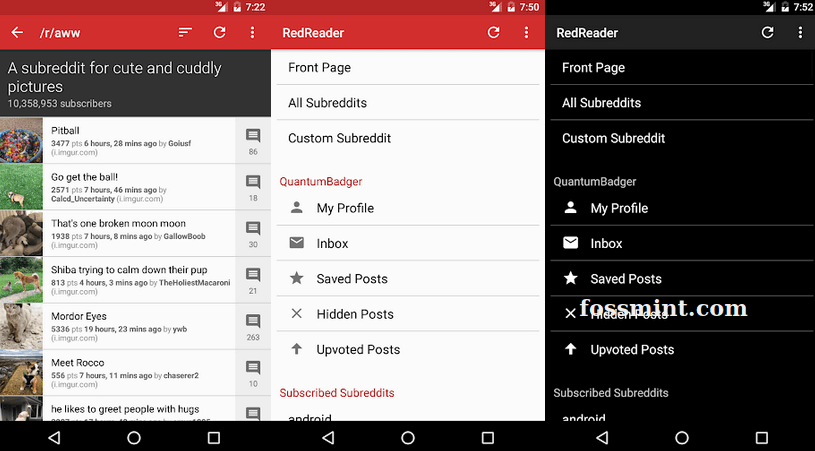 6. Relay for Reddit
Relay for Reddit is a popular Reddit app is gathered with tons of features. The app is very simple and easy to do because of its material design and card-based interface.
It houses so many incredible features like inline media previews, moderator features, subreddit filters, spoiler alert support, multi-account support, and customization features.
The paid version of the app offers all that you need while the free version is also well equipped. Besides, you can choose to get a variety of notifications if you select the option to do so.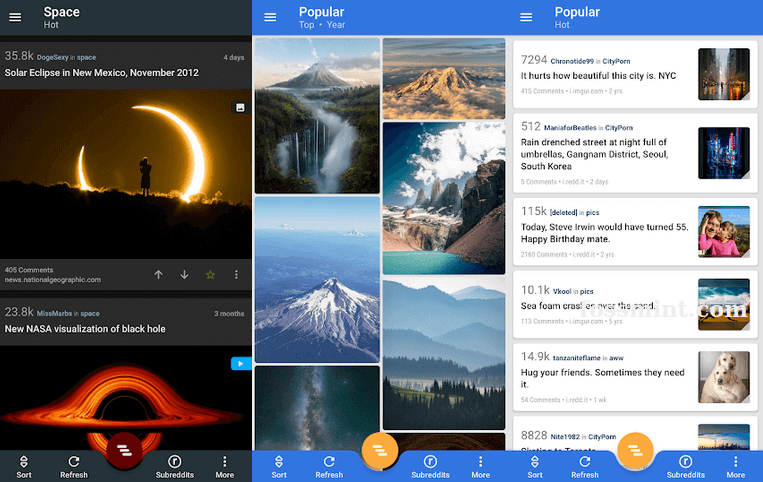 7. Sync for Reddit
Sync for Reddit is a feature-full app which is specifically optimised for the /r/soccer with a material design interface for ease of use. It offers features such as multi-account support, night theme mode, support for Android Nougat and multi-window support which makes it a great app for any kind of user.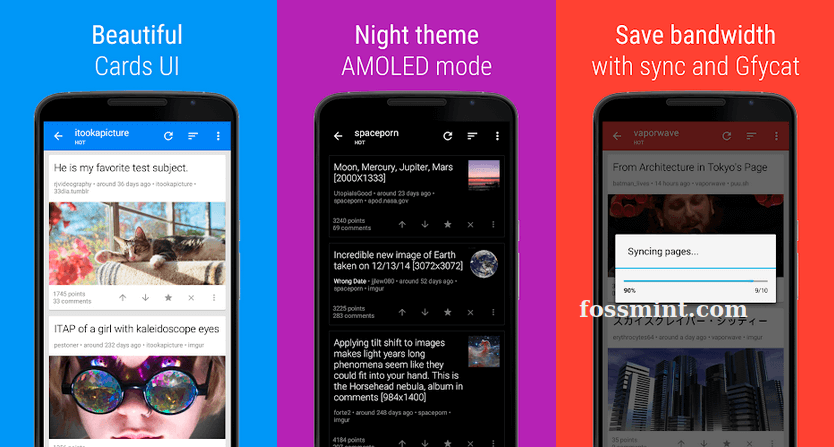 8. Slide for Reddit
Slide for Reddit app for Reddit is full of exceptional features which is the reason why this app is good for all sorts of users. It allows live thread support, Shadowbox support and Synccit integration including the option for the pro version.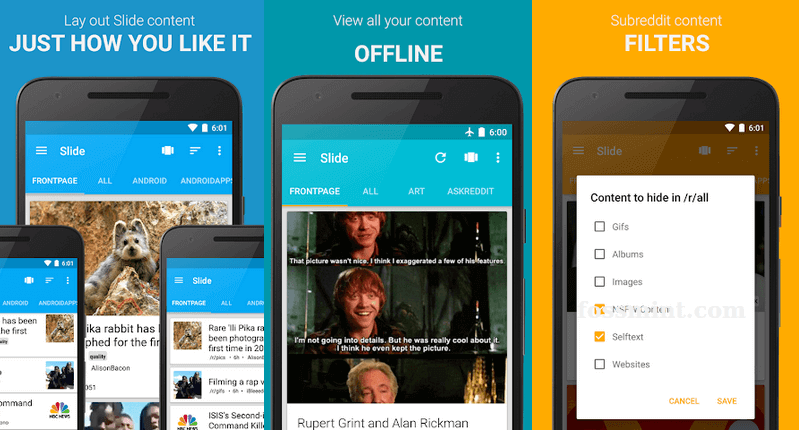 9. Joey for Reddit
Joey for Reddit app with cool features is made especially for Android devices. It allows you to view articles, images, links and videos without having any need to open them using the Peek feature.
Another great feature of this app is the Text to speech or TSS mode. Toggling from one tab to another is made easy as there are not many sorting and filtering options.
For better reading experience the comments and usernames are colour coded. Besides, you can change the theme, format comments, and apply upcoming AMA's to the calendar.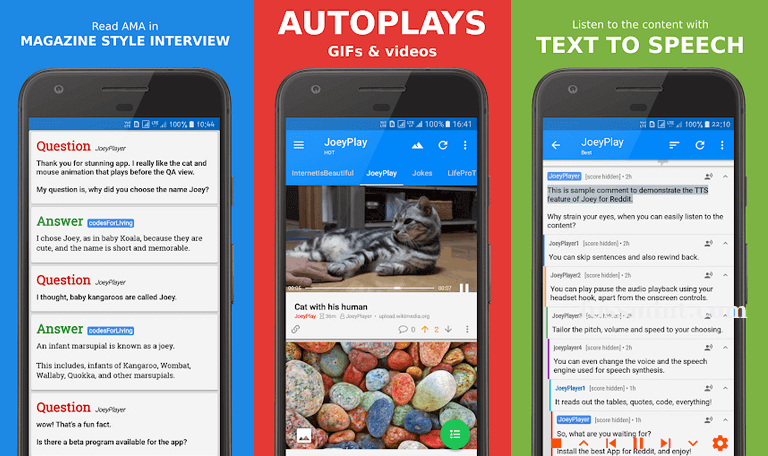 10. Flow for Reddit (Pre-Beta)
Flow for Reddit is also one of the famous and free of cost Reddit apps which offer support to a variety of Reddit features such as card-based user interface for ease of use, search, optimal content display, viewer, YouTube support, customisable colours and themes, multithread support and ad-free.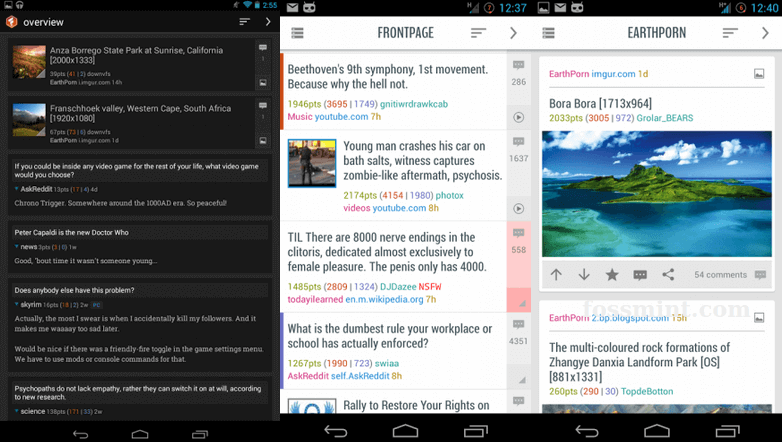 Summary:
If you are a regular or frequent Reddit user then you surely know the importance of using the best and suitable app for Reddit to make your experience worth and better every time.
Through this article, we have listed the 10 best apps for Reddit which will meet all your requirements and make Reddit a much better place to be where you can actively participate in any discussion of your choice using the great features of these apps.