If you are searching for the best Learning Management System (LMS) Plugin for your WordPress Website, then you have landed on the correct page. We have here compiled a list of the 7 best LMS plugin available currently.
We have also added a price chart at the end so that you can easily compare and choose the one which suits you the best based on your requirements and budget. For people who know that they need the LMS plugin for their website, but do not know how it works, here's a brief.
[ You might also like: 40+ Best Free SEO Tools to Improve Your Google Ranking ]
LMS Learning Management system is a plugin for WordPress which lets you deliver (create, manage and sell online courses) online learning services over the internet on your website.
With LMS you can make learning websites like Udemy, Khan Academy, Coursera and others without any hassle.
LMS Plugin Features
The features one gets in LMS Plugins are:-
Creating course: Crating course material in all forms text, audio, and video.
Monitor Progress: How the learner is doing.
Enrolling students and Managing them: Facilitates managing members and their payments.
Content dripping: Slowly and steadily revealing course material to students as they progress.
Quizzes and tests: for evaluation of their learning.
Payment gateway support: for the flexibility of adding any automatic payment service of your need and choice.
Automated emails: Keeping students Up –to –date with the course.
Financial marketing tools: fulfilling the marketing needs for your eLearning program.
BuddyPress and BBPress Integration: Integration of student profiles for chats and forums.
Gamification and certificates: Giving badges and certificates to keep students interested.
Homework options: Giving assignments to students over email and letting them submit.
A lot of LMS plugins are currently available in the market, but here's our list of the best.
1. LearnDash
LearnDash is the most widely used LMS Plugin and it is packed with almost all the features possible. With LearnDash you can create a simple course, a complex detailed course or a bundle of courses, based on your requirements.
LearnDash is a go-to choice for Major Universities, Professional Training and WordPress Projects.
LearnDash Features
Key Features in LearnDash are:
Advance Quizzing: you can choose from eight different question types, quiz timmer, and others.
Prerequisites: so that you can determine which courses need to be taken and in what order.
Dynamic Forums: a course-specific forum for your courses and to limit participation.
Monetizing Features which includes One time Purchase, subscriptions, shopping Cart, Memberships, Course bundles, and course licenses.
Administration features like detailed reporting and assignment management.
It is mobile compatible and has good responsive support from industry experts.
It costs $159 a year for a single website. Overall, it is the best LMS available in the market.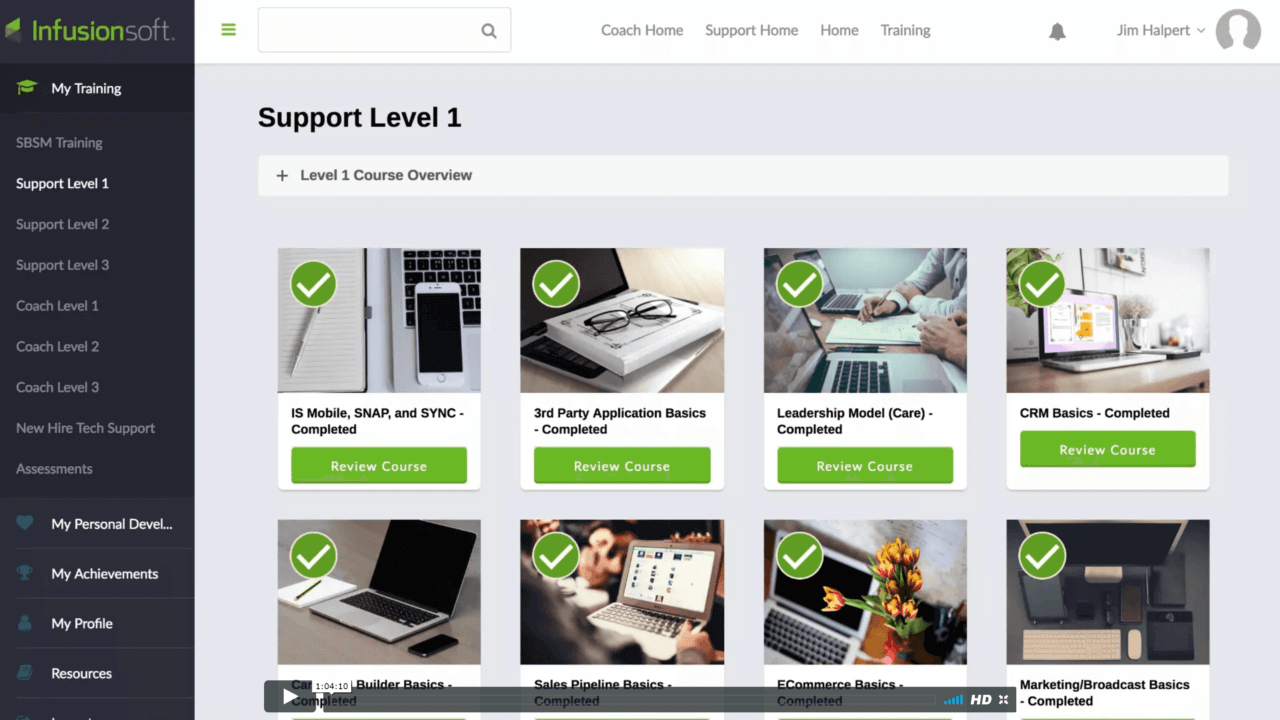 2. LifterLMS
LifterLMS offers a lot of Add-ons for your website. You can either choose from the available bundles – Infinity and Universe or can either just stick to some of the features that you may require.
If you want to add videos to your course programs, you can choose the LifterLMS Advanced Video feature. If you are looking for quizzes, you can go for LifterLMS Advanced Quizzes and so on.
LifterLMS Features
Some of the Key Features of LifterLMS:
Download Lessons for Offline Reading.
Import and Export courses from one website to another.
Course Reviews.
You can sell your course in bulk to another business, institution or school.
Private Coaching from instructor to the learner.
Free Courses and coupons to boost sell.
Personalized Email and Test messages to smartphones.
It lets you sync courses and memberships with best-in-breed Customer Relationship Management tools.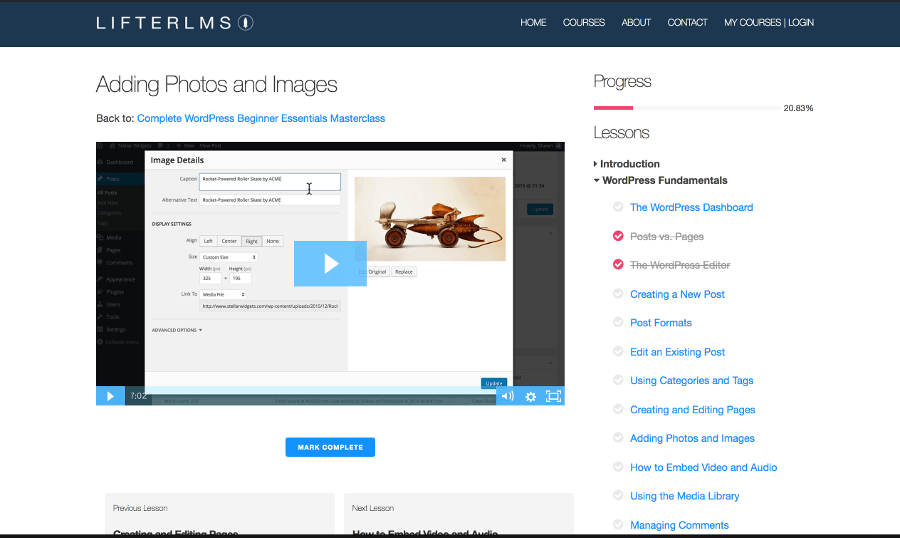 3. LearnPress
LearnPress is a simple and clean LMS Plugin on WordPress.org with generously free important features.
It is available in many languages and can work with any WordPress theme and support multiple sites. If you are not willing to spend much money, then LearnPress can be an option.
LearnPress Features
Free Version includes all important features like:
Add courses to a wishlist for students.
Review courses.
Import-export courses.
Course Prerequisites.
Offline payment.
BBPRess and BuddyPress Integration.
Fill in the blank question types of questionnaires.
Some paid features are Assignments add-on, myCRED add-on, certification, grade book, random quiz, and others.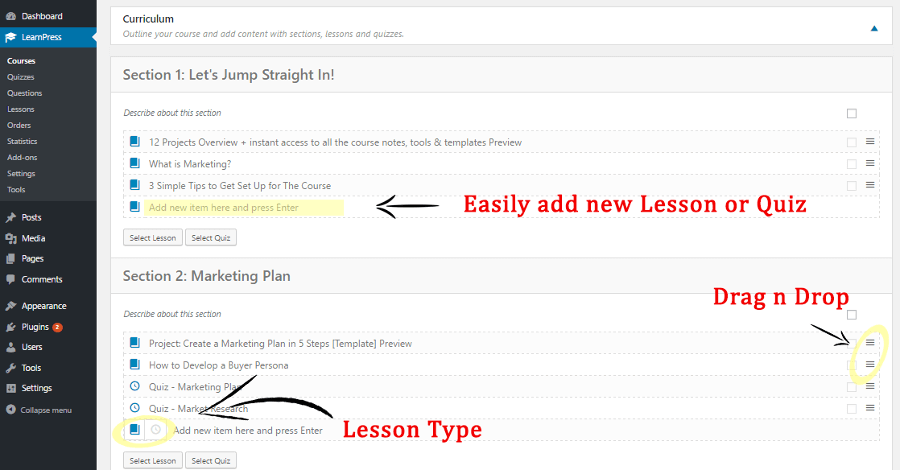 4. Sensei
Sensei is an add-on to Woo-commerce and not a standalone WordPress Plugin which has been built by the team behind WooCommerce.
It's best used when you wish to introduce eLearning and add videos to your e-commerce site. It Provides Seamless integration without any coding. It also allows you to create quizzes.
Sensei Features
Key Features in of Sensei Plugin are:
It merges well with WooCommerce and WordPress.
It integrates well with the majority of WordPress themes.
With WooCommerce integration, you can instantly charge for a course.
It provides simple course analytics.
Several templates are offered for quizz, like true/false, single line, file upload, and multi-line tests.
Sensei displays random quizzes based on a bank of questions you set before launch.
Quiz grading can be set to automatic or manual.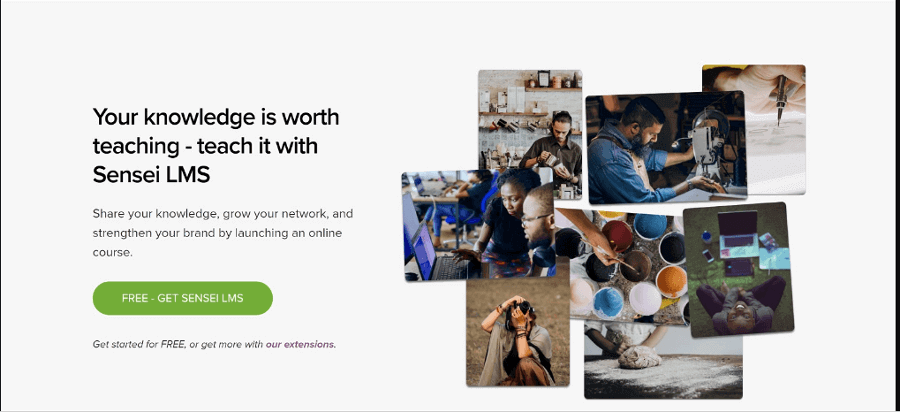 5. WP Courseware
WP Courseware is the oldest and popular WordPress plugin with the drag-and-drop feature. It is more affordable than options like LifterLMS and LearnDash.
WP Courseware Features
Key Features of WP Courseware Plugin are:
Drip Content – You can schedule the release of at specific intervals from enrollment.
Instructor Roles – Allows instructors to create, edit, and manage the courses and the students designated to them .
GDPR Compliant – Gives you full functionality to comply with European Union privacy law standards.
Built-In Shopping Cart – You can connect your Stripe or PayPal account to instantly sell your courses.
6. Namaste! LMS
Namaste! LMS plugin is a free Open-Source LMS for WordPress. The free version has a lot of features which is sufficient in case you have just started. It also offers premium services that can be availed as and when you feel necessary.
Enrollment for the courses can either be handled manually or through the plugin's automated features. The best part is that along with using the built-in modules, you can also write your module using the Namaste! API.
Namaste! LMS Features
With Namaste! LMS Plugin you can get:
Get Paid for Your WordPress Educational Website.
Control Access with User Roles.
Choose Criteria for Lesson Completion.
Interact with Students Through WordPress.
Manage & Reward Students.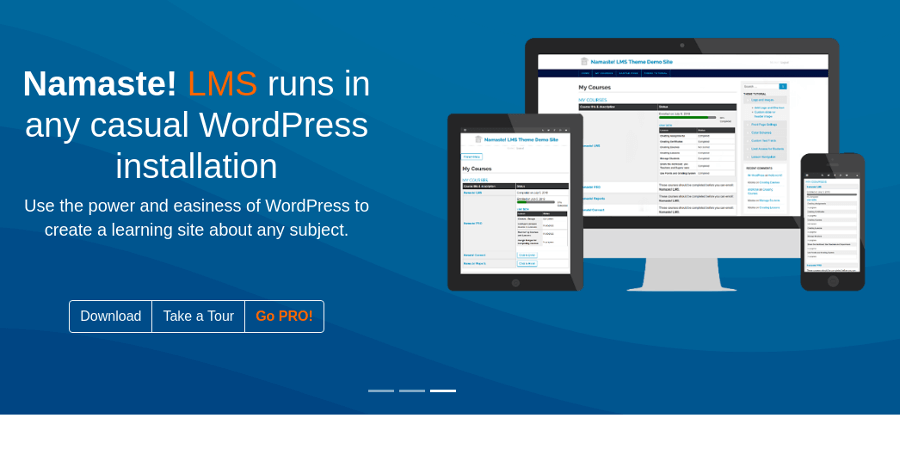 7. MasterStudy LMS
MasterStudy LMS is one of the newer LMS plugins on this list. With MasterStudy LMS you can easily create, customize, and manage amazing online lessons.
It comes with one of the best WYSIWYG course builders in terms of multimedia support.
MasterStudy LMS LMS Features
Some of the features include:
Beautiful and easy to use UI with 3 types of lessons (text, video, slideshow).
Easily set up payment with PayPal and Stripe integrations for recurring subscriptions.
Features a message board that creates a social network type environment for students to get answers and help from course creators.
Real-time questions and answers, and countdown timers.
Built-in course ratings.
Generate certifications for students.
Courses can be added to their wishlist as required.
MasterStudy LMS also offers MasterStudy Pro, premium WordPress theme offers additional premium plugins, 24/7 support, extra features, and ready-to-use demos.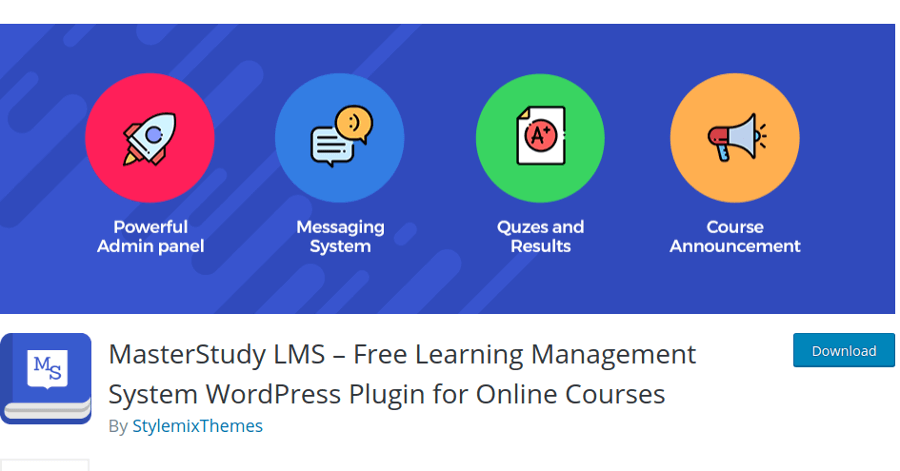 Price Chart As of May 2021
That is all folks! We hope that you will find our list helpful. Please don't forget to share your views in the comment section below. Share your experiences on websites that offer courses and let us see what features they miss or what features they have that are really praiseworthy.
Also please do let us know if you think other LMS plugins are worthy of being on our list. We shall surely try to incorporate them.