Ubuntu MATE 22.04 was released on April 21, 2022, after two years of continuous improvement. At the time of writing this article, the distribution has been made available slightly over a year since its release.
Ubuntu MATE 22.04, codenamed Jammy JellyFish, is one of the better flavors of Ubuntu and ships with several changes, including a configurable desktop environment, top improvements from the upstream, and a neat, intuitive UI.
Apparently, you can expect updates from this release because it is a Long-Term Support version that is expected to run for the upcoming five years i.e. April 2027.
In this article, we'll explore the new features and customizations in the Ubuntu MATE 22.04 release to ensure you get the most out of your MATE Desktop.
Enhanced Yaru Theme Support
The default theme for Ubuntu is Yaru, which is popular and supported by the community and is highlighted in this version. Since it was first introduced in Ubuntu MATE 21.04, MATE's compatibility with the theme has substantially improved.
Now, in this release, all the Yaru themes are incorporated, including the "chelsea cucumber" version. The stock and legacy Ambiant/Radiant Mate Desktop themes are no longer installed by default in this release.
In addition, the release features automatic settings migrations that allow transition users to upgrade to a relevant Yaru Mate theme.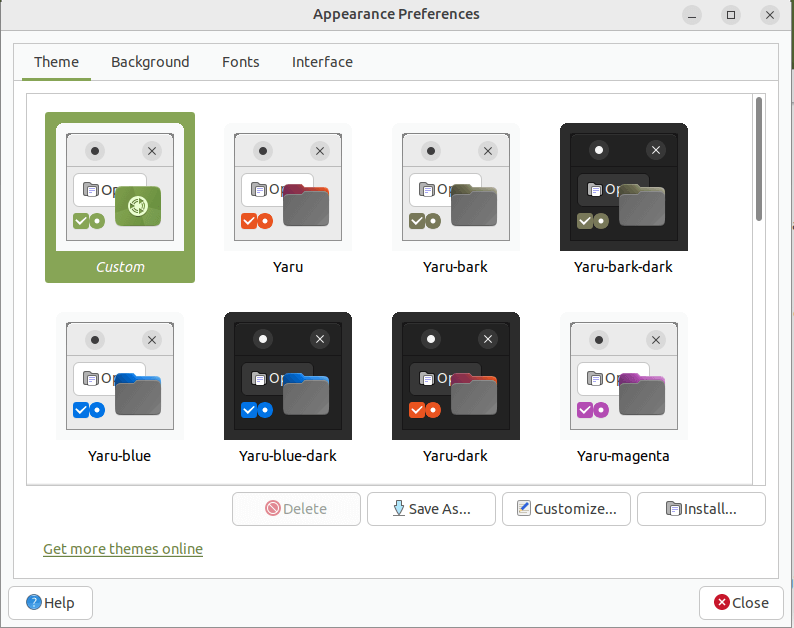 AI-Generated Wallpapers
Ubuntu MATE 22.04 features an impressive array of wallpapers from its library to help customize your desktop's look and feel. These wallpapers are generated using neural networks.
On MATE, changing the wallpaper is as easy as it gets. Simply open your desktop background by using the right-click function and select "Change Desktop Background". From there, you can select your preferred desktop background.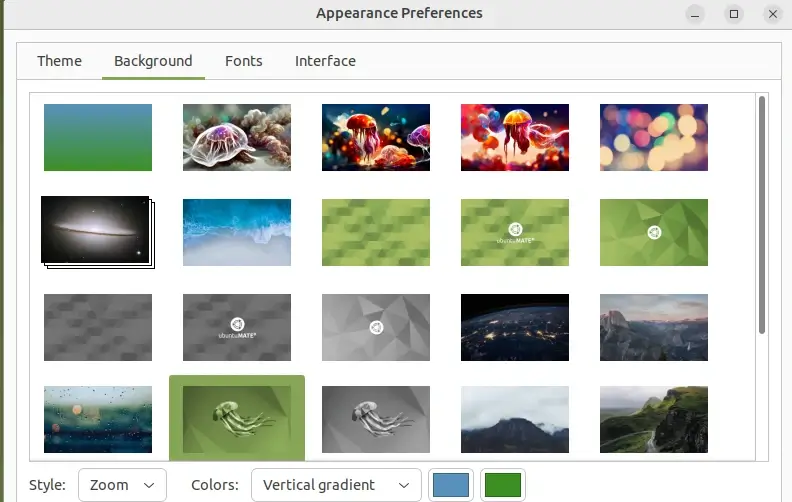 Enhanced Panels
The Appearance Control Center now appropriately changes the color scheme for apps, extending Yaru compatibility. The panel is now available to Yaru in both dark and light modes and with a variety of panel icons.
The Plank and Pluma are also supported by the theme.

Mate Desktop 1.26.1 and Kernel 5.15 LTS
Ubuntu MATE 22.04 features the latest kernel, 5.15 LTS, and a Desktop environment, with the latest being Mate 1.26.1, which packs bug fixes and performance on top of improvements from the previous release, Mate 1.26.0.
Some of the bug fixes include those in the Brisk and Plank Menu as well as fixes in the screen reader during installation for visually impaired users. Overall, over 500 bugs have been addressed in Ubuntu Mate 22.04.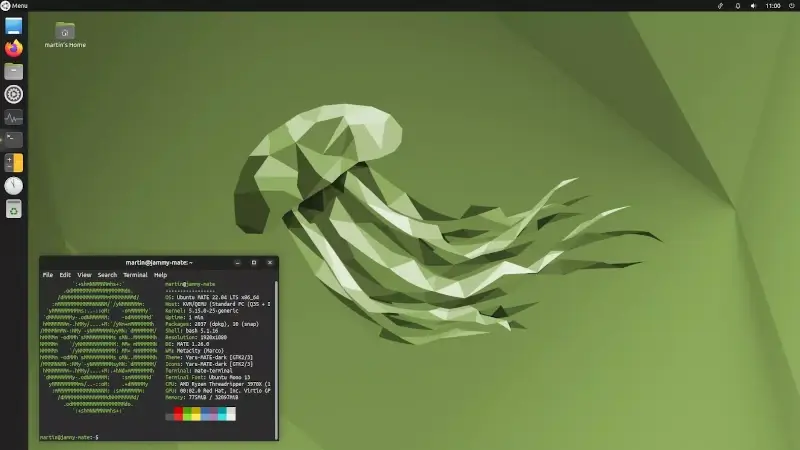 Updated Ayatana Indicators
For those with no clue, Ayatana Indicators are essentially a fork of Ubuntu indicators designed for use with various desktop environments and distributions.
This updated release has Ayatana Indicators 22.2.0, which shows less CPU and RAM usage. As a result, this has enhanced battery performance and downward compatibility with the Ubuntu indicators.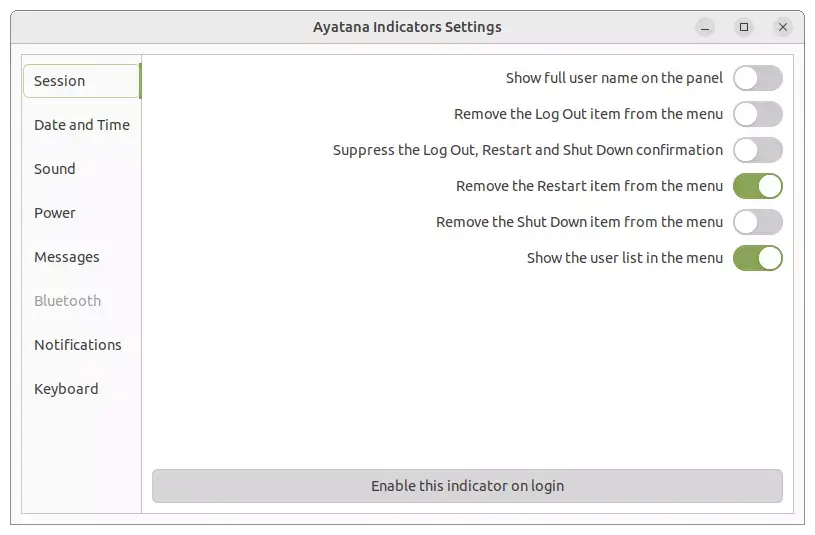 MATE Control Center
Ubuntu MATE 22.04 features a central location with a number of settings for managing your system, similar to many other desktop environments. It is known as the Control Center, which is the first place you must check if you want to customize MATE.
You can have a look here if you want to manage users, partition your hard drive, install something, or customize the look.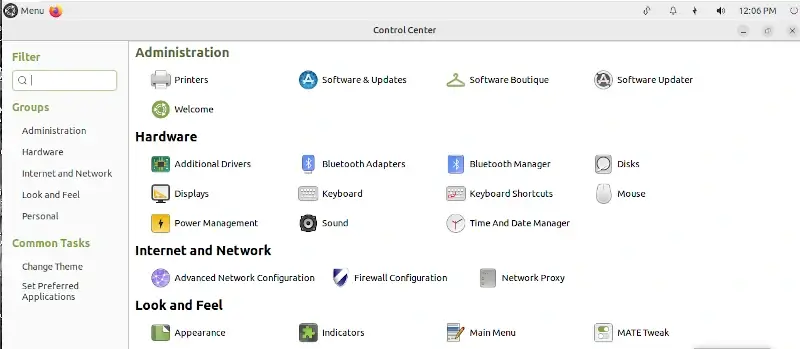 MATE Tweak Tool
Similar to the GNOME Tweaks tool, MATE Desktop also provides a simple utility called MATE Tweak for customizing the desktop environment.
You can control desktop icons from here and make minor interface adjustments for toolbars, context menus, and icons.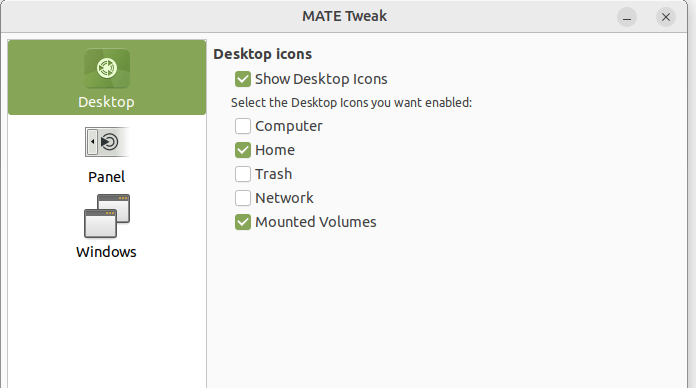 From Mutiny, Redmond, Familiar, and Cupertino, among others, you can select a desktop layout that suits your taste and workflow.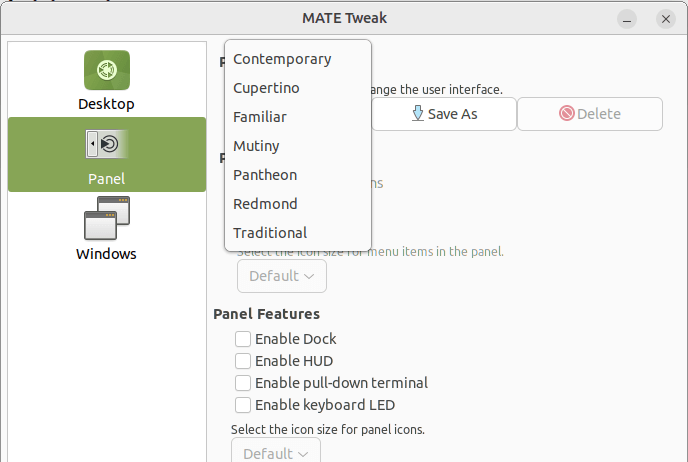 The MATE Panel can be customized in a number of ways to adapt your user experience, and there are also window-related options to choose from, including performance, behavior, and look.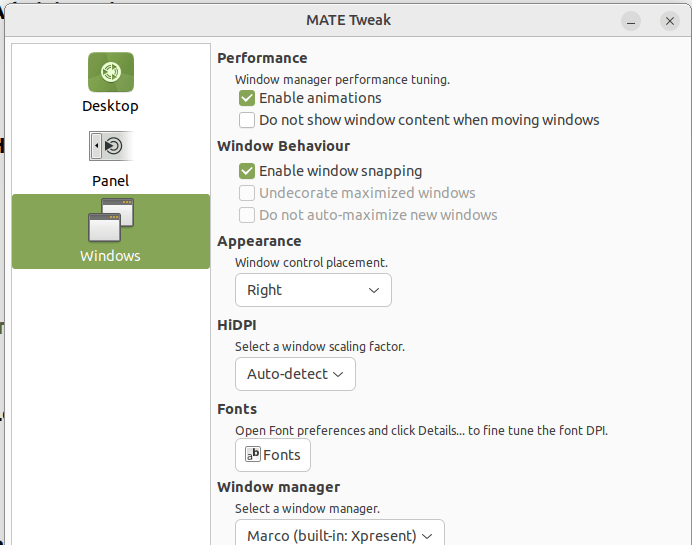 Additionally, users of third-party compositors should anticipate better support. Besides that, this release has added support for Picom at the expense of Compton, which is no longer supported by default, and the mate-netbook layout has been eliminated due to conflicting issues with client-side painted windows.
Besides that, the readability of restoring custom layouts and Desktop layouts is now 100% accurate.
New Apps and Packages
Ubuntu MATE 22.04 is the first flavor of Ubuntu to support Flatpak PPA, Snap, and AppImage out of the box. In order to optimize the user's session and automatically install snapped themes, a snap-desktop integration has been put in place and implemented.
Additionally, the three new GNOME apps Weather, Clocks, and Maps will especially delight GNOME users, and Ubuntu Mate 22.04 users should expect the latest Celluloid 0.20, Blueman 2.2.4, LibreOffice 7.3.2.1, Firefox 99.0, and among other packages.
MATE HUD
MATE HUD has been modified to support the latest version of rofi, as a new theme engine has been introduced to the club. Also, Mate Hud ships with two Mate themes (mate-hud-rounded and mate-hud) that automatically align with the currently selected GTK theme.
Additionally, users can now add their own preferred rofi themes by pasting them as shown.
~/.local/share/rofi/themes

To use any theme in Mate HUD, first click ALT + F2 keys to run the room-theme-selector and if you find a theme that suits your taste, you can set it as default by running the below command in your terminal.
$ gsettings set org.mate.hud rofi-theme <theme name>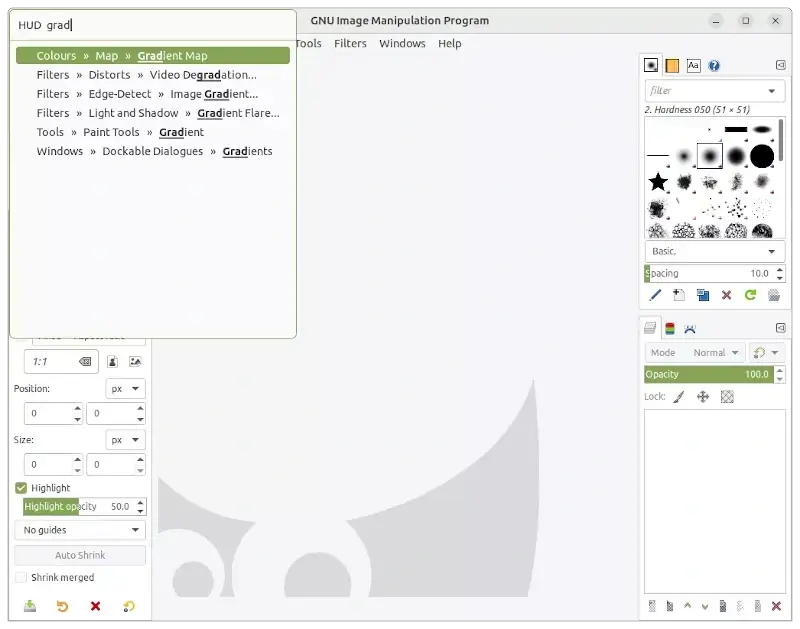 Lighter ISO Size
At first, during the development of Ubuntu MATE 22.04, the ISO image took up a memory space of 4.1 GB just for downloading. Adjustments took place to lighten the ISO image size, which included removing the proprietary NVIDIA drivers from the primary apt install tool and discarding the three snapped-based applications.
Additionally, it is safe to say that Ubuntu MATE's theming system has fully migrated to upstream Yaru, given that all of the legacy themes and icons have been eliminated.
With those adjustments, the image is now 41% smaller and much more reasonable at 2.7GB.
Software Boutique
Ubuntu MATE 22.04 LTS features a software boutique that has a curated selection of in-class applications. The apps seamlessly integrate well with your Desktop Computing experience.
The Software Boutique is organized in an old-school manner such that it has accessories, education, games, graphics, the internet, and other categories to choose from.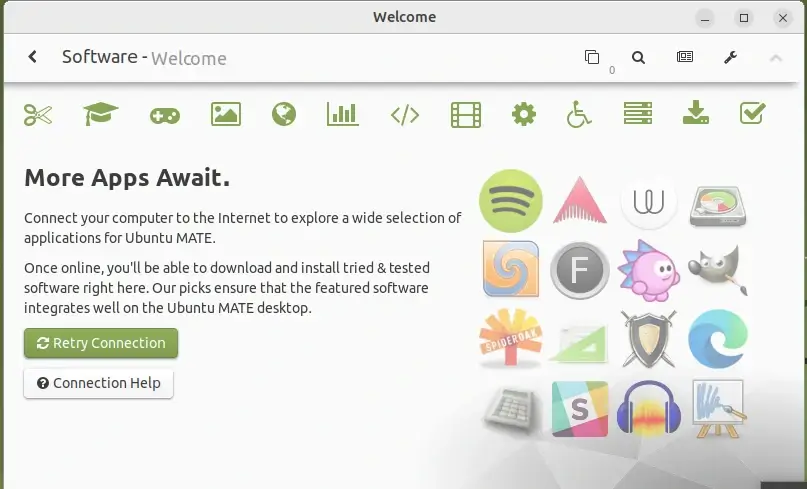 For more technical information, you can check out the official release notes for Ubuntu Mate 22.04 LTS.
Download Ubuntu 22.04 LTS
To get the user experience with Ubuntu Mate 22.04 LTS, first download the ISO image according to your operating system architecture.
Alternatively, you can install Mate Desktop on your existing Ubuntu installation by following our guide at How to Install Mate Desktop on Ubuntu.
Conclusion
We can gladly say Ubuntu MATE 22.04 is a feature-rich release with a primary focus on graphics, and now it looks like community-driven Ubuntu MATE is now a more tempting alternative to Canonical's Ubuntu, especially after seeing the inclusion of Yaru-only themes.