During the pandemic, Instagram introduced the Reels feature to the app, which consisted of short video content. Many influencers found it useful for creating rapid and engaging content, and Instagram's algorithm tends to prioritize brands and creators who make the most of this feature
Since creating content is very time-consuming and a little tedious, creators usually need to circulate the reels on different platforms for the reach. Hence, the Reels are more likely to reach a wider audience.
Instagram doesn't have a feature built-in to download Reels, but you can still get them using different apps that can help you download Reels along with their original sound.
When you download Reels on Instagram, they often don't come with the original sound. So, this article will guide you through how to download Reels with their sound on iPhone, Android, and Desktop.
What is an Instagram Reel?
Instagram Reels are an alternative to TikTok videos that allow users to create a 90-second clip using different sounds. It can be shared with their Instagram Stories and Explore Feed (show suggested posts) on the user's account. The feature is available in countries like India, the USA, and over 200+ countries.
The Reel Feed is similar to the Tiktok feed, just slightly modified. The Reels feed will show you reels from all the famous people's trending accounts on Instagram. The reels are also available on the explore page, along with some static posts.
The Instagram Algorithm needs skills for your Instagram reels to reach many people. It involves the type of content you are creating for your target audience. But the Instagram Algorithm is very different, and preference is given based on content created, accounts you follow, and with whom you engage.
How to Save Instagram Reels Within App
The best way to avoid taking up extra space on your device instead of downloading the Instagram Reel is to save it for later on your Instagram app.
While downloading Reels directly from the Instagram app without the use of a third-party tool is not possible, you can simply save the reel for future reference.
By following these steps, you can include Instagram Reels in your saved Collection, which allows you to make a folder where you can store important Reels for future reference.
Open the Instagram App on your device.
Now open the Reel you want to save.
Below, you will find three dots in the right corner of the screen.
Tap on Save to find the Category/folder on your Instagram.
If you wish to access the saved Reel through your Instagram, Go to your profile page and tap on the three lines.
On the top right corner of your screen, You can see the option of "Saved".
In the Saved Folder, you will again see three tabs on the top of your screen. Now, here you can see the Static posts and reels you saved.
So tap on the reels category and check the reels/videos you saved.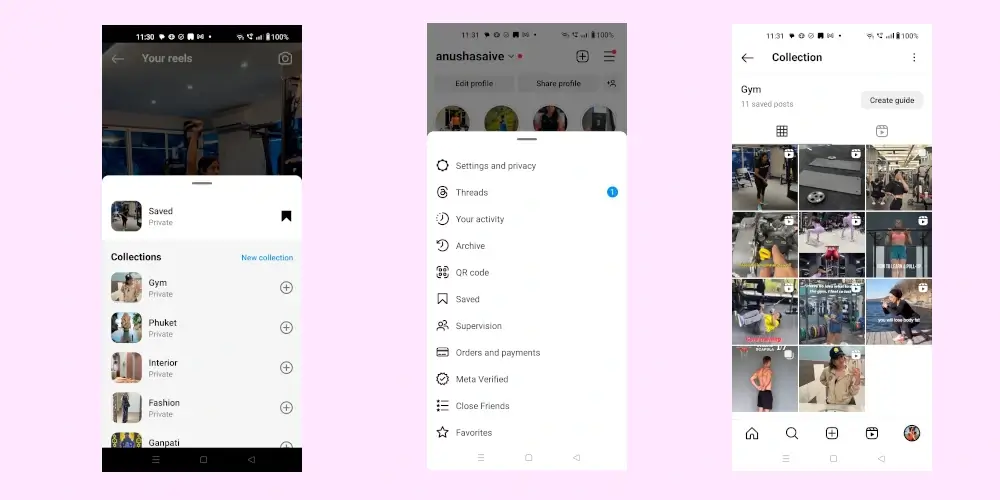 How to Download Instagram Reels on iPhone
These are easy ways to download Instagram reels with the sound and share it on your iPhone.
1. Download Reels Using App
Instagram recently introduced the feature to download reels from other public accounts to your iPhone. The method is straightforward.
1. On the Paper Plane icon, tap Share and click on "Add to Story".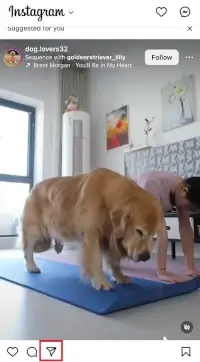 2. On your Instagram story, click on the three horizontal dots option at the top-right corner and click on "Save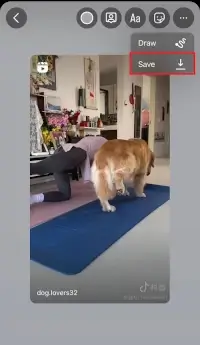 3. The reel uploaded on your story will get downloaded on your iPhone device.
Note: While this won't download the reel itself, it will download the story with the uploaded reel. To download the reel, keep reading the article.
2. Download Reels Via Screen Recording
Let's say you come across a video on your Instagram feed; one way to save it is by recording your screen.
Go to Settings.
Operate the Control Center.
Add the Screen Recording option to the included Controls in your iPhone.
It makes recording the screen easy from the Control Center.
Now, once you have the screen recording tap, it is time to save the Reel on your iPhone.
Open the Instagram App
Open the video/Reel you'd like to record and let it play.
Now, swipe down the Control Center and tap the screen recording button.
The iPhone's screen recording tap also records the sound of the video.
High-quality video and sound are downloaded to your iPhone.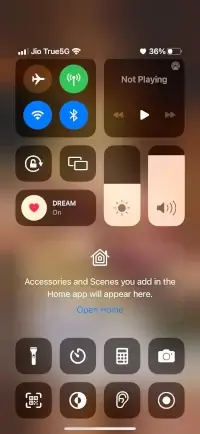 3. Download Reels Using Third-Party Apps
Although screen recording apps help you record a video with sound, Using third-party Apps is the best choice to download and save the Reel to your device with the sound and video quality.
Applications like InstDown and InSaver are some of the most popular apps for downloading the reels.
How to Download Instagram Reels on Android
Downloading Reels on Android is very easy, and there are multiple ways to download it on Android through apps, screen recording, and others.
1. Download Reels Using App
Choose the Reel you wish to download. Next, click on the Paper plane icon, and next tap on "Add to Story".
Click on the three horizontal dots located at the top-right corner and select "Save".
The chosen reel will now be downloaded and saved to your device.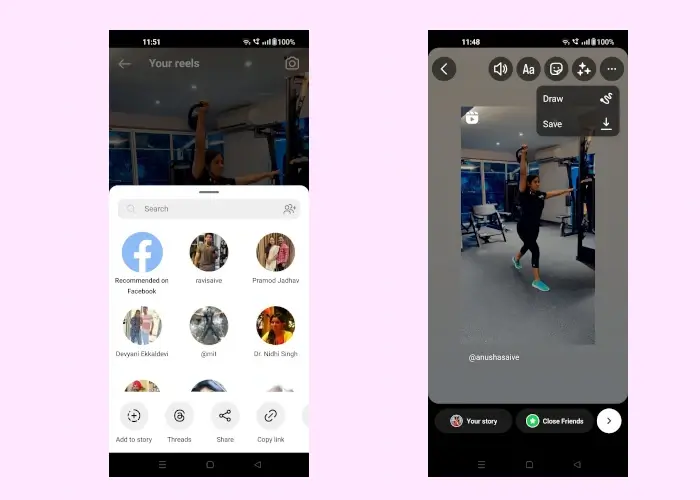 2. Download Reels Via Screen Recording
You can capture your screen and save the Reel you want for future reference by following these instructions.
To do so, Swipe down your screen; you are more likely to see the Screen Recorder option in the tap above the notification bar.
Now, open the Reel you want to record and tap on the screen recording option.
The Reel will be recorded and saved to your Phone.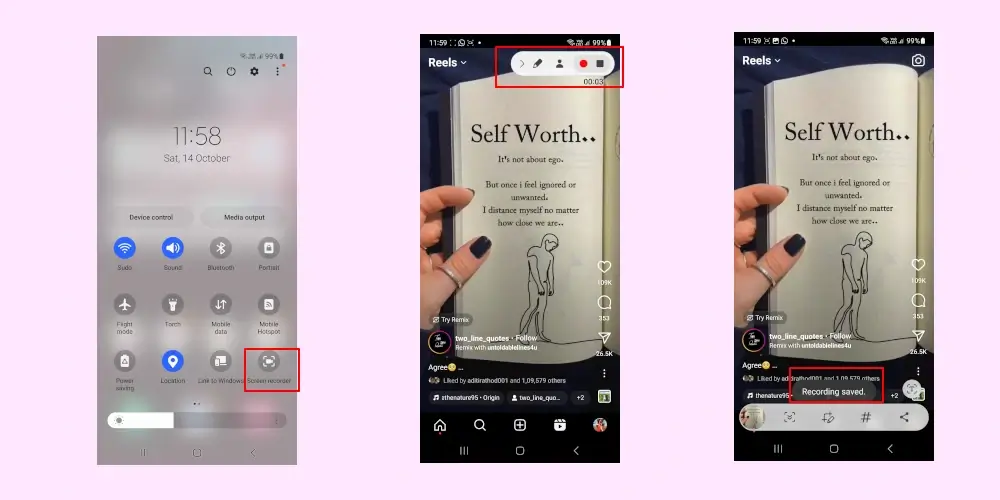 3. Download Reels Using Third-Party Apps
Similar to iOS, even Android devices allow access to some applications that can help download and save the Reel to your device, which saves time and tasks from trimming the video through screen recording.
Applications like InstDown, InSaver, and Video Downloader for Instagram are some of the most popular apps for downloading reels.
Apart from these, many more apps are introduced to help you download reels on your Android.
All you need to do in these apps is, open the Reel and copy the link of the Reel you want to download.
Open the Third-party app and Paste the link in the application.
Then hit Download, and the Reel will be saved to your camera roll.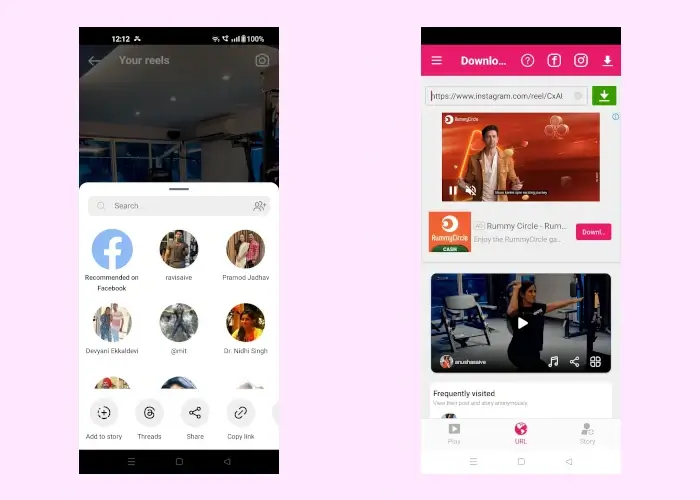 Best Online Instagram Reel Downloaders
The best online Instagram reel downloader is the one that is easy to use, reliable, and offers a wide range of features. Here are a few of the most popular and highly-rated online Instagram reel downloaders:
These downloaders all work in a similar way. Simply copy the URL of the Instagram reel you want to download and paste it into the downloader's input field. Then, click the download button and the downloader will download the reel to your device.
Download Instagram Reels: Frequently Asked Questions (FAQs)
Here are some common questions people may have about downloading Instagram Reels or videos for offline viewing. Did we miss one? Leave a question below, and we will respond!
When were reels introduced?
Instagram introduced Reels on August 5, 2020, as a feature within the app. Reels allow users to create and share short-form video content, similar to the popular platform TikTok.
Why has Instagram launched Reels?
Instagram launched Reels to provide a platform for users to create and share short, engaging video content within the Instagram app. This move was likely in response to the growing popularity of short-form video content on other platforms like TikTok.
What is a reel video on Instagram?
Reels videos on Instagram are short, engaging video clips that can be up to 60 seconds long. They are typically set to music or other audio, allowing users to create and share fun, creative content.
How long is a reel?
A standard Instagram Reel can be up to 60 seconds long, providing a short but engaging format for sharing videos on the platform.
Can a reel be a story?
Yes, a reel on Instagram can be considered a type of story. Reels are short video clips that you can create and share on your Instagram profile, and they often tell a brief story or convey a message within a short timeframe, similar to Instagram Stories.
Can you see who viewed your reels?
No, you cannot see who viewed your reels on Instagram. This is unlike Instagram Stories, where you can see a list of everyone who viewed your story.
How much do reels pay for 1m views?
It is difficult to estimate the exact amount Instagram pays for 1 million views on Reels. Influencers report earning anywhere from $0.01 to $0.02 per 1 million views. On average, an influencer can earn around $10,000 to $20,000 per million views on Instagram.
Conclusion
Instagram reels are gaining increasing popularity amongst users and reaching a wider audience. So, if you wish to download these reels for inspiration, future references, or other purposes, there are some popular ways to download Instagram Reels on your device.
The article above lists all the steps and tracks to download Instagram reels, whether on an Android, iPhone, or Desktop. So, make sure you use any of the above methods to download Instagram reels on your mobile device.