YouTube is without a doubt the most renowned music video engine available in over 100 countries worldwide, which a myriad of musicians and filmmakers in the music video industry have used as their main streaming platform to deploy their content.
One common method that consumers are using to enjoy their favorite content offline and on the go is to convert YouTube videos to MP3.
When it comes down to selecting the best converter, a simple interface with clear directions can be far more effective in locating the best YouTube-to-MP3 converter online than a lengthy list of possibilities or several options for converting the video of your choosing.
Speed and efficiency are crucial considerations when converting a YouTube video into an MP3, and there are plenty of online conversion tools that make the process quick and easy.
In this article, we'll explore some of the top YouTube to MP3 converters available and discover what makes them exceptional.
1. OnlyMP3
OnlyMP3 is a free tool that allows YouTube videos to be converted to MP3 format. This YouTube converter application provides an intuitive dashboard that makes it simple to convert YouTube videos into audio files.
Some of the key features of OnlyMP3 include:
Fast Conversions: YouTube's fast encoder servers swiftly convert videos into high-quality audio formats. Your download link will be available for you to save to your PC, laptop, or mobile device in a matter of seconds.
Safety and Security: Providing a secure conversion service is OnlyMP3's main priority. To protect user data, it makes use of SSL certificates that are industry standards. Thanks to a secure database, you can be confident that this web application is virus-free, fully secure, and constantly monitored.
Cloud Storage Support: You can access your converted audio files at any time and from any location by saving them straight to your Dropbox account. Using the Dropbox app, you can access your converted files on any device.
There is no need to Register: Without the hassle of registering or signing up, convert thousands of YouTube videos into downloadable audio files. Take advantage of limitless free conversions and downloads of your preferred YouTube videos.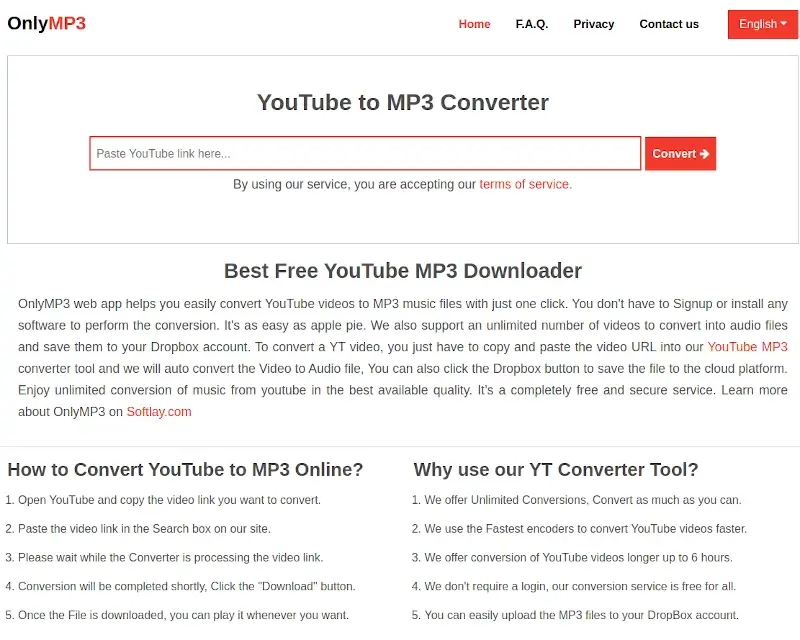 2. YTMP3
Over 2 million users download YouTube videos in mp3 format every day using Ytmp3, renowned as one of the premier YouTube to mp3 converters. Ytmp3 has evolved beyond a simple video downloader and now offers a dedicated music download option that allows users to convert YouTube videos to MP3 files and search for MP3 music seamlessly.
Ytmp3's versatility in terms of device compatibility is one of its main advantages. Since it's a conversion tool that runs within a browser, it can be used on a variety of channels, such as laptops, Android smartphones, and desktop computers.
On top of that, the website's simple and intuitive layout makes it perfect for even the least tech-savvy users to convert YouTube videos to MP3s.
Some of the features of YTMP3 include:
High Quality: A wide range of high-quality music and video formats are supported for download via YTMP3. Its superior sound quality powers its technology in comparison to rivals.
Completely Safe and Dependable: YTMP3 is 100% safe and reliable to use, enabling anyone to obtain high-quality music or video. Ytmp3 offers great invulnerability assurance, so you don't have concerns about downloading stuff that contains viruses.
Support for Multiple Formats: Both MP3 and MP4 audio and video formats are supported. There are five different bit rates available for MP3 files; you can select any quality between 64 kbps and 320 kbps. The maximum quality is 320 kb; if you require a reduced file size, the option is 64 kb.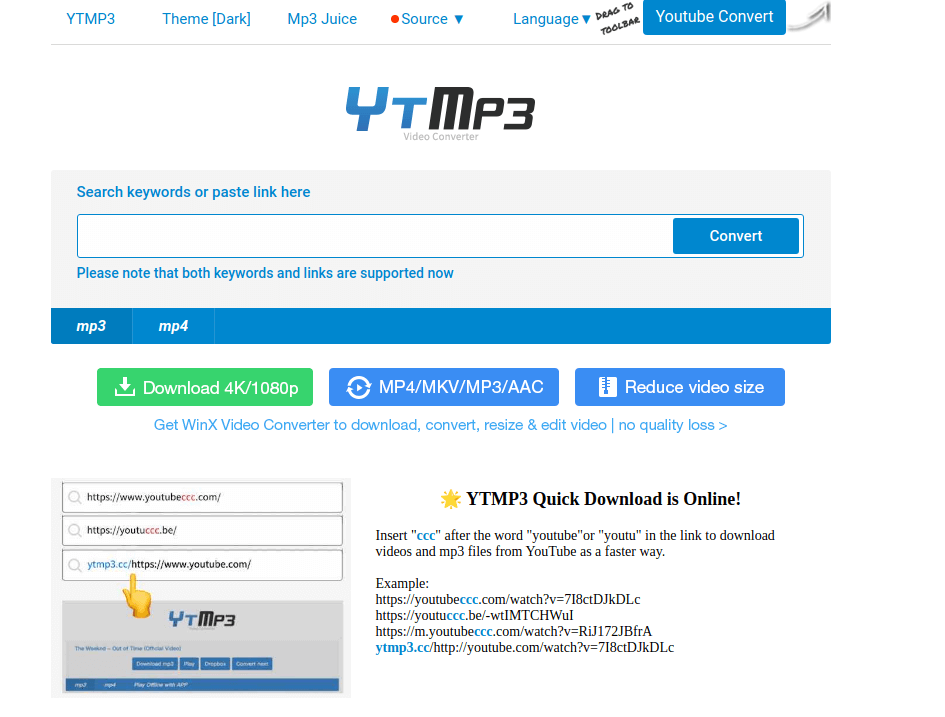 3. VideoProc Converter
VideoProc Converter is the ideal program if you want to extract audio from YouTube music videos or download music straight from the platform. With this all-in-one video toolkit, you can convert over 420 different formats, including MP3, and browse over 1000 websites. It also has the features such as editing, screen recording, and file size reduction.
It also has enhancements to video features; it can improve the quality of videos, audio, and images by using AI-powered features like video stabilization, frame interpolation, and super-resolution. Besides that, it can increase video frame rates and provide fluid slow-motion effects.
With its simple user interface, you can quickly and securely convert YouTube to MP3 in just three easy steps in a safe environment. In addition, the VideoProc Converter comes with a full version that lets you unlock unlimited features.
Here's how to use it:
Open VideoProc and use the Downloader function.
Copy and paste the video URL to the Downloader.
It will begin analyzing it right away and downloading it.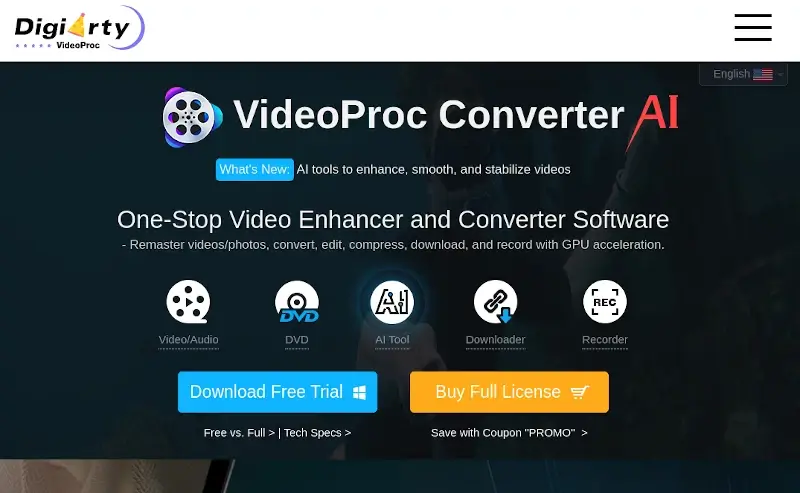 4. ClipGrab
ClipGrab is a well-designed tool for downloading multimedia files from the internet. You can use it to download videos, music files, movies, cartoons, and other types of content from many streaming sites.
In addition, you can convert videos to audio files using ClipGrab software because it works well with common multimedia players, and supports popular file formats.
The best part is it's simple and easy to use, and it won't charge you anything. The program is standalone and doesn't need a particular web browser to function. ClipGrab can be downloaded and installed from the official website.
To convert a YouTube video to an MP3:
Copy its URL and paste the copied URL into the Downloads URL field in ClipGrab after opening it.
Under Format, choose MP3 (audio only) as the output option.
Tap "Download this video" to start the conversion.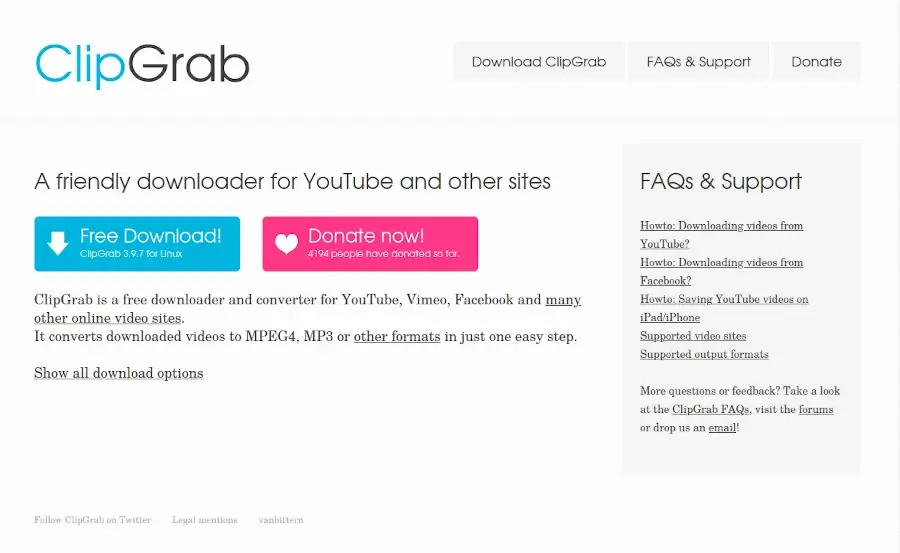 5. 4K YouTube to MP3
You can extract the audio from YouTube videos and save them as MP3 files with the free, conversion tool 4K YouTube to MP3. It offers a range of sound quality from 64 kbps to 320 kbps and is simple to get started with.
With a 4.5-star rating based on 593 reviews, and over 60 million users, this startup can compete against its rivals and outperform any other conversion tool available.
Additionally, 4K YouTube to MP3 has pricing plans that let you unlock premium features.
Some of the features of 4K YouTube to MP3 include:
It allows music downloads from numerous unofficial sources as well as from all official video websites.
As soon as compatible URLs are copied to the clipboard, it will detect them automatically.
It offers you a YouTube-integrated search tool.
It has other hidden capabilities, which include subdirectories for playlists and channels, the ability to redownload, delete, and remove files, as well as options to adjust audio quality and format.
The MP3 downloader was recently updated to version 4.0, which improved both its operation and appearance.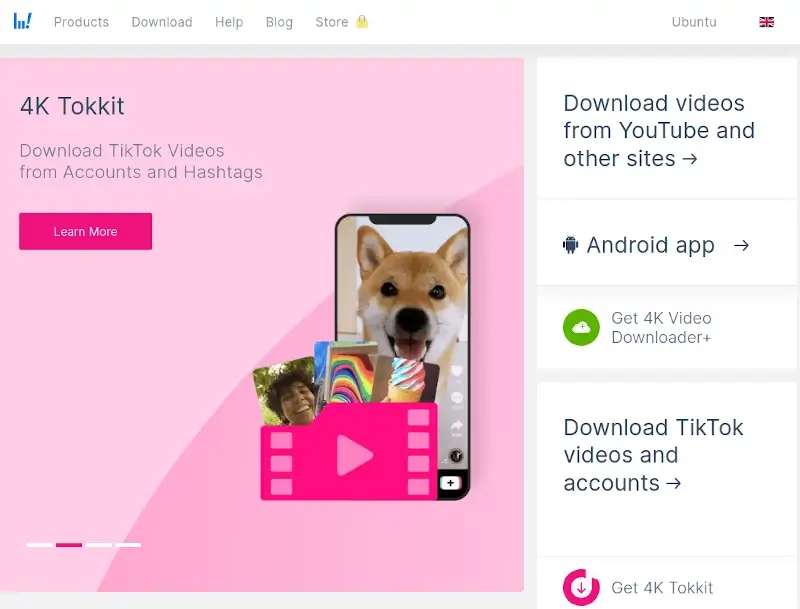 6. Any Video Converter Free
Any Video Converter Free is a free-to-use conversion tool that lets you convert music and video files to other formats. This tool is ideal if you're seeking a quick and lightweight way to convert YouTube videos to MP3s.
Although it's free, an upgraded version is available that comes with subscription plans and has unlimited features.
All you have to do is copy and paste the YouTube video link into the app to begin the conversion process. This program can do more than just convert YouTube videos; it works with a wide range of music and video formats, such as FLV, MP3, AVI, MOV, MP4, and more.
In addition, it provides a user-friendly design and compatibility with both Mac and Windows operating systems, making it idyllic for a wide range of users.
It also contains an all-inclusive toolkit featuring personalized workflow tools that let you accomplish your video conversion processing duties quickly and efficiently. Overall, Any Video Converter Free provides you with the best all-in-one video conversion processing solution.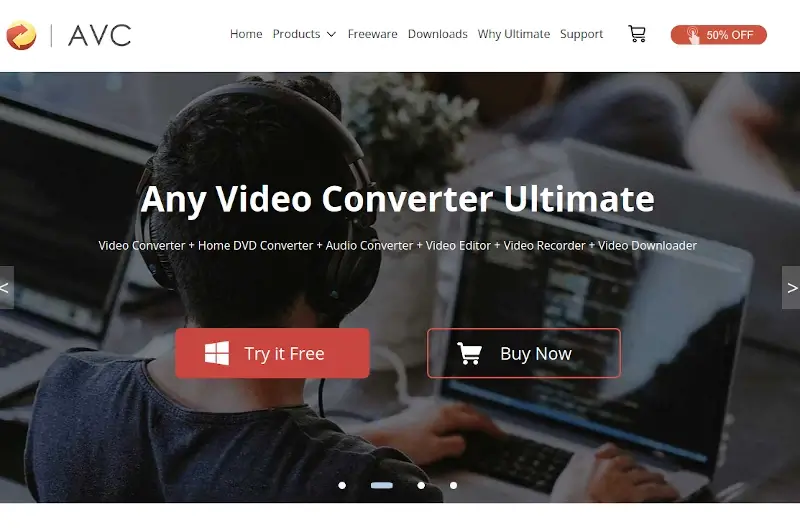 7. Allavsoft
Allavsoft is a free desktop program that works on both Mac and Windows, and it lets you download multimedia files from a number of streaming websites, including Vimeo, Dailymotion, and YouTube.
In addition, the application lets you convert videos to audio files. With this tool, It is possible to download videos, music files, movies, cartoons, and other types of content from many streaming sites.
The app supports a number of websites, such as Vimeo, MyVideo, Udemy, Instagram, Twitter, and Sevenload.
The following are some features of Allavsoft:
It provides an intuitive user interface.
It features a browser plugin that facilitates the downloads.
You can record any video clip from the screen with its screen recorder.
You can merge many video files into one using its merge feature.
Note: While there is a free trial version of this program, the complete version is only available for purchase.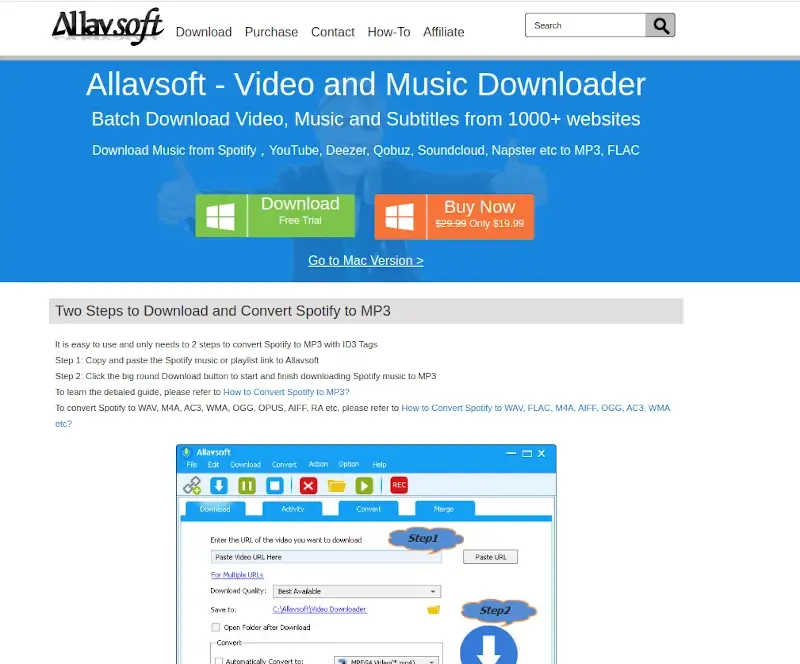 8. DVDVideoSoft
DVDVideoSoft YouTube to MP3 Converter is a program that lets you download audio from any YouTube video. To use this software, enter the URL of the video, extract the audio from it, and then download the video as an MP3 file to your device. The program can be accessed on a Windows OS.
This conversion tool provides the option to download YouTube playlists and high-quality MP3 files. Numerous file formats, including MP3, M4A, OGG, FLAC, and more, are supported, and it also lets you modify the audio file's bitrate and quality.
Some of the benefits of using the DVDVideoSoft YouTube to MP3 Converter include:
Convert any playlist on YouTube to MP3.
In mass, download and transcode audio files.
There is no daily cap on the number of batch downloads.
Combine many audio files into a single one.
Play songs straight into iTunes.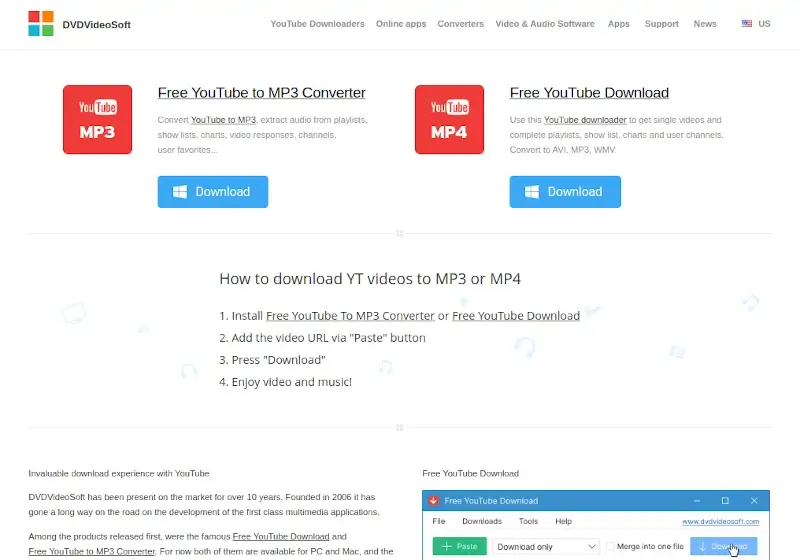 9. WinX HD Video Converter Deluxe
YouTube video conversion is a skill that both experts and novices need to know. Fortunately, users with any skill level can easily navigate the WinX HD Video Converter Deluxe dashboard. Numerous video formats, such as MP3, MP4, HEVC, H264, MKV, AVI, and more, are all supported.
You won't have to wait around for very long because the program has GPU acceleration options to assist in speeding up the process. The free edition of this app allows you to convert videos up to five minutes, so it's a good thing because most YouTube videos are usually shorter.
Additionally, WinX HD Video Converter Deluxe provides sophisticated capabilities, including video editing and compression. It can be used to trim and combine videos, add subtitles, compress big video files without sacrificing quality, and more.
10. EaseUS Video Downloader
One quick and ad-free way to convert YouTube videos to MP3 is with EaseUS Video Downloader. With this program, you can easily download YouTube videos and extract their audio in MP3 format.
By deploying this conversion tool, you can convert YouTube videos to audio in high quality, up to 320 kbps. In addition, you can download streaming video from interactive live streaming services and capture any online video that has audio from social media sites like Facebook, Instagram, YouTube, and so on.
While watching, you can even download videos without worrying about losing internet access, missing amazing moments from a live TV show, or seeing a lot of pre-roll advertisements.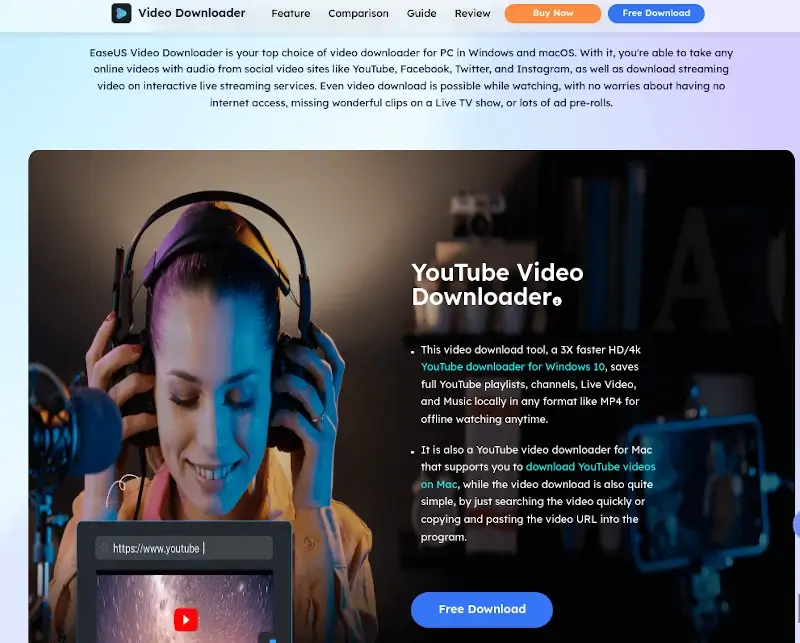 11. Kapwing
Apart from being an online video editor, Kapwing can also be used as an MP3 to YouTube converter.
When you upload and want to convert different file types that the browser cannot support, it triggers the upload or conversion process. Real-time conversions of files such as FLVs, WAVs, WMVs, AVIs, and others are the different types of files. To make these file types easier to use and share, Kapwing automatically converts them to mp3/mp4 format.
In addition, you can add music, text, animations, transitions, and other effects to your videos. Not only can you change the format of your videos using Kapwing, but you can also do other cool things like cutting, combining, adjusting the size, and changing the shape.
Kapwing helps you make your videos look even better and take them to a higher level of quality. It comes with a free plan and a pro version that lets you unlock unlimited pro features, such as the ability to convert videos for up to an hour.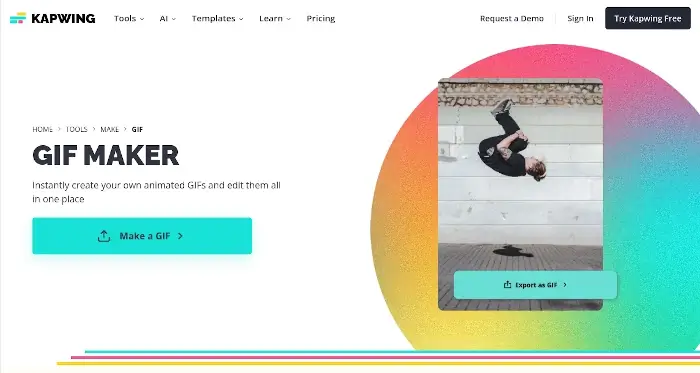 12. MediaHuman YouTube to MP3 Converter
MediaHuman YouTube to MP3 Converter is a user-friendly tool designed for extracting audio from YouTube videos effortlessly. With a simple interface, it allows users to convert YouTube content into MP3 format swiftly
MediaHuman software supports batch processing, that enables users to convert multiple files simultaneously. It boasts high-quality audio output and provides options for customizing the output settings.
Among MediaHuman YouTube to MP3 Converter's features are:
YouTube, VEVO, Vimeo, SoundCloud, DailyMotion, and other websites can all be used to download audio.
It provides you with various audio quality choices, including 320 kbps, 256 kbps, 128 kbps, and more.
It offers you an integrated YouTube search function.
The downloaded audio can be converted to a number of different formats, including MP3, M4A, OGG, FLAC, and more.
Supports Linux, macOS, and Windows OS.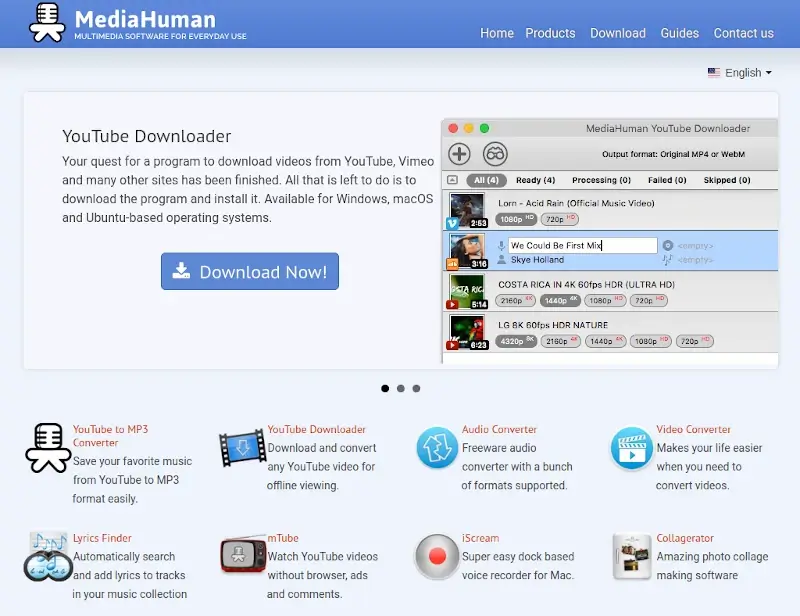 13. Y2mate
Y2mate is a website that lets users download and convert audio files from YouTube for free. In addition, its latest version also allows you to download videos from Facebook Video, Dailymotion, Youku, and other sites if you want to go beyond YouTube videos.
You can then listen to the high-quality files created by Y2mate on any device, including phones and laptops, with or without internet access
Some of the Y2mate features include:
All downloads are free and limitless.
No registration is needed.
Allow downloads in all possible formats.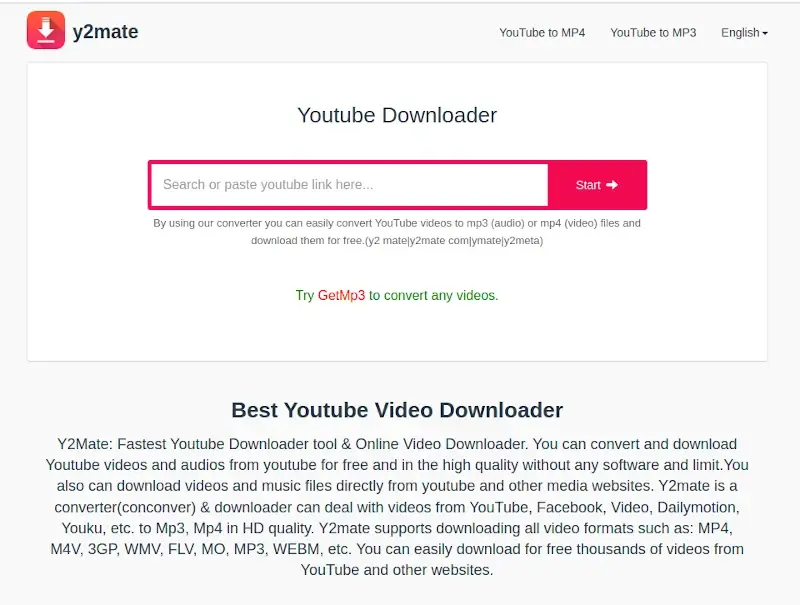 14. OnlineVideoConverter
OnlineVideoConverter is a simple online platform for converting videos from numerous sources, including YouTube, into multiple formats. The program places an emphasis on simplicity, allowing users to convert films without the need for software installations or complex processes.
Users can convert their favorite internet videos to MP4 or MP3 formats for offline viewing with only a few clicks.
Some of the features that OnlineVideoConverter.pro packs include:
Many formats are supported, including FLV, 3GP, MPEG, MP4, and more.
It offers quick download times and a variety of high-quality options.
It can download MP3 files and works with both Windows and Android devices.
It operates online and doesn't require installation or registration.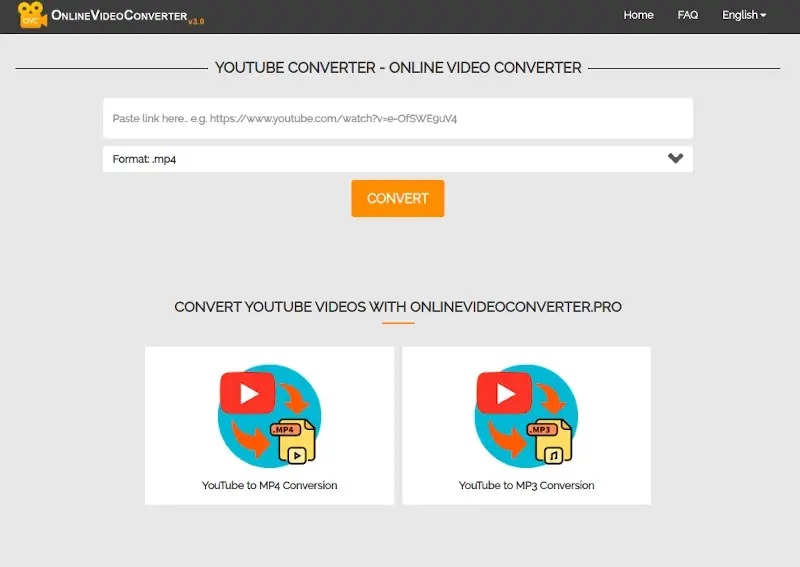 15. 320ytmp3
320ytmp3 is an online YouTube to mp3 converter tool for downloading mp3 music from YouTube at up to 320kbps quality. You do not need to install additional software or Apps on your computer or mobile phone; all you need is a YouTube video link, and all conversion processing is handled on its highly advanced server side.
Among 320ytmp3 features are:
Numerous formats are supported, including FLV, WEBM, MP4, M4V, and more.
It offers up to 320 kbps of high-quality conversions and rapid download speeds.
It doesn't require installation or registration and works with all devices and browsers.
It has the ability to view and download videos from thousands of websites, including Dailymotion, Facebook, and YouTube.
In addition, you can convert and download an unlimited number of mp3 audio files without restriction and, of course, for free.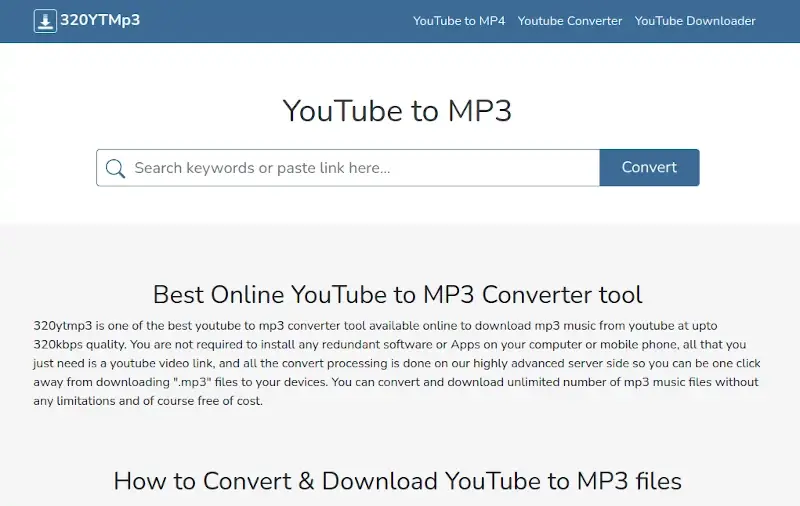 16. Listenvid.net
Listenvid is an online application that allows the download and conversion of videos from YouTube, Dailymotion, Vimeo, Facebook, and other platforms into numerous audio formats.
The platform assures users that they can simply download their favorite content without compromising quality by focusing on delivering high-quality conversions quickly.
The converter runs entirely on dedicated servers, delivering a pleasant user experience while not draining the device's capabilities.
Some of the features of Listenvid.net include:
For MP3, it allows for high-quality conversions up to 320 kbps, and for MP4 and AVI12, HD-level conversions.
It operates online and doesn't require installation, registration, or payment.
It supports several languages and has an easy-to-use interface.
It features a browser extension for convenient access, and it can view and download movies from thousands of websites.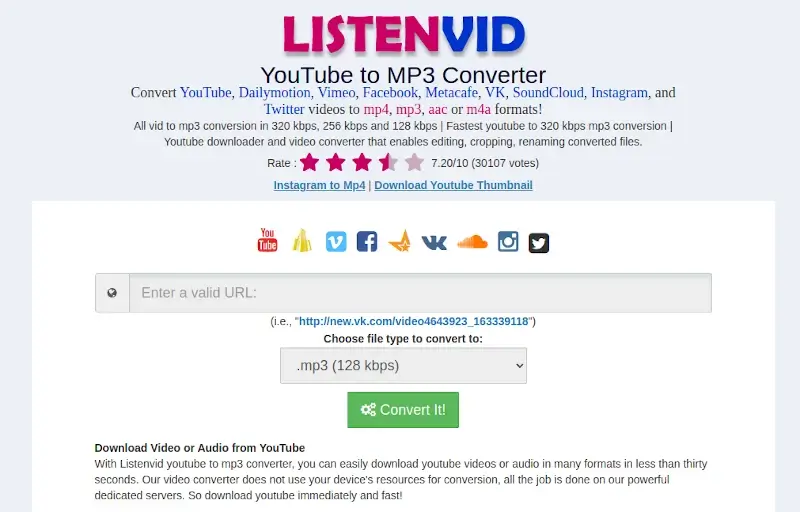 17. FlV2mp3
Flv2mp3 is a website that allows the conversion of videos from YouTube and other streaming sites into MP3 format. The platform focuses on user ease, providing a quick and simple conversion procedure without the need for complicated steps.
Users can listen to their favorite videos as high-quality audio tracks, making it an ideal alternative for music fans. Additionally, Flv2mp3 supports a variety of alternative formats, including WMA lossy, Apple's AAC for Mac, DivX, mp3, and many more! Keep in mind that the size of your file determines the pace of the conversion.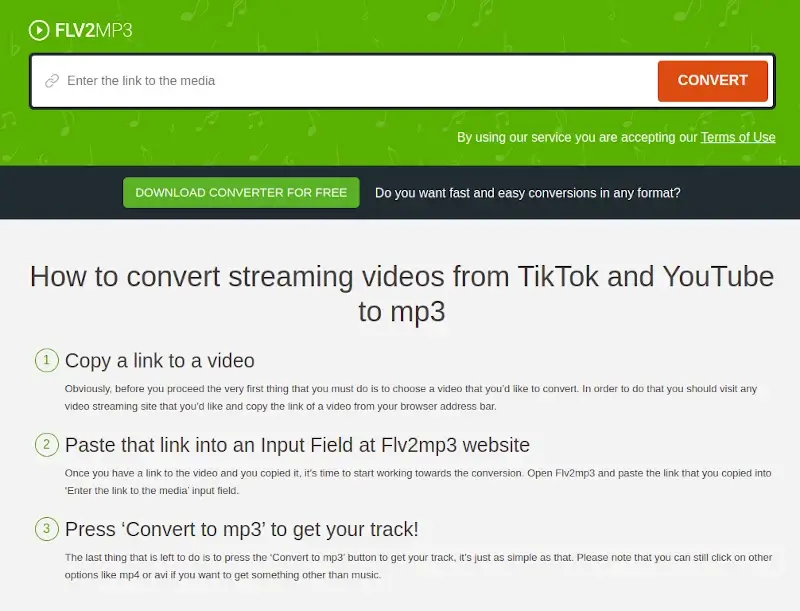 18. Movavi Video Converter
If you want a robust yet simple converter, consider Movavi Video Converter! It is a desktop program that allows you to convert videos to a variety of audio formats. Besides that, it supports more than 180 media formats.
Movavi Video Converter allows you to convert numerous files at once at great speed. Aside from conversion, the software allows you to compress files and perform basic editing tasks such as trimming, applying filters to films, and adding and modifying subtitles.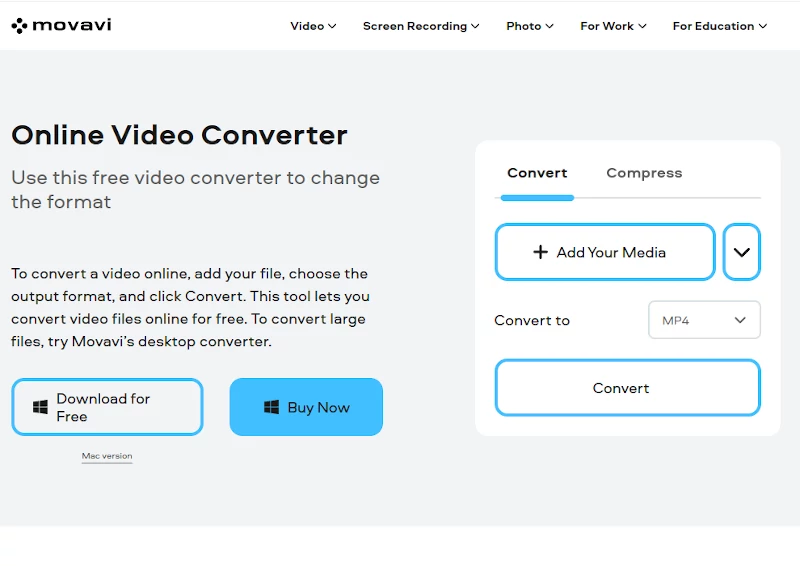 Conclusion
Using YouTube to MP3 converters can be an effective way to watch your favorite material while on the go and offline. Navigating this arena, on the other hand, necessitates a delicate balance of safety, legality, and functionality.
Therefore, It is imperative to use trustworthy platforms that prioritize user security terms and follow copyright rules.