Over a year ago, we published a list of the Top 10 Open Source Distros You Haven't Heard About, and although we received good suggestions in the comments section, the subject of our article today was nowhere in our radar. It goes by the name of FWUL which, interestingly, stands for Forget Windows, Use Linux.
FWUL (Forget Windows Use Linux) is a lightweight open-source Operating System based on Arch Linux that started as an initiative to create a smooth Android-like User Experience for desktop users who had issues with Microsoft Windows.
The same way FWUL has an interesting OS name is the same way it has an interesting back story: The developer always pointed users to Linux whenever they complained about their issues with Windows because he believed that most of them were fixable in Linux. However, popular distros like Ubuntu and Linux Mint didn't include everything Android users need. For example, Ubuntu users still need to enter commands to install some apps, flashing Android phones requires installing certain drivers, etc.
This is the main reason he went on to build a custom OS that you can connect your Android device to without experiencing the hassle of adb and fastbootinstallations.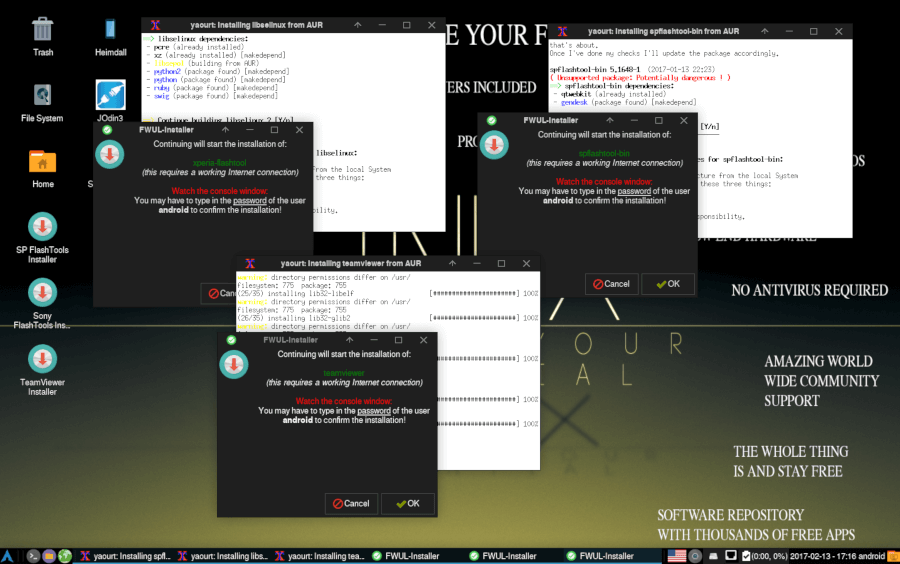 FWUL gets rid of the driver hassle and complicated installation of Android tools related to using Android on Windows. The project started as an adb/fastboot ISO but now, it ships with all tools useful when it comes to using Android with your PC including flashing tools like JOdin for Samsung and LGLAF for LG, to name a few.
Features in FWUL (Forget Windows Use Linux)
FWUL's features include a Windows 10 theme, fast and reliable Android debugging, full support for MTP and PTP, installers for Sony Flashtool, spflashtool for MediaTek devices, and Teamviewer (TV), shell access for managing LG phones, adb and fastboot preinstalled complete with a GUI.
JOdin (Java-based version of Odin for Samsung devices), heimdall (GUI/CLI tool for Samsung devices), and many more!
Summarily, Forget Windows Use Linux is an easy-to-use distro capable of completing all your development tasks. You can read more details on its features here and as usual, you're welcome to share your experience with the OS and thoughts of its usefulness in the comments section below.