Kano Computer Kit is a collection of items that you can use to build your own computer for learning to code, playing with art, games, light, music, motion, etc.
It includes over 100 step-by-step challenges that make for an interesting creating and learning experience as you work with various computer components including the much-loved Raspberry Pi.
Kano Computer Kit PCs are Chrome OS-like and are as good as any other simple PC because you can use it to browse the Internet, create beats with Google Song Maker, make animations with Scratch, draw with Tux Paint, use WhatsApp, Gmail, etc.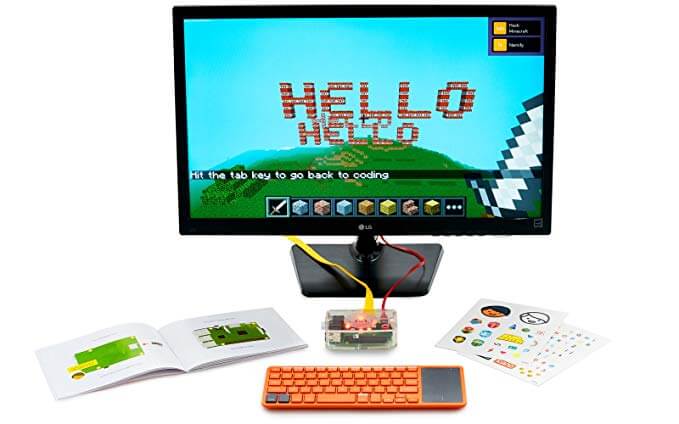 Kano Computer Kit Features
A step-by-step book of instructions.
Kano – a unique Operating System.
Raspberry Pi 3, programmable LED lights.
A DIY case with a power button, wireless keyboard with trackpad, memory, HDMI and power cables, and stickers.
100+ pre-installed applications including Tux Paint, Scratch, and Google Song Maker, to name a few.
100+ coding challenges for learning how to program.
Support for HDMI display.
An open community with 700,000+ creations.
Kano Computer Kit is an award-winning initiative with awards like the Red Dot, Webby, Cannes Gold Lions, and Family Choice awards under its belt.
It is also trusted in 2000+ schools and clubs where it is used for recreational activities and teaching students how computers are built and how to program.
2018 saw the release of the latest Kano Computer Kit and it is suitable for anyone aged 6.
[mks_button size="medium" title="Buy from Amazon" style="squared" url="https://amzn.to/2Sq6yax" target="_blank" bg_color="#529b30″ txt_color="#FFFFFF" icon="fa-download" icon_type="fa" nofollow="1″]
How would you like to build a computer by putting components together? Tell us what you think about Kano Computer Kit technology in the comments section below.