2018 is here and ticking; will we finally get an official Evernote client app for Linux? Maybe not. But why does it matter? I've written about a good number of Evernote alternatives and today I introduce to you yet another one.
Joplin is an open-source productivity application used for taking high-quality digital notes. With it, you can take notes in Markdown format, organize them into notebooks, and make them easily locatable using tags.
Joplin can read .enex files exported from Evernote complete with all the images, metadata, and styles intact. As you would expect from an excellent Electron-based app, Joplin features a beautiful and intuitive User Interface.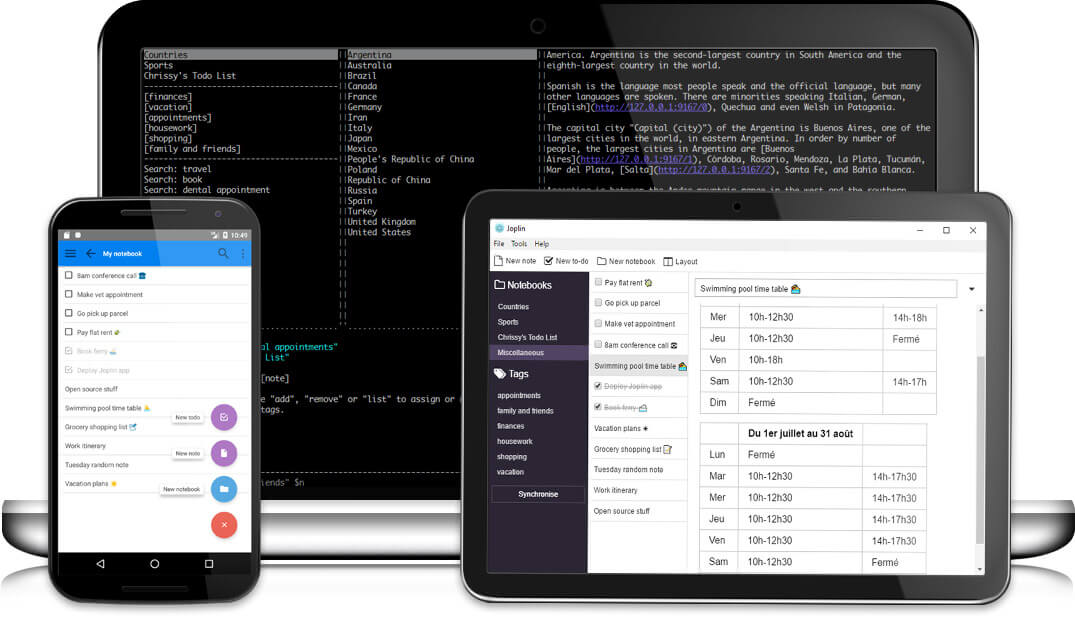 Features in Joplin
Free and open-source.
A beautiful and responsive UI.
Available for download on Linux, macOS, Windows, iOS, Android, and the Command Line.
Import notes from Evernote.
Support for tags.
Android client app is written in React Native.
Markdown support.
Access files offline.
Geo-location support.
Synchronization support with Microsoft OneDrive and Nextcloud.
Online tutorial for interested users.
Joplin is currently in beta but a stable version should be released soon. Whenever you can, raise any issues you come across with the developers if you happen to cross any.
Download the Desktop version of Joplin (available in AppImage) for Linux.
[mks_button size="medium" title="Download Joplin Desktop Version for Linux" style="squared" url="https://github.com/laurent22/joplin/releases" target="_blank" bg_color="#529b30″ txt_color="#FFFFFF" icon="fa-download" icon_type="fa" nofollow="1″]
If you would like to have the CLI version of Joplin, install it via NPM by entering the following command into your terminal. The same code works for Linux, macOS and Windows platforms via WSL.

# npm install -g joplin
# joplin

Have you seen our other productivity apps that work well as unofficial client app for Evernote? Check them in your spare time – you might just like one of them more.
Tell us what you think about Joplin if you get to use the app and don't forget to drop your comments.