We recently introduced you to a command line music app, MOC media player for Linux, that comes with an equalizer and a mixer.
Today we bring you another command line app called Tizonia, which can play locally stored music files and also allow you to listen to your favorite music streaming platforms.
Tizonia is an Open Source command-line application for streaming music on your Linux desktop.
It features a custom OpenMAX IL 1.2-based multimedia framework alongside Google Music, Spotify, Dirble, and YouTube.
Features in Tizonia
Available for Debian and Rasberry Pi
Play local media files
Radio integration: SHOUTcast/Icecast
SoundCloud integration
Spotify integration
Google Music integration
Remote control support using MPRISv2
How to Install and Use Tizonia Music Player on Linux
Install Tizonia, simply type the following on a terminal:
$ curl -kL https://goo.gl/Vu8qGR | bash

To stream music, you must connect your accounts (e.g. Google, SoundCloud, Spotify, etc) by adding account credentials to the tizonia.conf file.
$ nano /home/tecmint/.config/tizonia/tizonia.conf

Start Tizonia by entering:
$ tizonia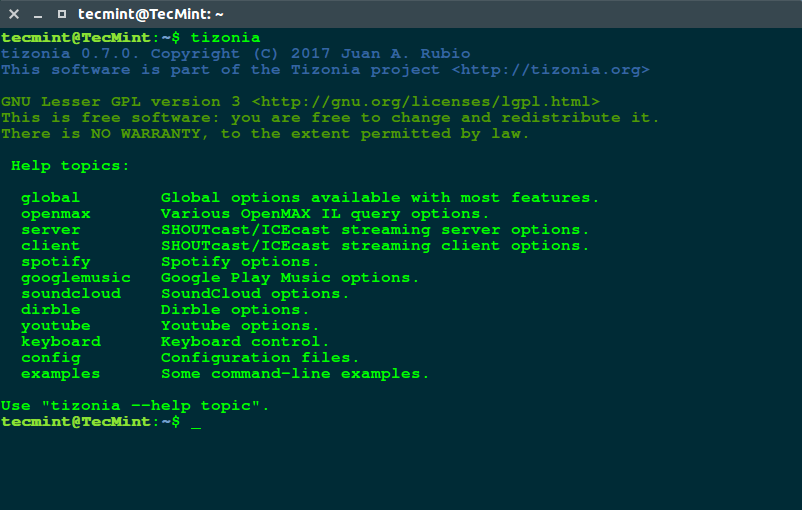 The streaming client comes with a detailed manual to get you up and running with it so if you ever get confused about which commands to use, access the manual by entering:
$ tizonia --help googlemusic
$ tizonia --help soundcloud
$ tizonia --help spotify
$ tizonia --help youtube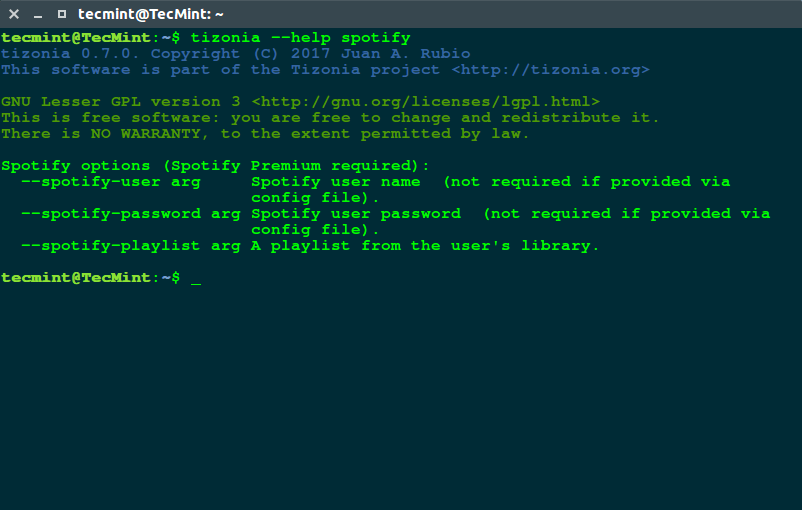 Tizonia's --help command can be followed by another to streamline the man page results.
To play local music files, just type:
$ tizonia Sia-The-Greatest.mp3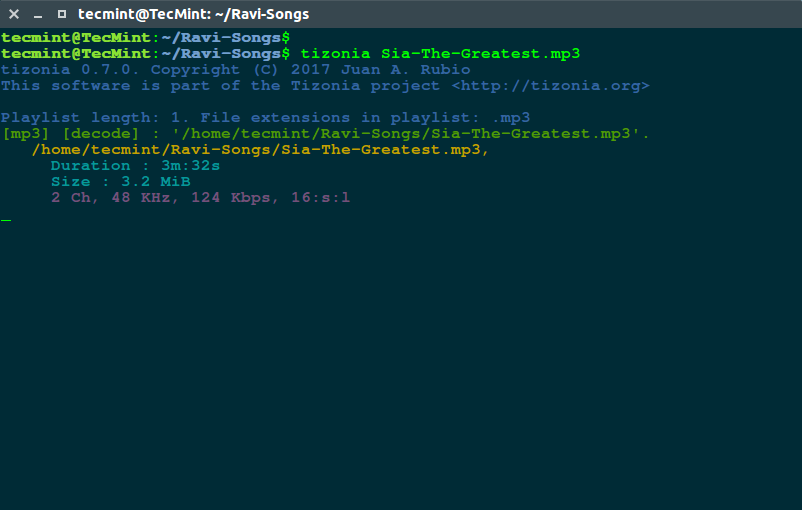 What's your take on Tizonia? Does it take away the place MOC music player might have taken in your heart? Or perhaps you don't like command line apps at all. Let me know your thoughts in the comments.