It wasn't too long ago that we brought you a list of the top 6 alternative Evernote clients for Linux since Evernote itself hasn't deemed it fit to release an official client for our Linux community.
Today I stumbled upon an Evernote client app for Linux that aims to bring the complete note-taking experience to Windows,Mac and Linux.
Whatever is a free and Open Source unofficial Evernote client for Linux possessing the same look and feel the Evernote client apps for other platforms possess.
Ultimately an Electron wrapper for Evernote's web version, it mirrors all of its functionality including a background working mode and tray icons.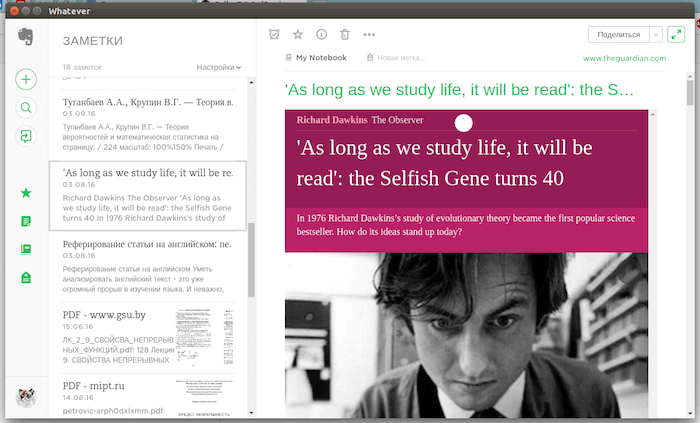 Top Features in Whatever App
Like I mentioned above, Whatever has all the functionality you can get from Evernote's web version, which includes:
Smart note-taking
To-do lists
Note sharing
Universal search
Unity Search
App menu in notification panel
Cross-device synchronization
Support for media files (audio, pdf, images, etc.)
How to Install Whatever Client in Linux
Whatever is released under the MIT license and available for download as a .deb and .tar.gz package.
[mks_button size="medium" title="Download Whatever Client" style="squared" url="https://sourceforge.net/projects/whatever-evernote-client/files/v1.0.0/" target="_blank" bg_color="#dd3333″ txt_color="#FFFFFF" icon="fa-download" icon_type="fa" nofollow="1″]
Once the download is complete install it using either your Software Center or an alternative installer app like Gdebi.
Don't forget that Whatever is not supported by any commercial organization including Evernote Corporation. As the devlopment team put it, Whatever is "100% free, non-commercial, independent and unofficial".
What do you think about Whatever unofficial Evernote client for Linux? Are you happy that there's a somewhat Evernote client app for the Linux desktop or are you disappointed it's another Electron app?
Share your thoughts with us in the comments section.