Have you ever had the need to do a quick video conversion without launching a full-blown video editing app? trust me, I've been there, time and again and it's rather burdensome to go through the process of using an obviously more complex tool to do a really simple job.
viDrop is a neat little tool that aims to make your life easier in this respect. As evident from their website; "viDrop is free video transcoding software for GNU/Linux and Windows operating systems. With its help, you can easily convert your favorite movies or videos into format, playable on your Smarthone, Tablet, MID, Portable Media Player etc".
Furthermore, viDrop's minimalistic nature doesn't stop it from adding some nifty features for an overall basic easy conversion.
The application caters for the following
Support for extensive codec and file format.
Convert DVDs in any supportable format you like, so you can watch videos or movies on your portable device.
Support for embed video subtitles – useful when your device doesn't have support for subtitles
Supports user defined presets with limited settings, so you can save your favorite settings for later use
Apply various video filters – resize/crop, sharpen, blur, deinterlace (convenient when converting DVDs)
Multi-platform support – GNU/Linux and Windows
Asides all that, viDrop is "based on the well-known mplayer/mencoder engine" and uses the GNU General Public License 3. Moreso, it's "created entirely with the aid of free software programs – Python, GTK, GIMP, and GEdit".
Installing viDrop in Linux
viDrop is available as a precompiled deb for Debian, Ubuntu and similar systems (download here).
For other Linux systems, you can download the compressed package here that you can then extract and run the viDrop executable (as seen below) you'll find inside from the terminal or just mark as an executable from the properties of the file and then double-click to run.
$ vidrop-simple.py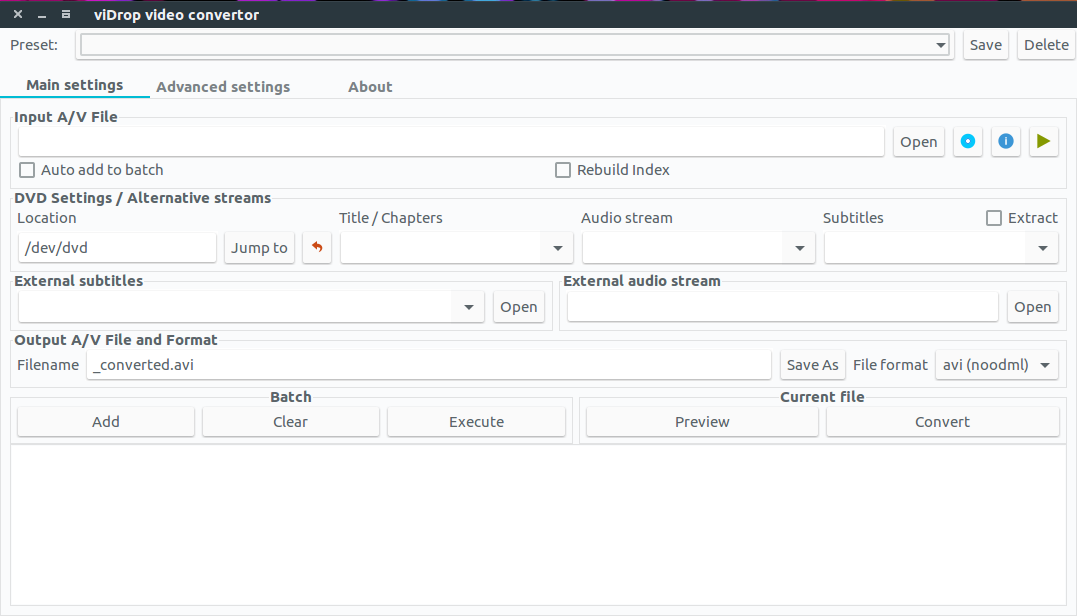 Alternatively, you can install viDrop using the ppa provided by eMcE who's a constant reader of Tecmint.
sudo add-apt-repository "deb http://download.learnfree.eu/repository/skss"
wget http://download.learnfree.eu/r... -q -O- | sudo apt-key add -
sudo apt-get update
sudo apt-get install vidrop

It is noteworthy that viDrop depends on Python. In a nutshell, viDrop certainly won't disappoint so we admonish you to give it a try as it's certainly worth the time.