If you enjoy cooking like I do, you know how fun it is to create delicious dishes. But with our busy lives, it's not always easy to find recipes that can help you prepare a variety of restaurant-grade meals from the comfort of your kitchen.
Luckily, we're in 2023, and cooking has gotten even more exciting – All thanks to the best cooking and recipe apps!
Imagine having a virtual kitchen helper right on your phone. These apps are like friendly guides that help you cook awesome meals. These apps are designed to make cooking easier and more fun.
Besides, they offer things like personalized meal plans that match your diet, and they show you videos that teach you cooking tricks step by step.
This article will discuss the 15 best cooking and recipe apps in 2023 that are changing how we cook and enjoy food. Your next yummy dish could be just a tap away!
1. Cookpad
Cookpad is more than just a cooking and recipe app; it's a vibrant community of food enthusiasts sharing their culinary creations and kitchen wisdom. With a user-driven approach, Cookpad invites you to explore a diverse range of recipes, from traditional favorites to creative twists.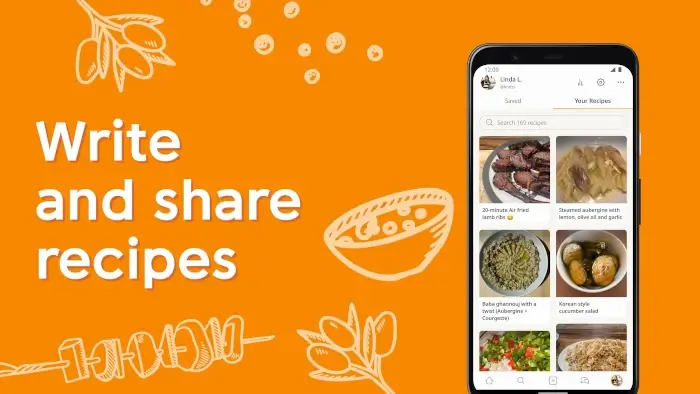 The app's strength lies in its user-generated content, where home cooks from around the world contribute their tried-and-true dishes. Whether you're seeking inspiration for a weeknight dinner or craving an adventurous culinary experiment, Cookpad offers an extensive library of recipes at your fingertips.
Cookpad is a perfect place to discover, share, and savor delightful homemade dishes that cater to all tastes and preferences.
2. Yummly
If you are looking for an app that stands out as a personalized cooking and recipe tool, Yummly is an incredible option. This app tailors its recommendations to your individual tastes and dietary needs.
Besides, this smart app learns your preferences over time, offering a curated selection of recipes that match your cravings and requirements.
With an impressive collection of dishes spanning various cuisines and skill levels, Yummly ensures you never run out of ideas for your next culinary adventure.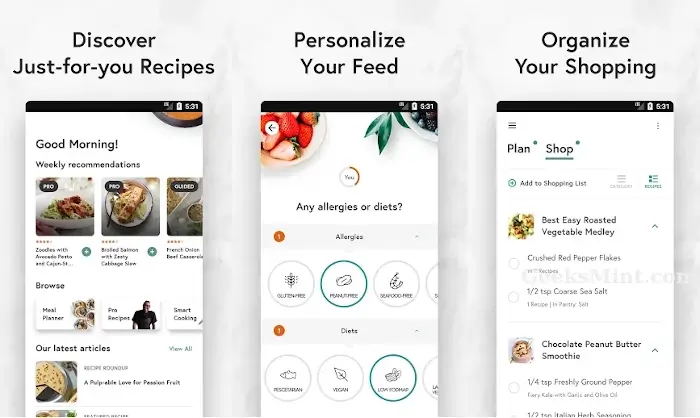 The app is a perfect fit for everyone. Thus, if you are a carnivore, vegetarian, or have specific dietary restrictions, Yummly's intuitive interface and powerful search features make finding the perfect recipe a breeze.
Elevate your cooking game with Yummly's user-friendly instructions and eye-catching visuals, turning every meal into a delightful masterpiece customized just for you. Ideally, it can never get better than this.
3. Tasty
Tasty, the renowned cooking and recipe app, brings the joy of cooking to your fingertips through its captivating recipe videos and easy-to-follow instructions.
With its visually appealing interface, Tasty turns cooking into a fun and interactive experience.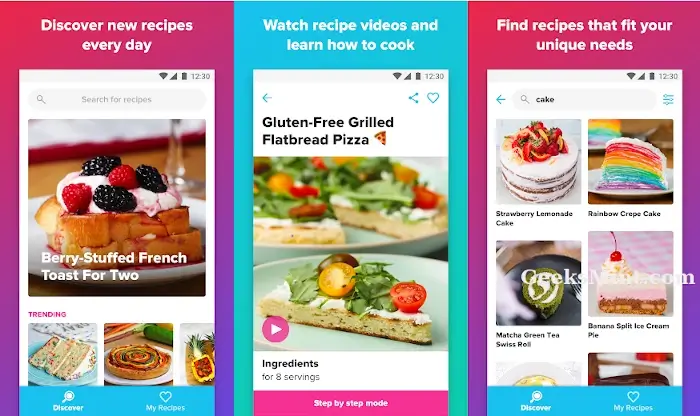 From quick weekday meals to impressive showstoppers, the app offers a diverse array of recipes that cater to various tastes and skill levels. Tasty's step-by-step videos guide you through each culinary creation, making even complex dishes feel manageable.
You'll find a wide range of cuisines and culinary trends, ensuring there's something exciting for every palate. Seasoned chefs or kitchen newbies will find Tasty's innovative approach to recipes actionable and educative, all while enjoying the process.
4. Allrecipes
The next app on our review of the best cooking and recipe apps is Allrecipes. It is a comprehensive cooking and recipe app that brings together a global community of home cooks and their tried-and-true culinary creations.
Notably, this app takes pride in a vast collection of user-submitted recipes, offering an abundant source of inspiration for every mealtime occasion.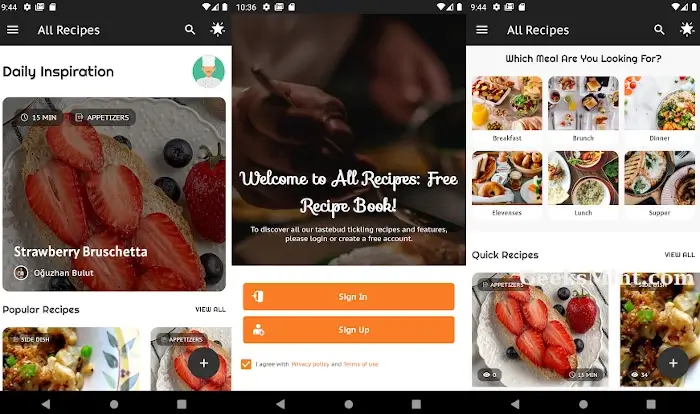 Allrecipes covers a diverse range of tastes and preferences, ranging from comfort foods to exotic dishes. The app's strength lies in its user-generated content, with reviews and ratings helping you identify top-notch recipes.
Whether you're looking for a quick weeknight dinner idea or planning a festive feast, Allrecipes provides a wealth of options. Embrace the collective wisdom of fellow cooks and dive into a world of flavors, techniques, and creativity with Allrecipes.
It remains a perfect app for making your kitchen a hub of delicious experiments.
Available On: Android
5. BigOven
It is impossible to talk about the best cooking apps without mentioning BigOven, a meal planning and recipe app that simplifies your culinary journey from start to finish.
With a focus on organization, the app lets you store and access your favorite recipes. It allows you to create shopping lists and even plan your meals for the week ahead.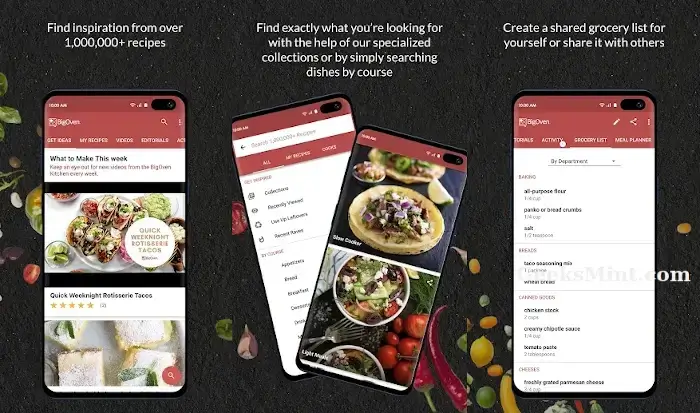 Its vast recipe library covers a wide spectrum of cuisines and dietary preferences, ensuring you'll never be short of ideas. BigOven's user-friendly interface helps you streamline your cooking process and is perfect for preparing small portions or cooking for large gatherings of friends, relatives, or special guests.
The app's standout feature is its ability to generate shopping lists based on the recipes you choose, making grocery shopping a breeze. Elevate your cooking experience with BigOven's practical tools, turning your kitchen into an organized haven of culinary exploration.
6. SuperCook
Unlike other recipe apps, SuperCook shows you recipes that you can make instantly with the ingredients you already have at home. It has over 11 million recipes available, ensuring that you'll never run out of ideas for your next meal.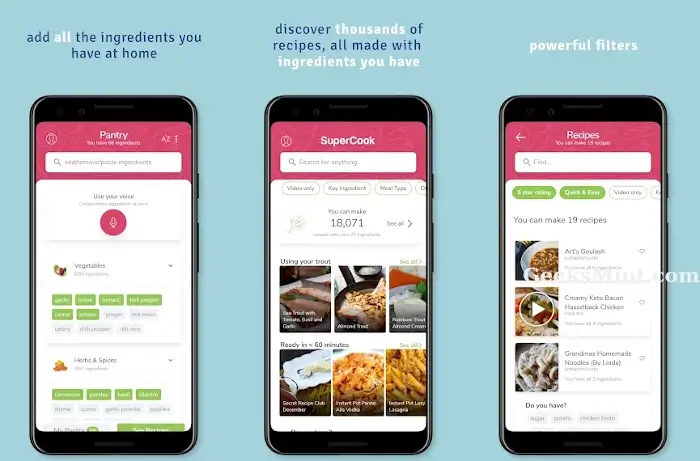 The app works by allowing you to input the ingredients you have in your pantry, which can be chosen from a list of over 2,000 ingredients.
SuperCook then uses its magic to find recipes that match your ingredients, saving you from inconvenient grocery runs and unnecessary purchases.
It also offers features like voice dictation mode for quickly adding ingredients to your pantry and adjusting recipe ideas when you run out of an ingredient.
SuperCook is designed to inspire new ideas and activities in the kitchen for everyone, from new cooks to pro chefs. It helps you make the most of what you already have, reducing food waste and saving you time and money.
7. Mealime
The next time you find yourself wondering what to make with the ingredients in your fridge, Mealime can be your culinary savior, providing you with endless recipe options and helping you create delicious meals with ease.
The app focuses on reducing food waste by creating meal plans that utilize the majority of purchased ingredients, helping you save money and eliminate the frustration of ingredients going bad.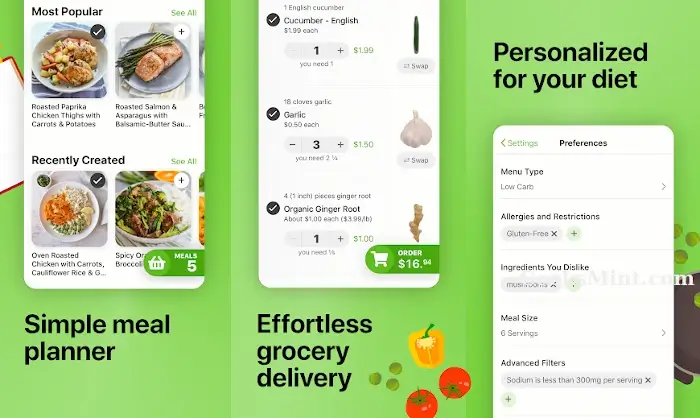 The app generates a grocery list based on the chosen recipes, preferences, and restrictions, making it easy to shop for the ingredients needed for the week. For those who dislike grocery shopping,
Mealime even allows users to import the grocery list into services like Amazon Fresh or Instacart for convenient home delivery.
Notably, Mealime is an app that simplifies meal planning, reduces food waste, and helps users save money.  It offers a collection of recipes that fit users' needs and provides nutritional information, including calories and macros.
Mealime also offers a Pro version with additional features such as exclusive recipes, calorie customization filters, and the ability to add notes to recipes.
8. Stashcook
If you are looking for an app that goes beyond simplifying your cooking, Stashcook is what you are looking for. It is a meal-planning and recipe-keeper app that simplifies meal preparation and grocery shopping.
It enables users to save any recipe they find on the web and create weekly meal plans via the app.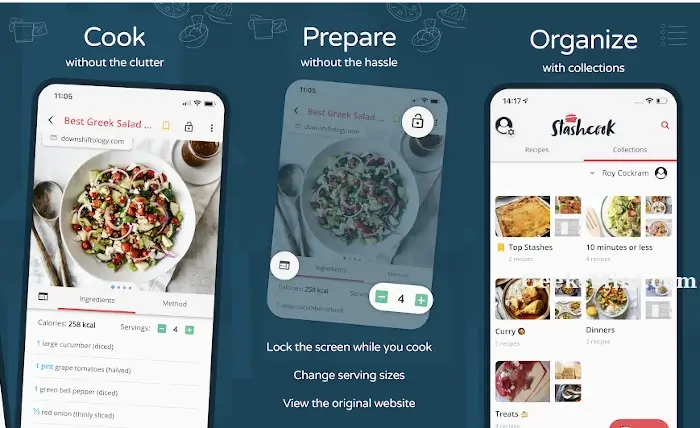 The app streamlines every stage of meal prep and cooking, making it easy to plan meals for the week ahead. You can also organize recipes into collections, making it easy to find quick dinner options or recipes for specific occasions.
Stashcook aims to make following a recipe easier by removing the clutter found on recipe sites and providing a simple interface.
The app also offers a simple grocery list feature that allows you to add all the ingredients from your recipes and manually add any other items you may need. The app then organizes the list by supermarket aisle, making it easy to shop for everything needed for the week.
Even more, Stashcook is free with no limits, allowing users to stash as many recipes as they like and prepare meal plans every week without restrictions.
9. Whisk
Whisk is a cooking app that helps users organize their recipes, meal plans, and grocery shopping. The app allows users to drag and drop their personal recipe collection into a weekly meal plan, making it easy to save time, waste less, or eat better.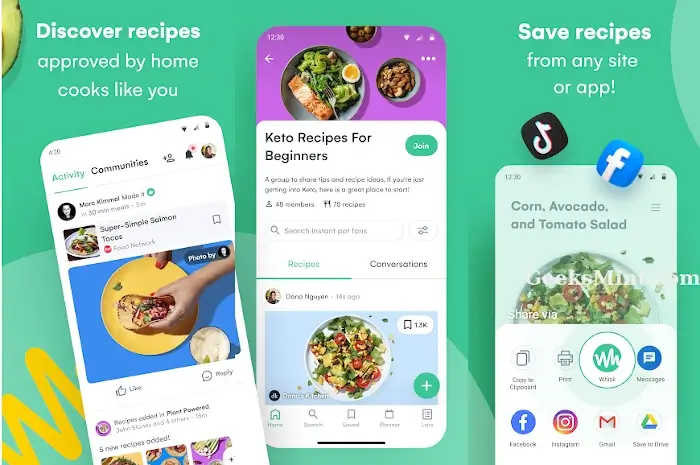 Notably, Whisk's meal planner also helps users cut grocery shopping time in half by instantly turning any recipe or meal plan into a smart shopping list with one click.
The app also unlocks detailed nutrition info and calorie counts for any recipe saved to Whisk, making it easier to achieve health goals.
Whisk has received positive reviews from home cooks around the world for its ability to help users organize their recipes and meal plans.
Additionally, Whisk offers a shareable shopping list feature that allows users to buy food in-store or online with the push of a button.
Available On: Android
10. Kitchen Stories
Kitchen Stories is an award-winning cooking app that offers a variety of features to help users cook and learn about food. The app provides thousands of free recipes that are easy to follow, economical, and elegant to serve.
Moreover, Kitchen Stories includes instructional videos that show users how to prepare recipes step-by-step.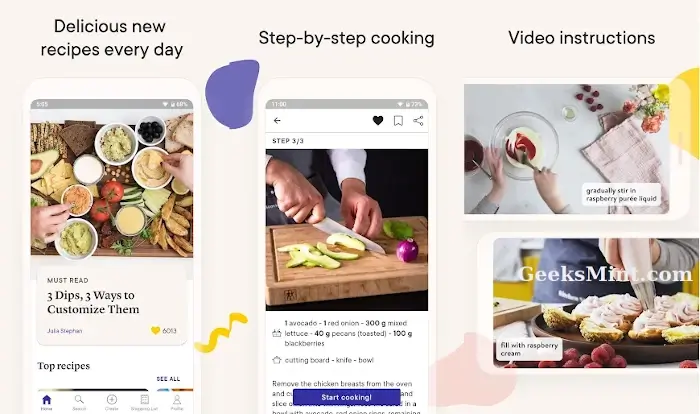 Kitchen Stories allows users to create personalized cookbooks based on their preferences and categorize recipes into categories like "to try" or "delicious." Users can also upload their own cooking and baking recipes to share with the global community of home cooks.
The app provides detailed nutritional information and calorie counts for all recipes saved to the app. Kitchen Stories is easy to use, interactive, and features appealing visuals.
Whether you're a beginner or an advanced foodie, there's always something new to learn in the app.
11. AnyList
Anyone looking for versatility will look no further than AnyList. It is a versatile app that combines a recipe box, meal planner, and list-maker all in one.
It offers a grocery list that comes pre-loaded with departments, categorized lists that allow you to customize your own sections, and a basic list.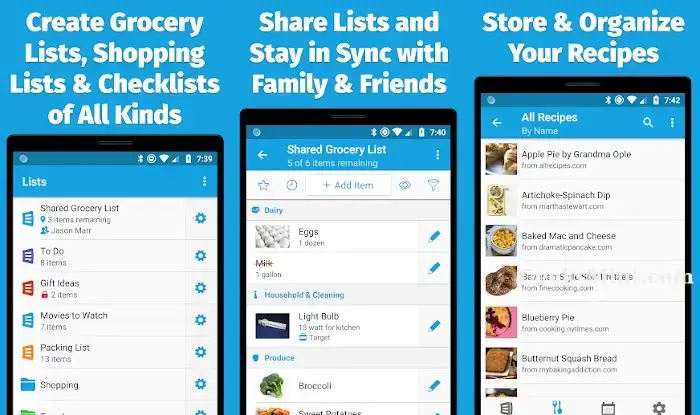 The app is designed to make list-making incredibly easy and intuitive, and it can be used for grocery shopping, vacation packing lists, and home project organization lists.
AnyList also allows users to shop in conjunction with meal planning. Users can upload recipes to the app, assign the recipes to a day of the week, scale them if necessary, and add ingredients to their grocery list.
The app is popular for its user-friendly interface, high-quality recipes, and ability to sync with family and friends. AnyList is available on both iOS and Android platforms and is among the best cooking and recipe apps on both platforms.
12. Paprika Recipe Manager 3
Paprika Recipe Manager 3 is a versatile app that helps users organize their recipes, make meal plans, and create grocery lists. The app offers a built-in browser that allows users to save recipes from anywhere on the web, and a cloud sync service that seamlessly syncs data across all devices.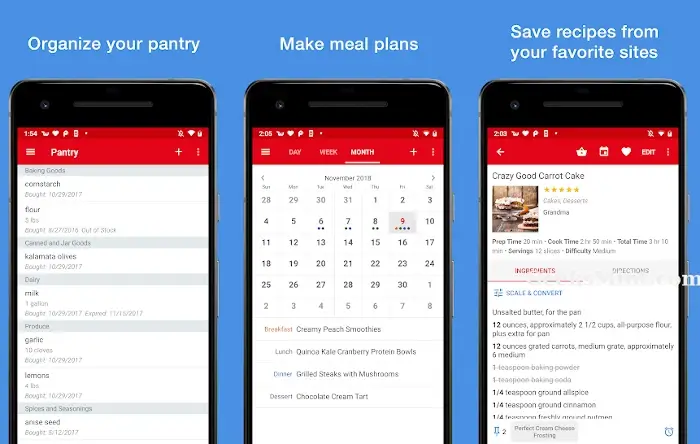 Paprika Recipe Manager 3 also includes a top-notch pantry system, highly customizable recipes and lists, and other excellent features that make it a fantastic mobile companion app for rigorous home cooks and casual kitchen dabblers alike.
You will undoubtedly fall in love with the app's user-friendly interface, high-quality recipes, and ability to sync with family and friends.
Paprika Recipe Manager 3 is available on multiple platforms, including iOS, macOS, Android, and the web. The app is a great choice for anyone looking to simplify their meal planning and cooking routines.
13. Food Network Kitchen
Food Network Kitchen is the ultimate cooking companion for those who seek inspiration from celebrity chefs and top-notch culinary experts. This app goes beyond just recipes, offering immersive cooking classes, expert tutorials, and engaging live cooking demonstrations.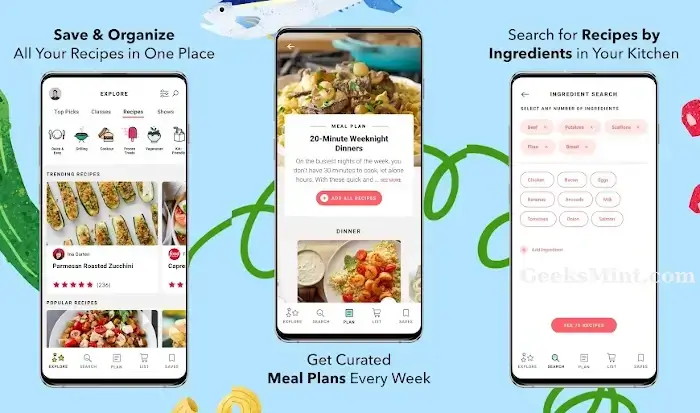 With a focus on interactive learning, Food Network Kitchen guide you through various techniques and dishes, helping you refine your skills in real time.
Whether you're a cooking novice or a seasoned pro, the app's video content and step-by-step instructions cater to all skill levels.
Additionally, it provides a platform for you to connect with fellow food enthusiasts and share your culinary triumphs. With access to a treasure trove of cooking wisdom, Food Network Kitchen brings the expertise of renowned chefs directly to your kitchen, making your cooking experience more enjoyable and educational.
14. SideChef
SideChef is the ultimate cooking coach that simplifies your culinary journey with its interactive and user-friendly approach. This app acts as your virtual kitchen companion, guiding you through each step of the cooking process.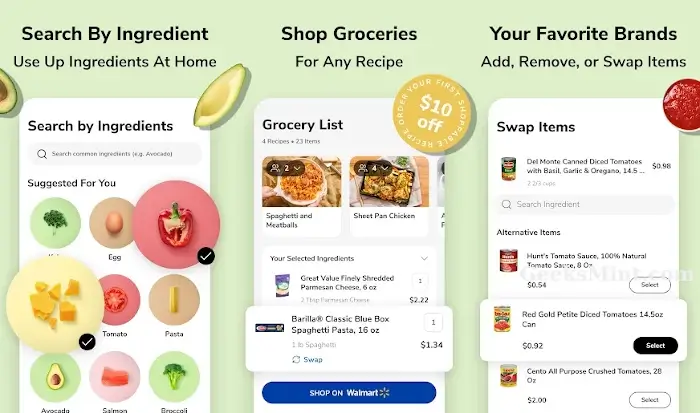 With detailed voice-guided instructions, timers, and interactive features, SideChef ensures that even complex recipes become manageable and enjoyable. The app's vast library covers a wide range of cuisines and dietary preferences, catering to various tastes and requirements.
It also provides customization options, allowing you to adjust serving sizes and ingredients based on your needs. Say goodbye to cooking confusion and hello to culinary confidence with SideChef, as it empowers you to create delicious meals with ease and expertise.
15. ChefTap
ChefTap is a recipe organizer app that allows users to save recipes from any website into their own private collection. The app is available on both Android and iOS platforms and can automatically clip recipes from any website.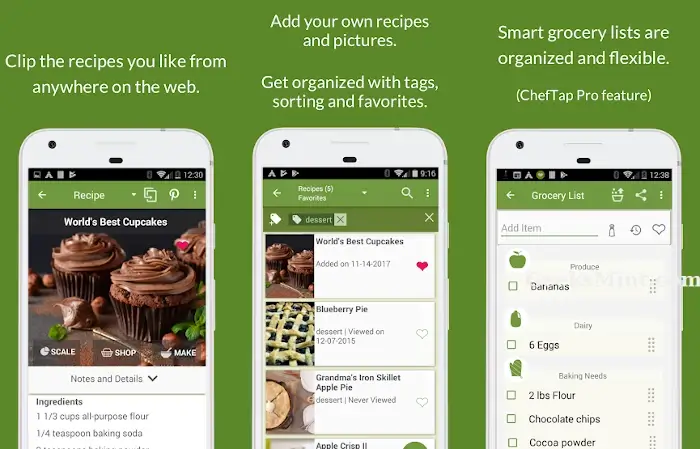 Interestingly, it offers a meal planner feature that allows users to plan meals and leftovers, create menus, and add them directly to their meal plan. The app provides a grocery list feature that makes it easy to shop for ingredients needed for the recipes.
ChefTap offers a free account that lets users store up to 100 recipes and a Pro version that provides additional features like web clipping and menu planning. It is a great choice for those looking to organize their recipe collection and simplify their meal planning and grocery shopping routines.
Conclusion
As we wrap up our exploration of the 15 best cooking and recipe apps in 2023, it's evident that technology has truly transformed the way we approach cooking.
From the community-driven charm of Cookpad to the personalized recommendations of Yummly, and the visual delight of Tasty's videos to the comprehensive recipe collection of Allrecipes, these apps have revolutionized the culinary landscape.
They've empowered both seasoned chefs and beginners to embrace their inner culinary artist, experiment with new flavors, and craft delectable dishes that resonate with their unique preferences.
Ultimately, we're reminded that the kitchen is no longer just a place for traditional cookbooks and handwritten recipes – it's a dynamic space where technology and creativity intersect to bring us flavors from around the world, all while making cooking accessible, delightful, and oh-so-satisfying.