Your online presence is a reflection of your commitment to your customers. Think of it as your 24/7 digital ambassador. If your site isn't delivering a top-notch user experience, it can negatively impact your business. According to a study, 88% of visitors are less likely to return to a site after a bad experience.
There are certain maintenance tasks you'll need to perform to avert this scenario. One of those tasks is finding and fixing broken links.
Broken links or dead links take your visitors to a page that no longer exists, whether it's on your site or any external website.
Do you remember visiting a site and seeing "404 Error"? This error is typically caused by broken links.
This comprehensive guide will delve into four easy methods to help you find and fix broken links in your WordPress site.
Why Do Links Break?
Let's learn why links break in the first place.
Page Deletion or Renaming: When you delete or rename a page or post, any links pointing to it become invalid.
URL Changes – Altering the structure of your website's URLs can lead to broken links if you don't update them accordingly.
External Websites – Links to external websites may break if the target website removes or changes the linked content.
Human Error – Mistakes happen, and sometimes links break simply because of typographical errors in the URL.
How Broken Links Impact Your SEO?
While broken links may seem like minor website nuisances, their impact on your site's search engine optimization (SEO) can be significant.
Crawlability Issues – Search engines use bots (often referred to as "crawlers") to discover pages. When these bots encounter broken links, it can disrupt their crawling process, and a page cannot be properly indexed, harming your SEO efforts.
User Experience – It is a key factor in SEO. Broken links can lead to a poor experience and a negative perception of your site. This can result in increased bounce rates (visitors leaving your site quickly), which is a signal to search engines that your site may not be providing valuable content.
Page Authority and Link Equity – Search engines consider the number and quality of backlinks (links from other websites to yours) as a ranking factor. When you have broken outbound links on your site, you essentially leak "link equity", which means that those links' authority or SEO value is lost. This can impact your site's overall authority and ranking potential in the long run.
Content Relevance: Broken links can also affect the relevance and coherence of your content. If you've linked to external sources to support your information, and those links break, it can disrupt the flow of your content and reduce its credibility.
1. How to Find Broken Links Using Broken Link Checker Plugin
The "Broken Link Checker" plugin is a popular choice among WordPress add-ons, which monitors and detects broken links 20x faster than other plugins. You will be notified about broken lines via email.
Here's how to use it:
1. In your WordPress account, go to "Plugins", click on "Add New" and search for "Broken Link Checker" to install it, and activate it.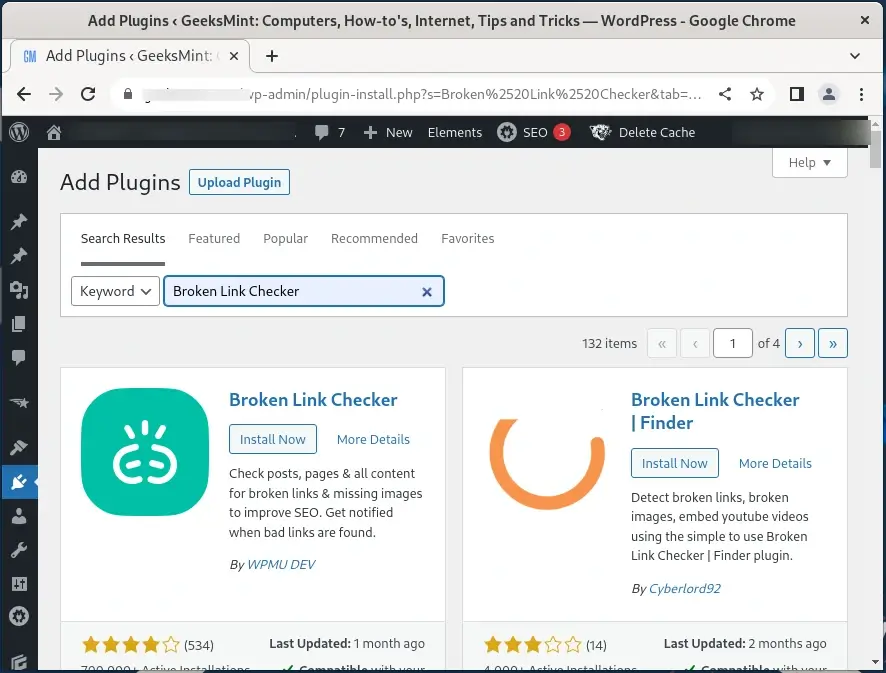 2. The plugin automatically scans broken links as soon as it is installed, so you don't have to do anything to get it running. Just open the dashboard and select "Link Checker" on the left menu.
Here, you can see an overview of broken URLs it found. Click on the "VIEW FULL REPORT" button to get more details like the link's source and status.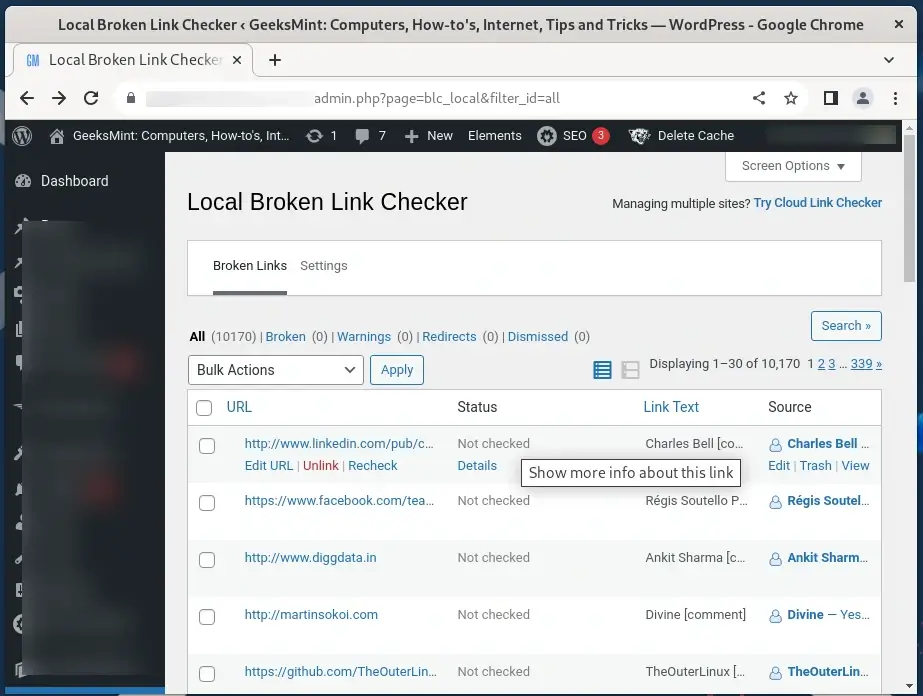 You can also choose how frequently the plugin should scan for broken links in the "Settings" using the "Check each link" option.
3. Finally edit or remove broken links directly from the plugin's interface. Hover your mouse over the URL, and the plugin displays an Edit URL option. Occasionally, the plugin may suggest appropriate replacements for the broken links, or you can also find your own replacement and click "Update".
If you want to remove the link altogether, you can also click on "Unlink".
Make the necessary changes to ensure all links are functional.
2. How to Find Broken Links Using Google Search Console
Most of the digital marketers would be already familiar with or at least heard about Google Search Console, which is a powerful tool that helps you monitor your website's performance and generate actionable insights.
Google Search Console also has the ability to find and fix broken links. You will be notified about every error caused by a broken link.
Follow these simple steps to find and fix broken links:
1. If you haven't already, sign in to your Google Search Console account and add your website. The tool will ask you to verify yourself as the site admin before you can get started.
In the "Overview" page, click on "Pages" under "Indexing" on the left-hand side.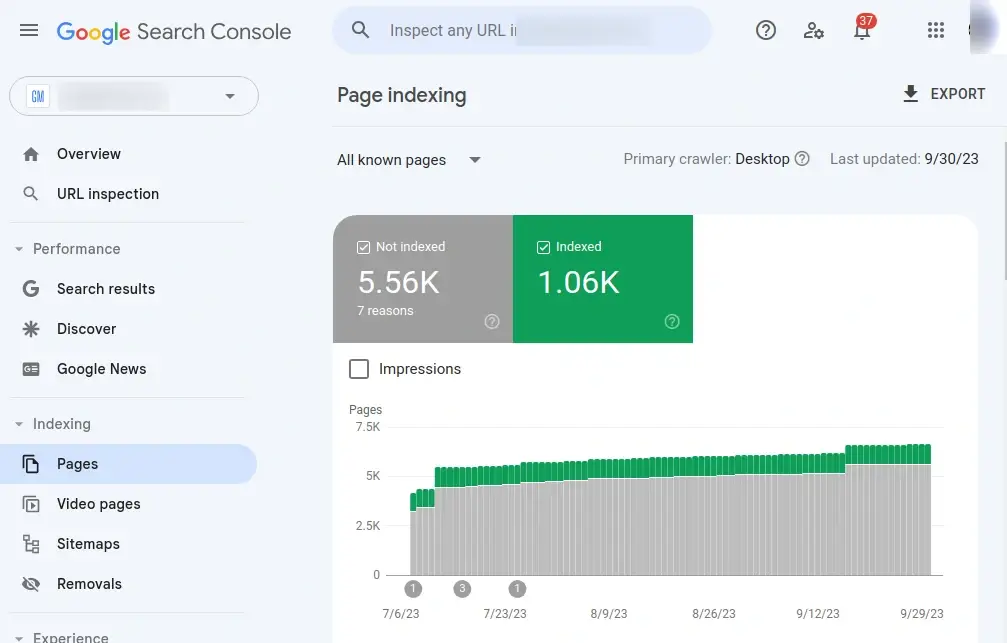 2. To access the information you need, please scroll down to the bottom of this page, and then click on the section titled 'Why pages aren't indexed'. Within that section, you'll find a link labeled 'Not Found (404)', as indicated below.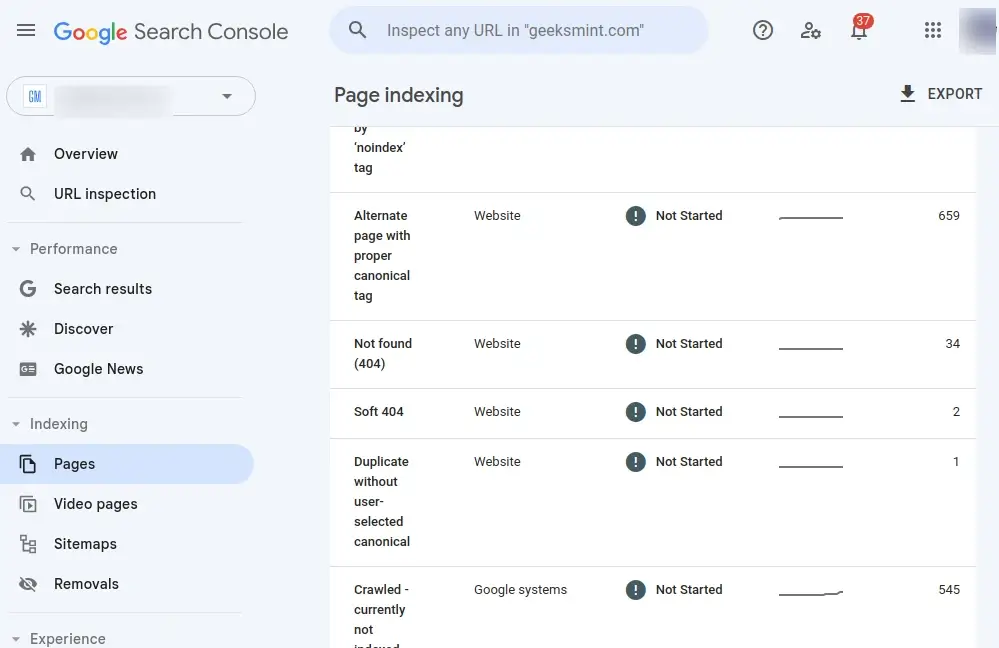 3. You will then see a comprehensive list of all the occurrences of 404 errors within your domain.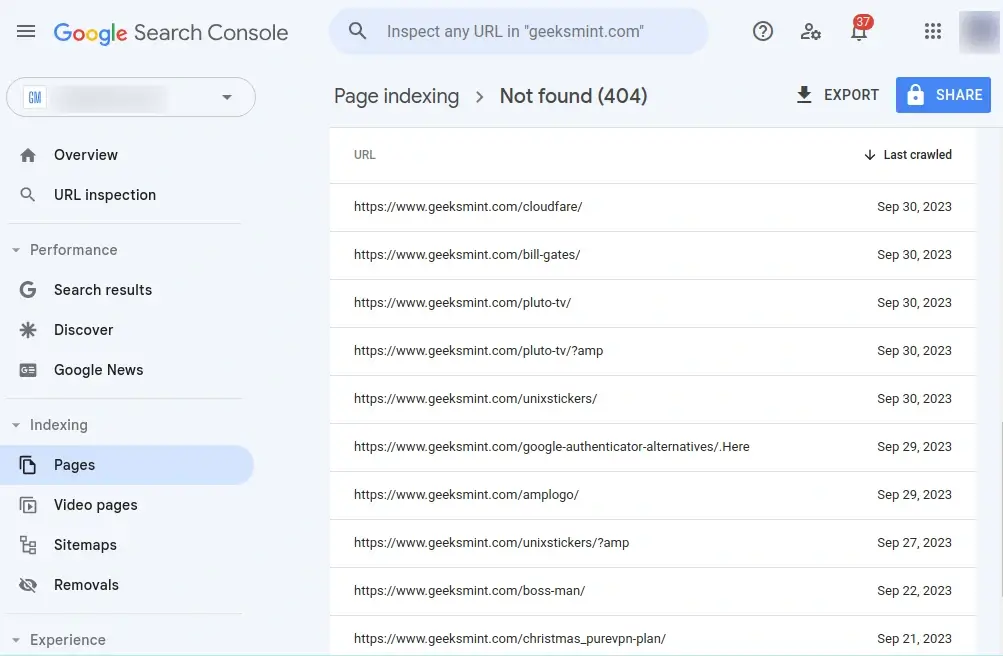 4. For a more detailed analysis, take an additional step by clicking on an individual link. This action will prompt a window to appear on the right side. Within this window, select 'Inspect URL'.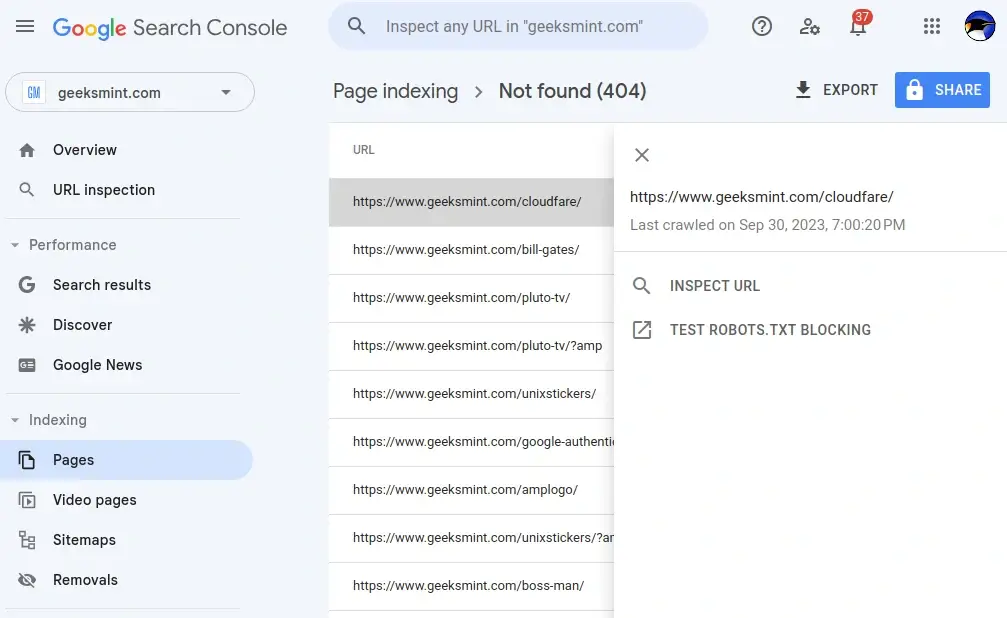 5. You will then be presented with a summary of the information that Google has regarding the link, as illustrated here.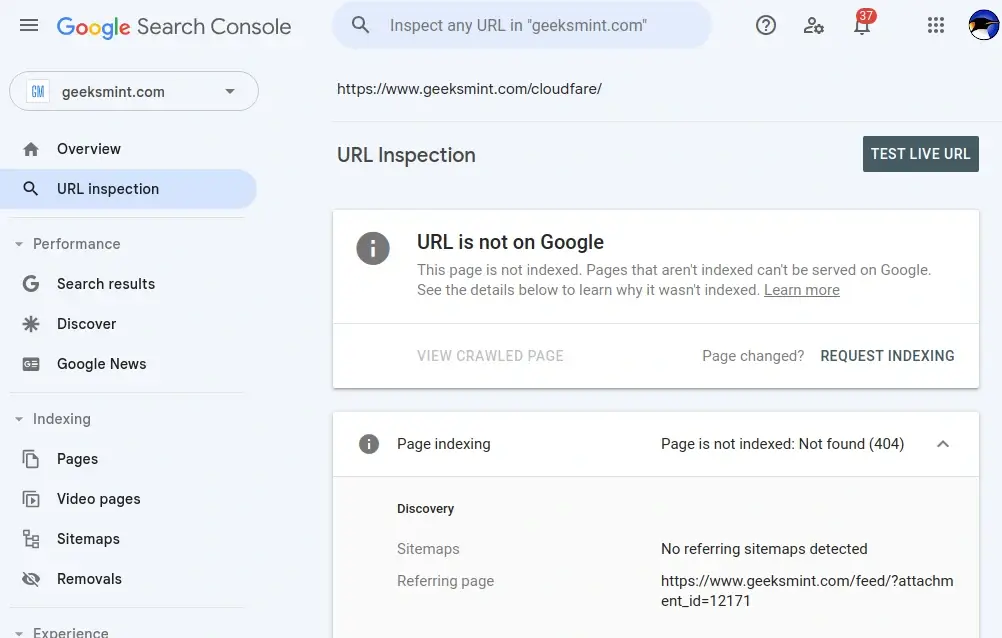 This provides you with a more comprehensive understanding of the reasons behind the link leading to a 404 error page and offers insights on how you can address and rectify it in the future.
One drawback of using Google Search Console to find broken links is that you can only fix one link at a time. This can be time-consuming if you are dealing with a large number of broken links.
3. How to Find Broken Links Using W3C Link Checker Tool
W3C Link Checker is another valuable tool in your arsenal to find and fix your WordPress website's broken links. This tool, provided by the World Wide Web Consortium (W3C), is renowned for its ability to check the validity of links according to web standards.
Here's how you can utilize it:
1. Visit the W3C Link Checker website and enter the URL you want to check for broken links in the search box.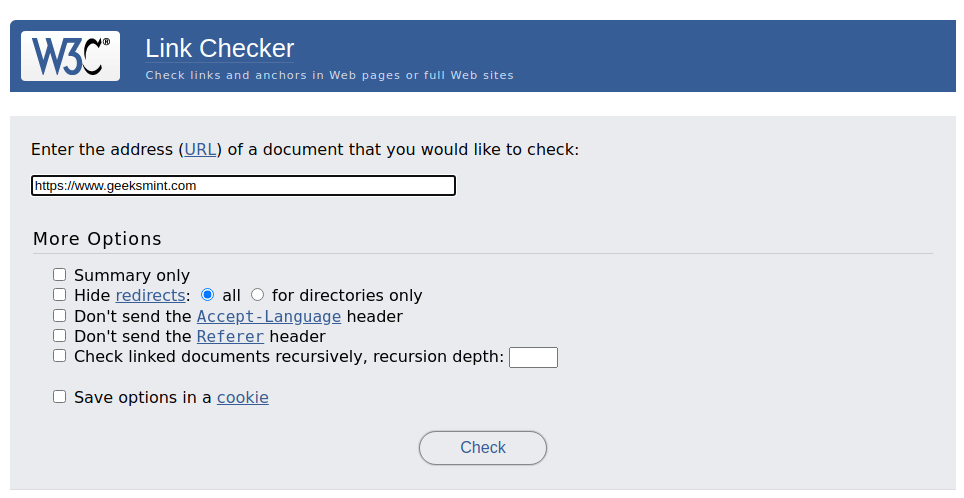 2. The W3C Link Checker will present a detailed report of all the links it finds. It will categorize them into valid, broken, and redirected links, making it easy to identify and focus on the broken ones.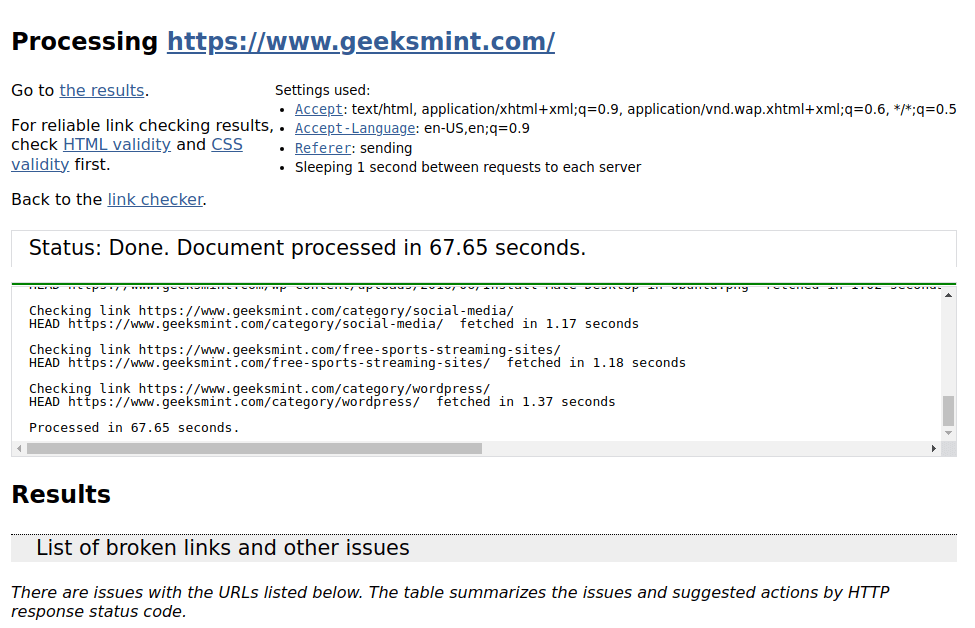 After identifying the broken links, take action to either update them or remove them from your website. If the broken links point to external websites, consider replacing them with working links or removing them altogether.
4. How to Find Broken Links Using Ahrefs Broken Link Checker
Ahrefs' Broken Link Checker stands as a robust tool designed to aid in the discovery and resolution of broken links within your website. It harnesses the formidable capabilities of Ahrefs' extensive database, boasting over 30 trillion backlinks, enabling it to identify broken links that might elude other tools.
Here's how you can utilize it:
1. Simply enter your site's URL, and the tool will check your site to find links that don't work. This can take a few moments, depending on the complexity of your website.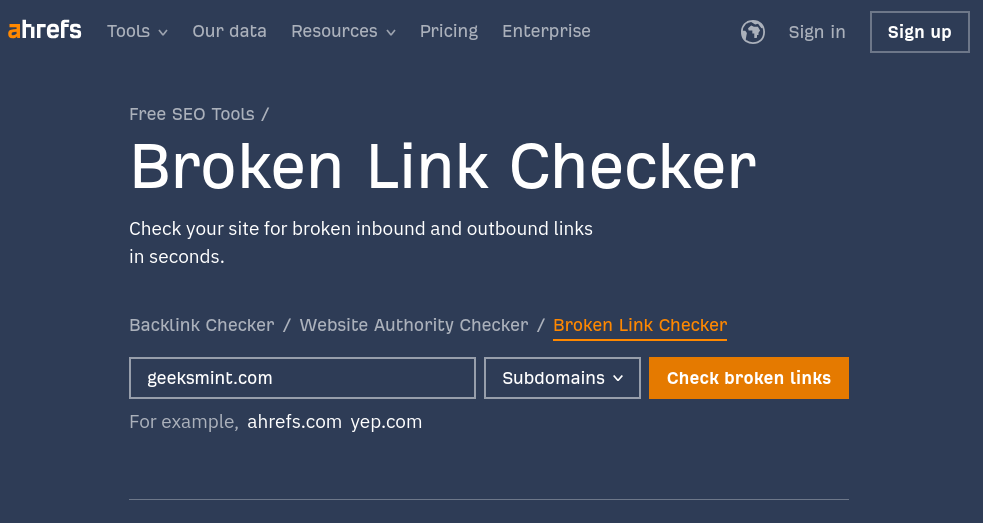 2. After the crawling is done, on the left side of the screen, you can see the "Referring page" which includes broken links. You'll find all the issues with broken links on the right within that specific page.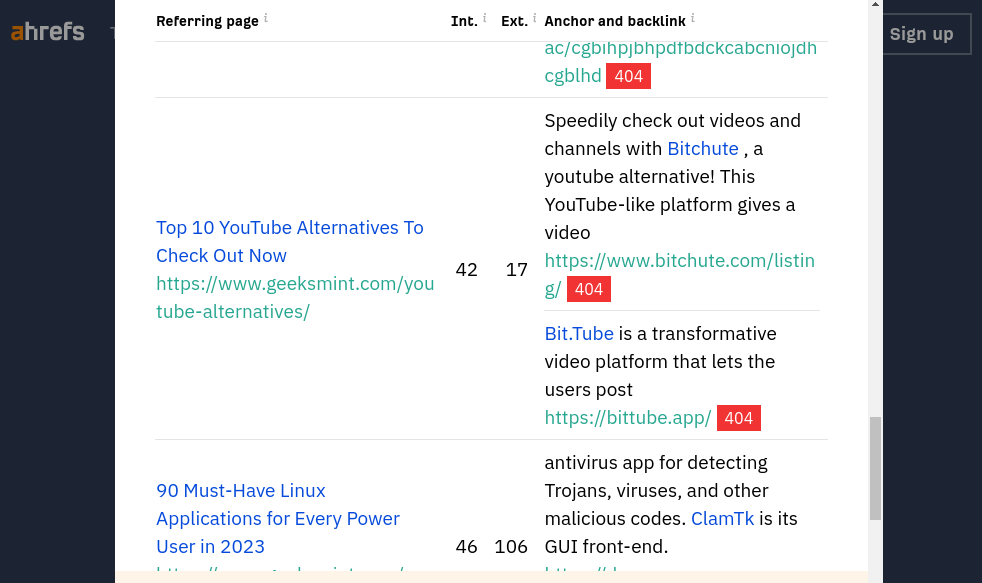 Review the broken links and update or fix them.
Final Notes
Maintaining a functional and user-friendly WordPress website is crucial for the success of your business. Broken links can hinder the user experience and harm your SEO efforts.
Remember that a well-maintained website keeps your visitors happy and enhances your website's credibility. So, take the time to check for and address broken links regularly, and you'll be well on your way to providing a seamless browsing experience.