We know that there are a ton of music players for Android. In fact, a simple music player search will display a seemingly infinite list of music player options. What seeks me about such a search, though, is the recommendations are far from reliable. Some developers manage to deliver audio players with a clean UI (obviously following Google's material design guidelines) but not one that stands out from the rest.
In today's article, we turn our eyes to not just cool music players for Android, but the best ones that have support for Lyrics. Sure, you can swipe up QuickLyric or Musixmatch when a track is playing, but what will you do when you're offline, for example?
This list combines paid applications and free ones because sometimes, the paid apps really are the best. They all have a beautiful interface and a variety of customization options for offline music, theme, playback, lyrics, and volume.
1. Music Player – MP3 Player
Music Player – MP3 Player is a stylish, powerful and fast music player for playing music offline (locally). It is designed to allow users to play music with the best sounds without draining their battery.
Among its several features are included 30+ music themes, a powerful beats equalizer, a built-in MP3 cutter for making ringtones, drive mode, support for folders and wearables, and support for 35+ languages.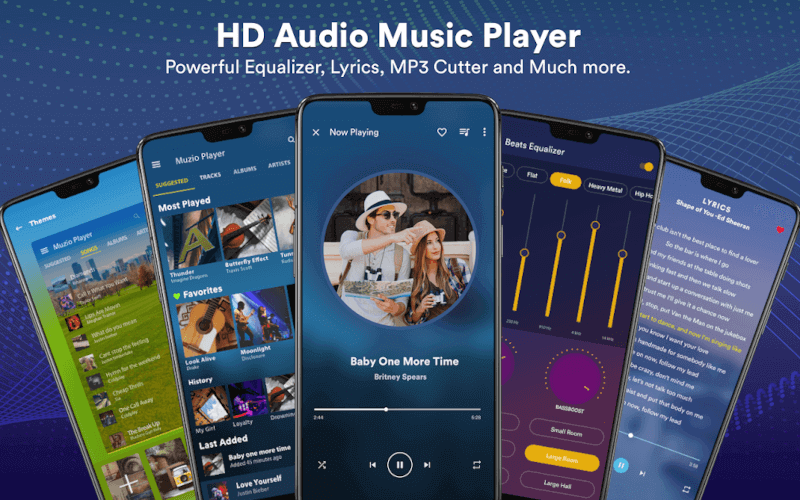 2. ALSong – Music Player & Lyrics
ALSong is a modern music player with a variety of music file playback and real-time sync lyrics. It is built with a powerful sync lyrics function that provides up to 7 million song lyrics which are automatically saved when online and can be used offline until 30 days later. You can edit the lyrics and choose different display styles for them.
With regards to other playback functions, ALSong is not lacking given its several options for playing music in style and it even supports add-ons for a timer and language function.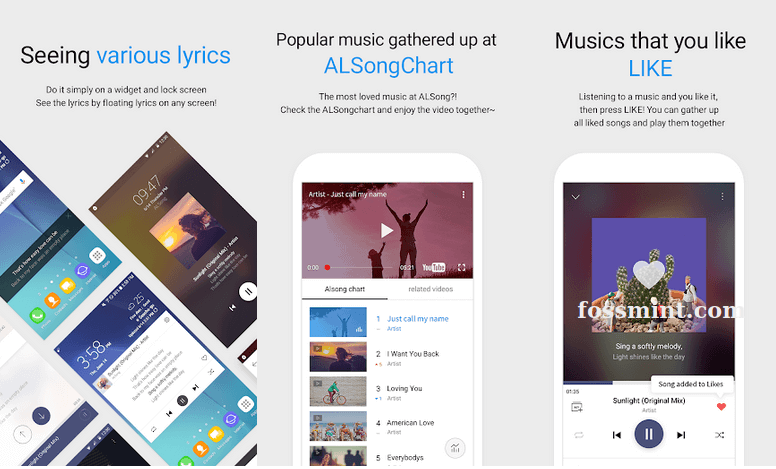 3. Musixmatch Lyrics
Musixmatch Lyrics is the world's largest collection of synchronized song lyrics for YouTube, Pandora, Spotify, and other music platforms. With it, you can tap on the real-time notification to display floating lyrics, have the lyrics translated into other languages, fetch song info and cover arts, collect favourite tracks into a playlist, etc. All these options are accessible from a beautiful, clutter-free UI.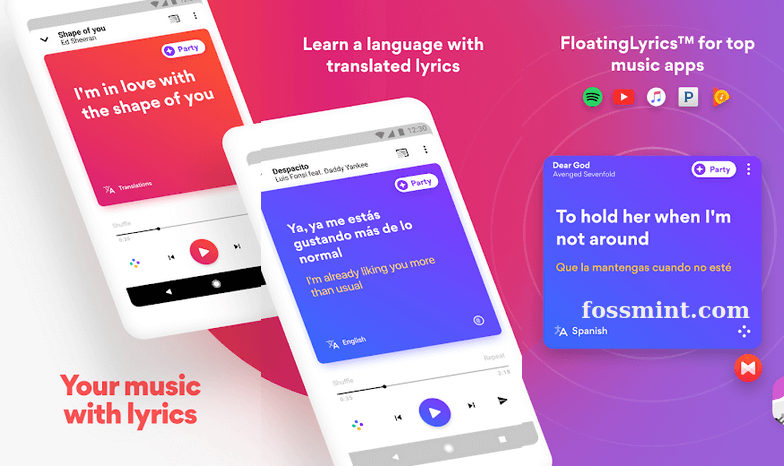 4. Music Player
Music Player features a powerful equalizer with 20+ presets, customizable backgrounds with skins and themes, a quick search function for easily finding audio and video files, home screen widgets, and playlists. It also offers advanced features such as 3D surround sound, HD album covers, a bass booster, and a ringtone cutter.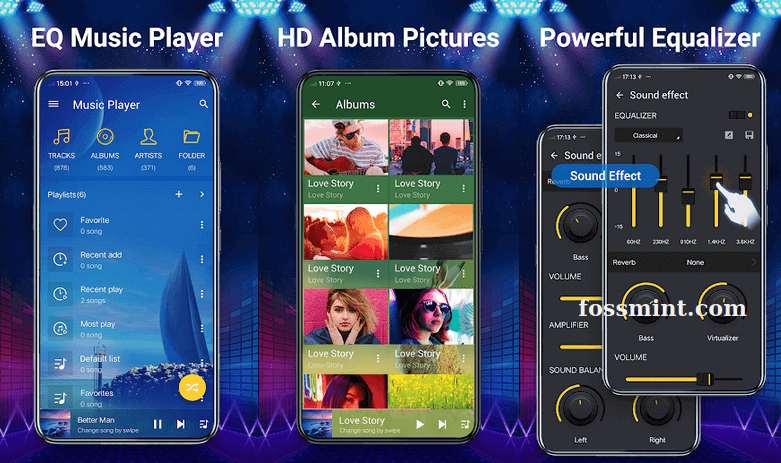 5. QuickLyric – Instant Lyrics
QuickLyric is a lyric-centric music player designed to enable users to simply open the app and begin to sing along with their favourite songs without any manual setup. Its feature highlights include a fast lyrics finder, synchronized offline lyrics for free, a built-in song identifier, floating lyrics, and support for downloading the lyrics for a complete library of songs in Deezer, Google Play Music, Spotify, or locally.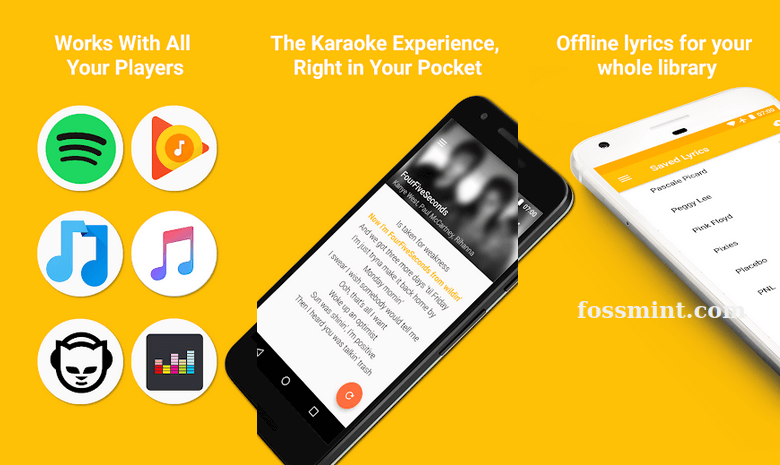 6. Lyrics Mania – Music Player
Lyrics Mania is an integrated music player designed to enable users search for the lyrics to any of their songs in real-time from the convenience of their music player. It features a real-time notification that directly brings the lyrics to even songs that are streamed from Spotify, Google Music Player, etc. It also has a built-in feature for detecting which song is being played.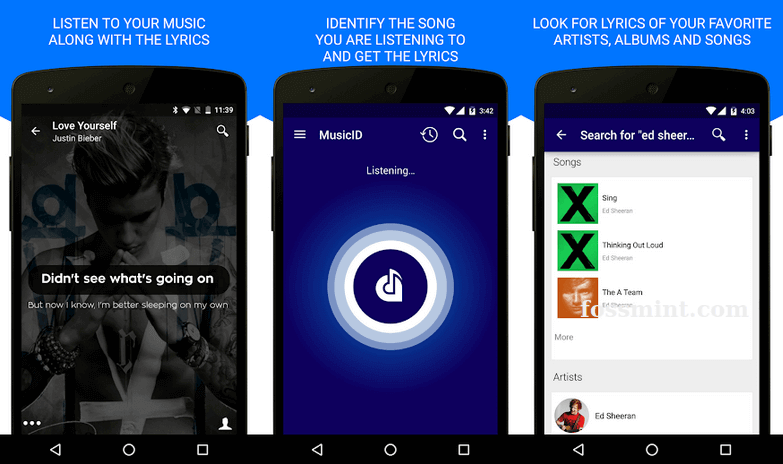 7. Poweramp Music Player
Poweramp Music Player is a beautiful feature-rich music player for Android. Its most notable features are its rich visualizations, gesture controls, and equalizer presets. Its latest version includes a revamped UI, a new audio engine, support for hi-res output, gapless smoothing, and 30/50/100 volume levels.
For lyrics, it features built-in support for Genius, QuickLyric, and Musixmatch so that you don't have to leave the app for lyrics. It also allows you to search Google for lyrics as well as to embed lyric files manually. It is not free but you can check out the free 14-day trial.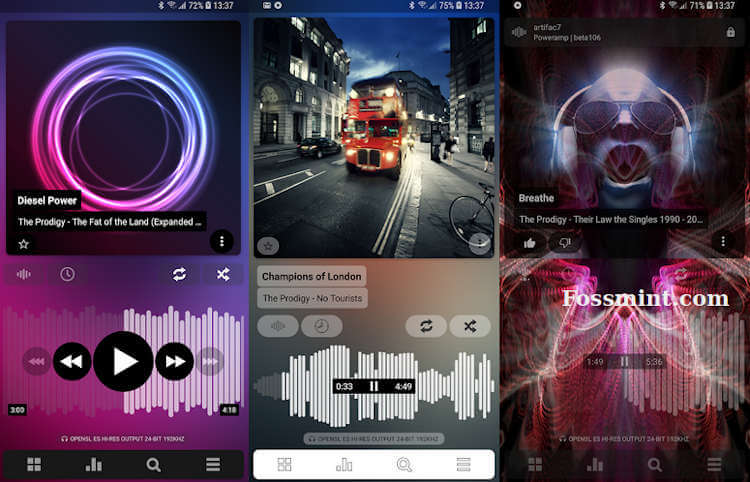 8. Shuttle Music Player
Shuttle Music Player is an intuitive, lightweight, and powerful open-source music player for Android. It features a modern Material design with built-in 6-band equalizer + bass boost, gapless playback, automatic artwork downloading, customizable widgets, Last.fm Scrobbling, embedded lyrics support, a sleep timer, and tons of theme options.
Shuttle Music Player builds on the strengths of Google Play Music and goes an extra mile to add features that users are bound to enjoy. If you fancy the app enough to want some extra features like ID3 tag editing, Chromecast support, and folder browsing then you can support the developers by purchasing the pro version.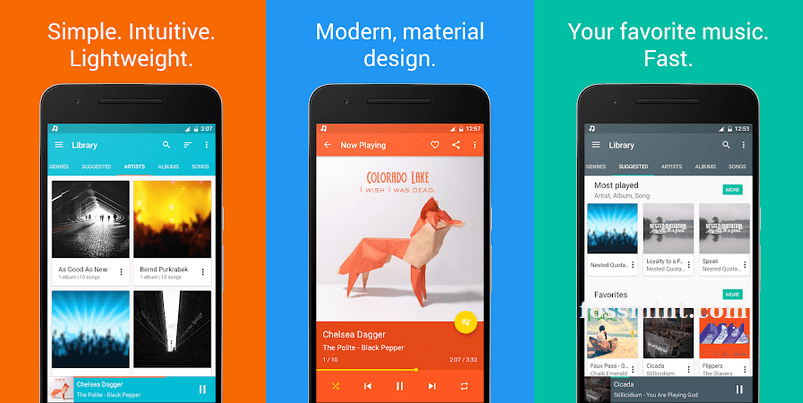 9. Black Player
Black Player is a free and highly customizable music player with beautiful minimalistic Material design and tasteful animations. Its key features include HD Album cover management, an ID3 tag editor, MP3 scrobbling, cross-fading, customizable themes, fonts, colours, and animations, gapless audio playback, and a sleep timer.
Black Player has been designed to play local media files including WAV, OGG, M4A, and FLAC so it is easy to embed LRC files in a chosen folder. This is actually your only option because Black Player doesn't pull lyrics from the web. Name the lyric files appropriately, place them in the same folder with your tracks, and watch them sync automatically for you to sing along.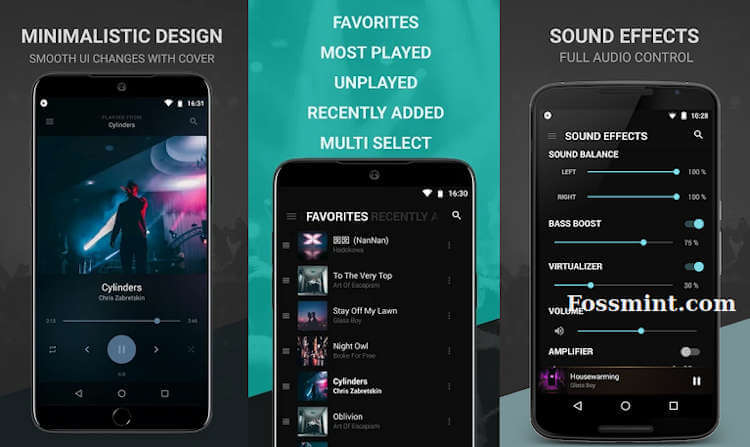 10. Retro Music Player
Retro Music Player is a beautifully designed music player created to be a hub for music lovers. Its developers have focused on the things that matter most to every music lover e.g. beautiful UI, functional audio playback features, lock screen controls, theming, and playing music offline. It also offers advanced features such as a tag editor, user profiles, multilanguage support, carousel effects for album covers.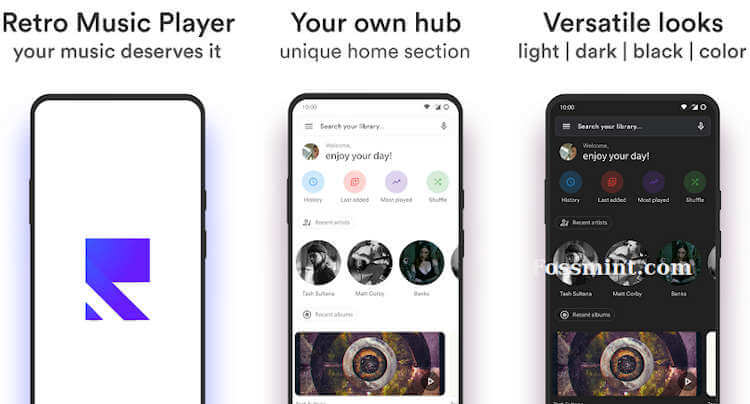 It has 2 tabs for lyrics: Synced and Normal. and users can add synchronized lyrics themselves by tapping the Synced lyrics tab > Edit and pasting the lyrics there. Retro Player is free.
11. GoneMAD Music Player
GoneMAD Music Player is an advanced audio player that offers users tons of customizable features for a truly personalized listening experience. Among its 250+ customizable features are smart playlists, song ratings, preamp gain control, bookmarking, embedded lyrics, high powered 2 to 10 band graphic equalizer with 3 quality settings, and multi-window on supported devices.
Just like Black Player, you can embed LRC files yourself. Unlike it though, the lyrics are not synchronized and you must scroll yourself. On the plus side, you can search for lyrics with Musixmatch or any other supported alternative. GoneMAD is not free but you can try it out for 14 days free of charge.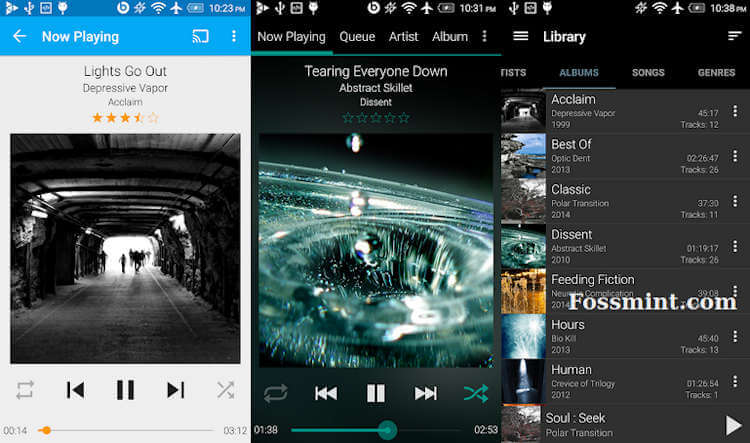 Like I mentioned earlier, there are way more music players you can use. But not all of them have a functional feature that my collection shares, offline lyrics. Do you know cool suggestions that we can add to our list? You're welcome to share your music player experiences with us in the discussion section below.