Tables make data easy to understand and comprehend as the visual is more compelling and convincing to the viewer. However, for a beginner or for somebody who doesn't have much coding knowledge, creating a table can be tedious and time-consuming. This is where the use of Table creator plugins comes in.
Table creator plugins not only create tables easily but they can also process information and create tables directly from data, edit table design, customize, import-export data and in fact, can do much more. Currently, there are hundreds of tables creating plugins available for WordPress which get your job done in clicks.
So, which one to choose? Well, don't worry! We have here compiled a list of 10 best Plugins for creating tables in WordPress, which we are sure to help you choose the best based on your requirements and budget.
Let us check them out, one after the other:
1. Ninja Tables Pro
Ninja Tables Pro is a Smart WordPress table plugin that can be used to create beautiful, customizable and completely responsive tables. It contains a responsive breakdown facility for different devices.
The plugin comes up with a smooth interface that is easy to use. The plugin is entirely responsive in type and most importantly users can easily interact with all the ingredients of the plugin.
Nothing can go wrong with using this Plugin as it gives you various options to help you customize the tables as per your need. It offers all features like drag and drop, import-export, pagination, sorting, filter, Google sheets integration, and others. It's pricing starts from $49.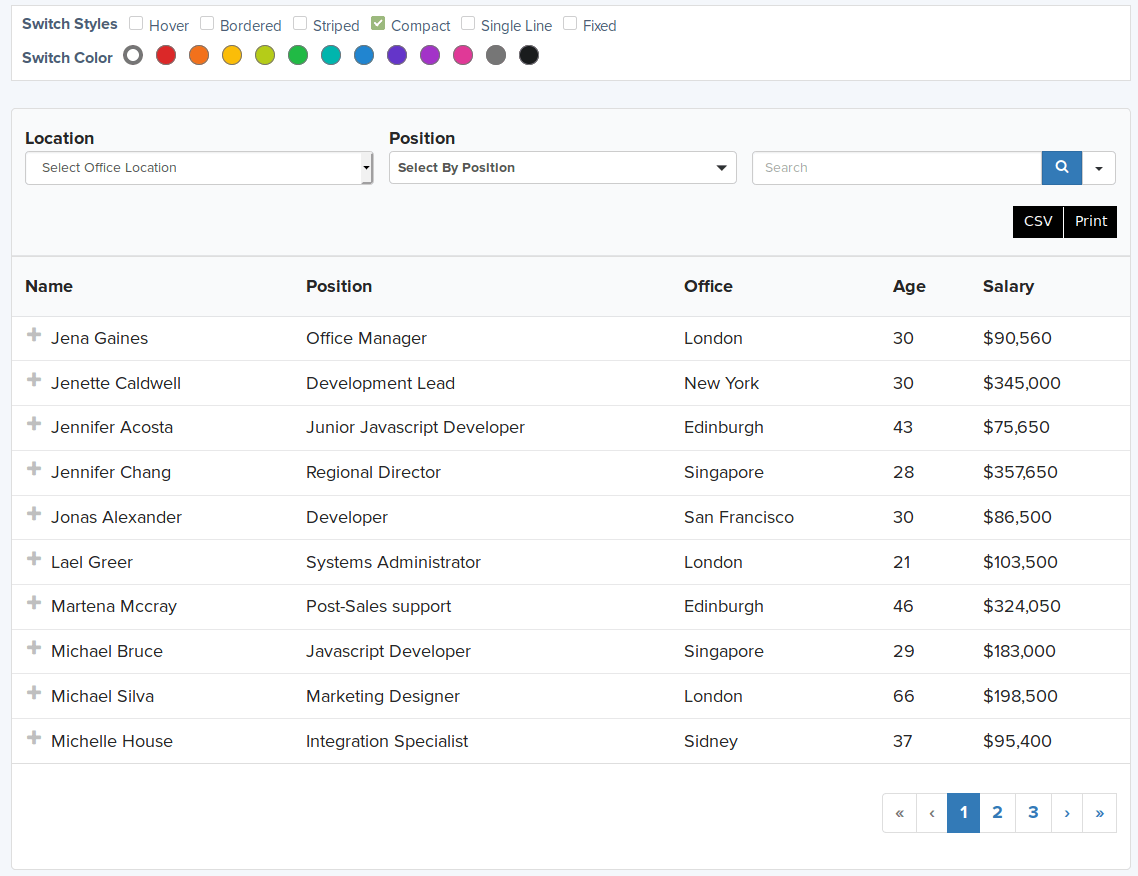 2. TablePress
TablePress is a popular free WordPress table plugin maintaining an impressive 5-star rating on over 3,500 reviews at WordPress.org. Earlier it appeared in the market with the name WP-Table Reloaded.
One of the reasons for its popularity is that it is 100% free along with many extensions that they have to offer. It is very easy to embed in your website. Beyond that, it's just quite flexible and offers a lot of data import options.
It automatically updates table data with source data periodically. For instance, gold rates, given in tabular format gets updated daily. So it can be your pick if you are looking for tables that need to be updated periodically based on external data.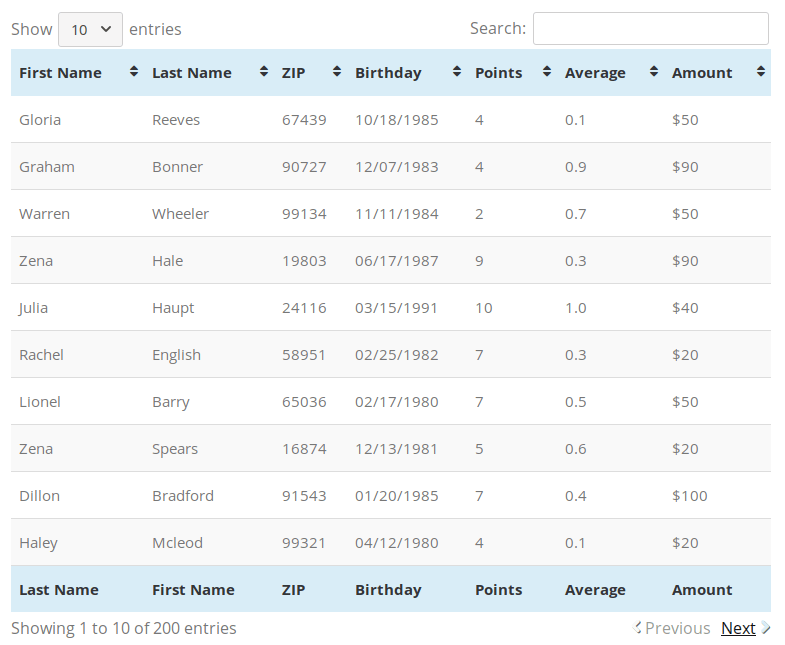 3. WPDataTables
WPDataTables is with the best interface compared to any plugin on this list. It has the perfect ability to aggregate data as well as display data as charts, graphs, and tables.
It comes with many interesting features and benefits. Additionally, if you love working in excel, then you should definitely go for it as this plugin gives you an Excel-like interface- right on your WordPress dashboard.
If you're working with external data, it will give options to import your data, as well. WPDataTables also offers front-end table editing and lets visitors filter your tables on a per-column basis. It's pricing starts from $55.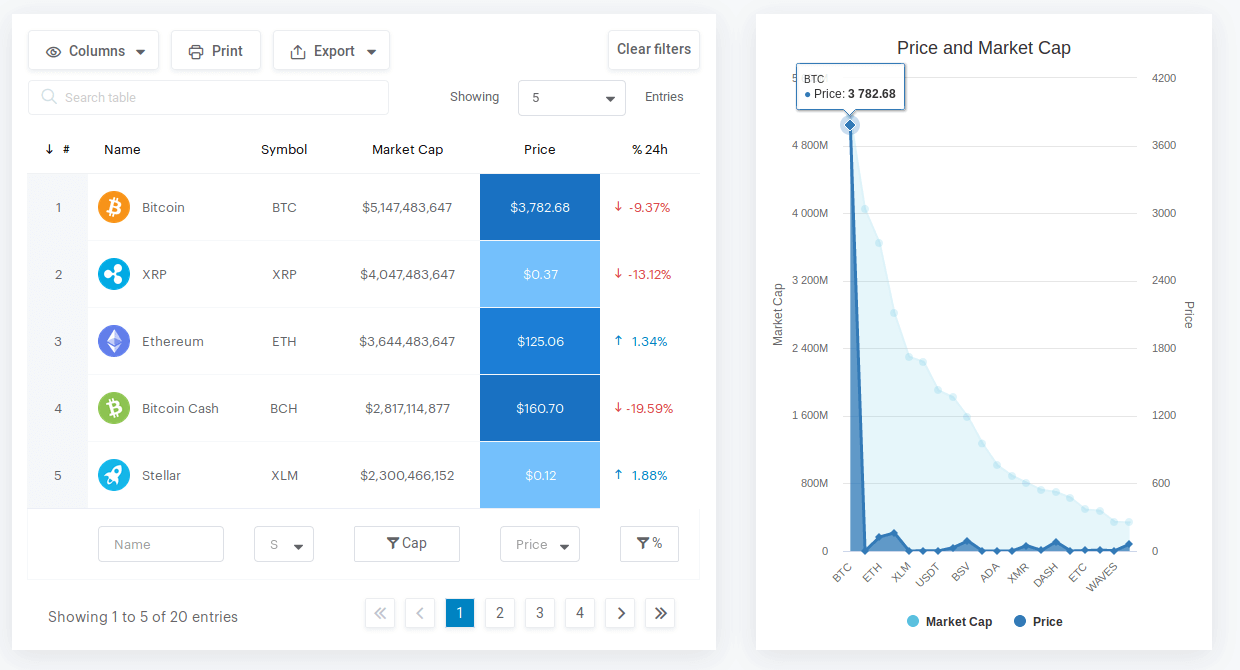 4. League Table
League Table is a premium plugin developed especially for sports-related websites. It serves general table purposes as well. League Table is good for both business and personal usage.
It Supports a responsive outlook for tables on any part of the pages. The plugin is shortcode friendly. It does provide an Excel-like editor with an option to use basic math formulas in cells. The plugin doesn't provide import/export facilities and would need third-party tools.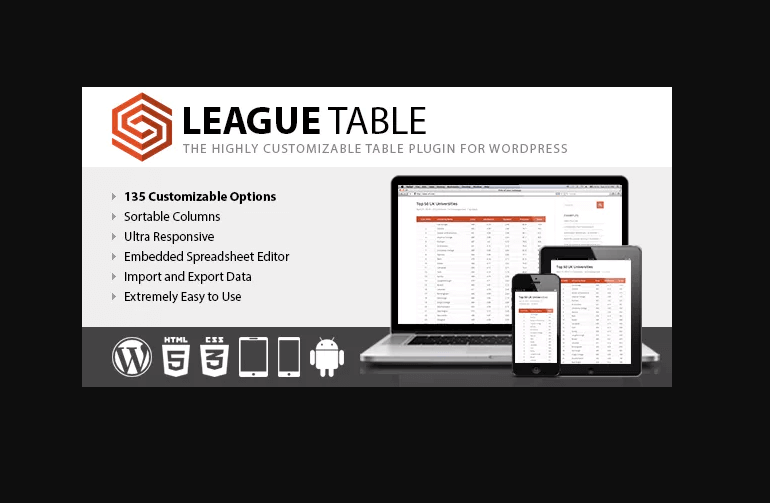 5. Posts Table
Install Posts Table plugin is to create simple, searchable and visually attractive tables for your WordPress posts. It involves pagination and responsive layouts for smaller screens as standard.
Posts Table offers free as well as premium version. With the free version you can easily create sortable and filterable post tables, Display WordPress blog posts in a simple HTML table, and streamline content using pagination.
The premium version, however, adds a lot more functionality which includes WordPress media embed support, including audio and video galleries or media playlists, dropdown filters for taxonomies, categories, and tags and also enables AJAX to reduce server load.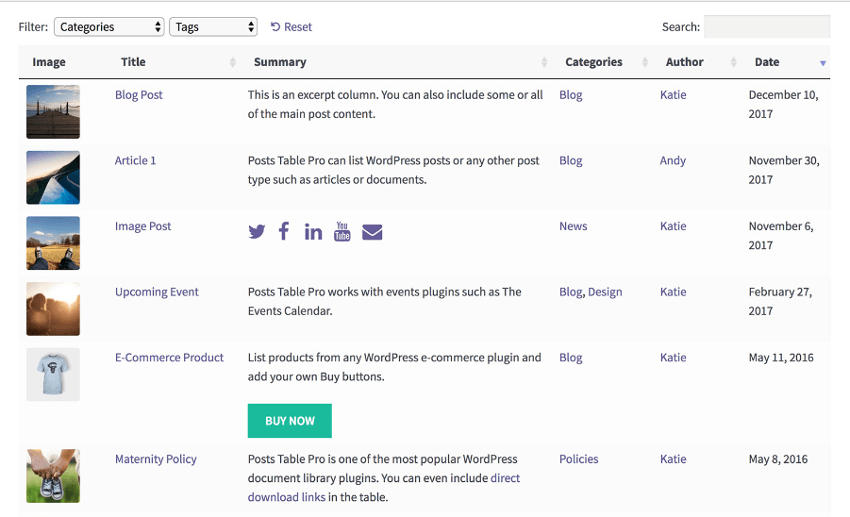 6. Advanced Tables
The Advanced Tables is another WordPress plugin with admirable responsive design and with a spreadsheet-style editor. It provides a familiar and easy interface along with adding data for custom styling, responsive tabs, material design elements, etc.
Advanced Tables provides media support which lets you add images into rows or columns. You can also add a sticky header that floats along with a table. The pricing starts from $21.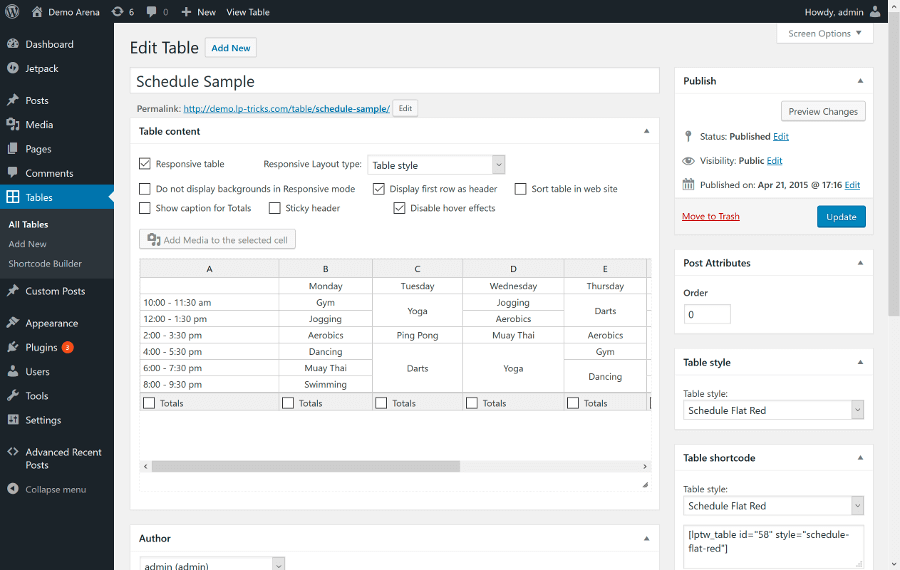 7. WordPress Dynamic Tables
WP Dynamic Data Tables is an intelligent table plugin that makes largely importing from CSV, Excel, ODT, XML and even MySQL queries perfectly possible under any conditions.
It successfully imports the data related to the table file and rightly puts them in place. You can choose how columns can be sorted, enabled or disabled, add charts for each table, set width and rearrange their order.
Tables can be presented with shortcodes or widgets, and while when responsive mode is activated you can also decide which columns are to be enabled for mobile and tablets.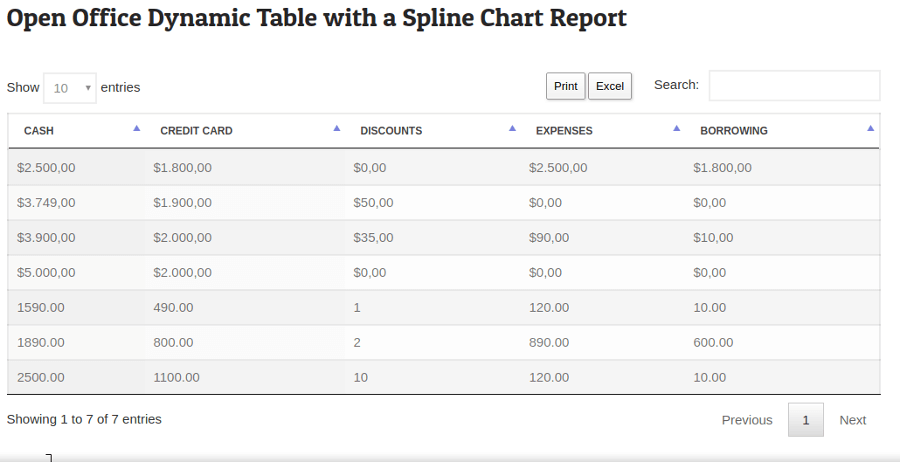 8. Data Tables Generator
Data Table Generator is a simple and free table plugin that allows you to create responsive tables. Using this plugin users can have interactive experiences. It renders interactive charts and graphs.
It also allows easy import and export of data from CSV, Excel, and Google Sheets. Something to love about this WordPress table plugin is that it also supports an auto-update option for Google Sheets.
One of the other great features of the plugin is that it provides Server Side Processing. It should be your pick if you require to load huge tables regularly. In pricing, the plugin is free to use.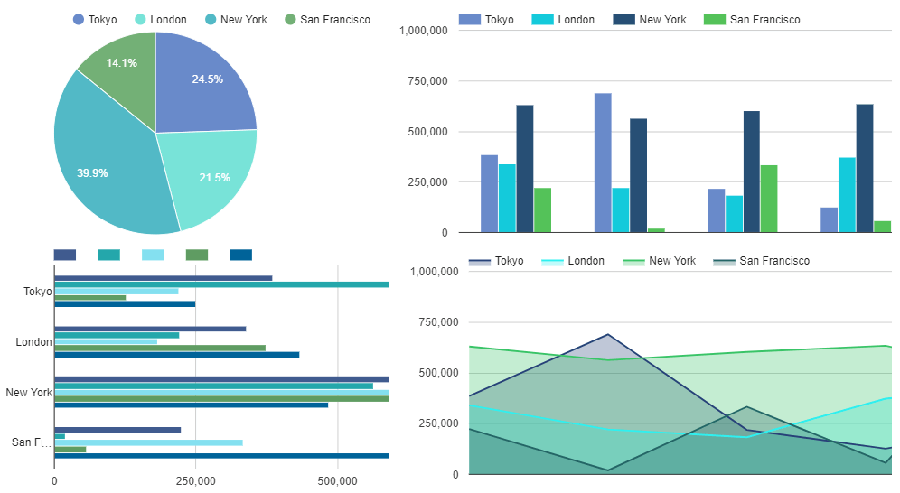 9. CSS3 Responsive WordPress Compare Pricing Tables
CSS3 Responsive is a responsive plugin that comes with two pre-loaded table styles and twenty color versions and supports features like a responsive mode configuration and an elaborate admin panel with live configuration.
This WordPress table plugin contains elaborate customization options for tables, rows, columns and table cells. Fast and easy to use, this useful plugin is best for sites that need to compare and display the prices of different products and services for their users.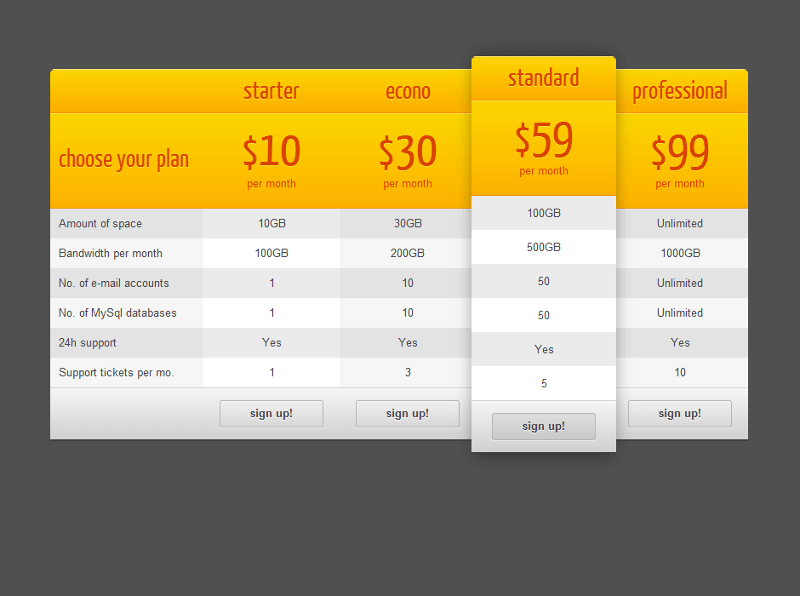 10. Go Pricing – WordPress Responsive Pricing Tables
Go Pricing is considered the best WordPress Plugin to create pricing or comparison tables. It is easy to configure and use. It also has a simple and clean user interface. It supports all media formats like audio, image, video, and maps.
Something we found unique and interesting is that it supports features like Google fonts, material icons, etc. Go Pricing plugin allows you to shape your content exactly as you want with its feature if enabled line preview and high customization.
It is lightweight which improves the website loading speed and loads content only when required. You should consider this for attractive, engaging and lightweight price tables on your website.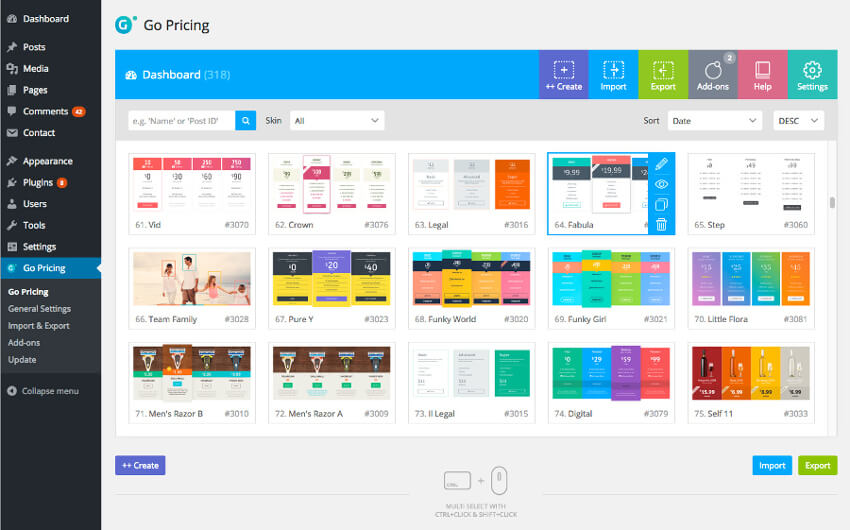 To conclude, we would suggest Ninja Tables Pro plugin for you if you don't wish to compromise on features and have no restriction on your budget. But if money is a constraint, you can choose from TablePress, Data Tables Generator for charts and graphs, Go Pricing for pricing tables and WordPress Dynamic Tables.
Choose which suits best for you and create your tables with ease of clicks. Please do share your views in the comment section below. We look forward to your valuable suggestions. In case you know about other Table plugins and if they are worthy of being on this list,
please fill-up the feedback form below. We shall surely look into it. Until we meet again, how about reading our previous articles? Read on and work like a Pro!