KDE is a global community that develops free, open-source, software. They have created more than 200 nifty little apps that run on any Linux desktop and other platforms as well. KDE desktop environments such as Plasma are renowned for their adaptability and ability to be customized to the tastes of the user.
Here, we've outsourced a complete list of the most practical KDE applications that will make great additions to your software library. You can be sure that this list has something for everyone because it includes everything from simple paint software to a robust movie editor.
1. Dolphin (File Manager)
You can view and traverse the contents of your hard disks, USB sticks, SD cards, and other storage devices using Dolphin, which is KDE's file manager. Creating, sharing, and deleting files and folders with Dolphin is simple and quick.
Its right-click menu offers a variety of rapid operations, including the ability to replicate, share, and compress files. Besides that, this file manager shows documents and folders from a variety of Internet cloud services and other distant computers as though they were on your desktop.
With strong plugins, you can enhance Dolphin's functionality even further and customize it to fit your workflow. The git integration plugin can be used to interact with git repositories. In addition, you can use the NextCloud plugin to synchronize your files online.
Additionally, Dolphin accumulates low storage on your KDE desktop and comes with an integrated terminal that lets you execute commands on the currently open folder.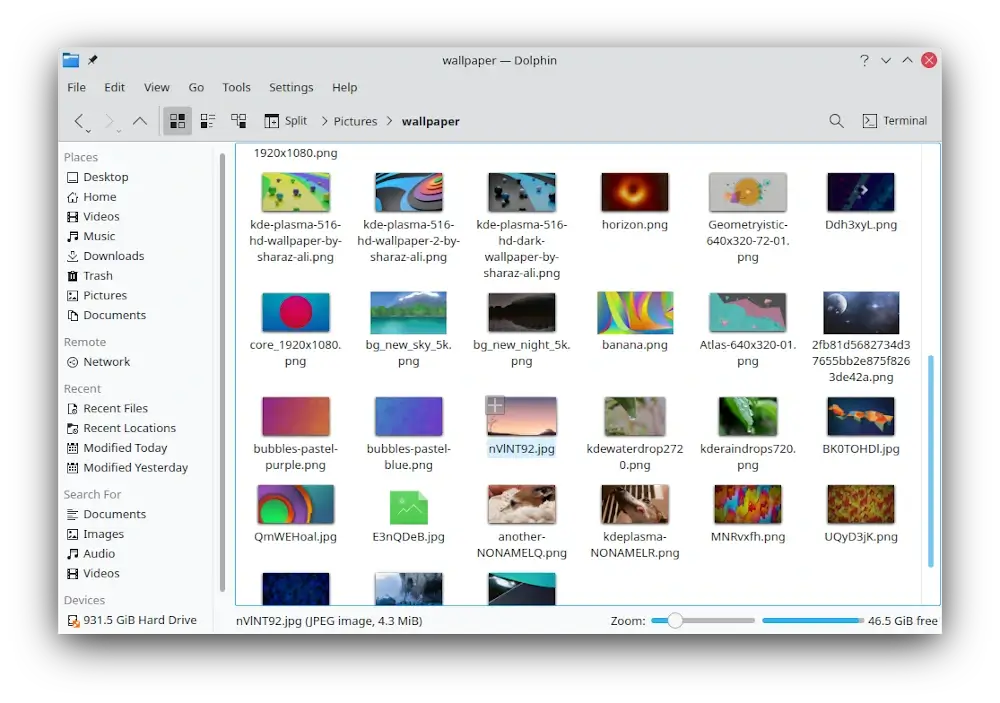 2. Kdenlive (Video Editor)
Want a free, high-quality video editor that works with all Linux distributions? Check out Kdenlive, a non-linear video editor software that accepts a variety of audio and video formats, enables the addition of effects and transitions, and renders the finished product in the format of your choice.
This app comes preinstalled on KDE, and it is the ideal video editing solution for your upcoming project thanks to features like multitrack video editing, audio and video effects and transitions, and a customizable UI.
There are a couple of online tutorials available if you're interested in learning how to get the most out of Kdenlive. A list of textual and video lessons covering everything from fundamental editing to intricate methods can be found on the official Kdenlive website.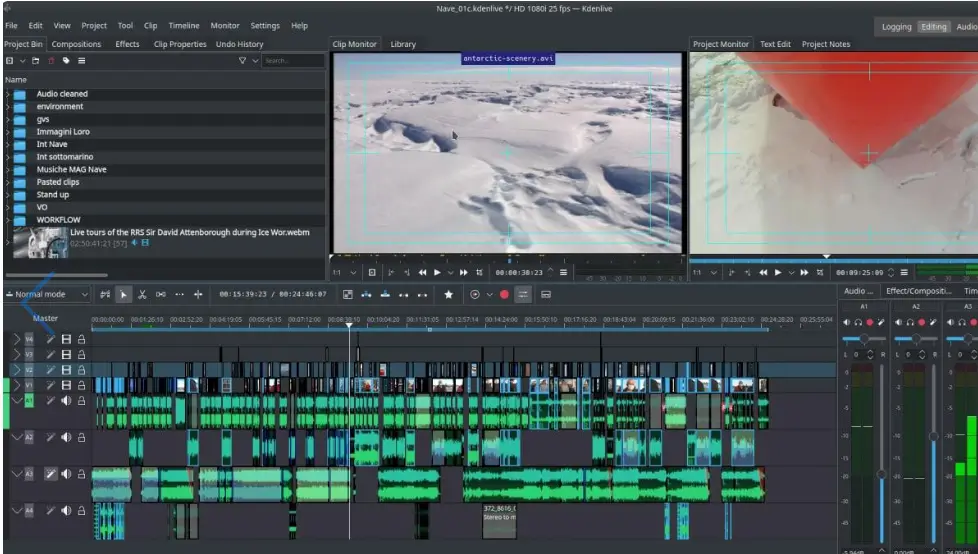 3. Okular (Document Viewer)
Okular, which bills itself as "The Universal Document Viewer" steps up to the plate by providing a quick, cross-platform document viewer for Windows, Linux, macOS, and other platforms.
Besides that, Okular incorporates built-in support for a variety of document formats, including PDF, EPUB, DjVu, MD, JPEG, PNG, GIF, TIFF, and WebP. You can rest assured that it can open any document type you encounter.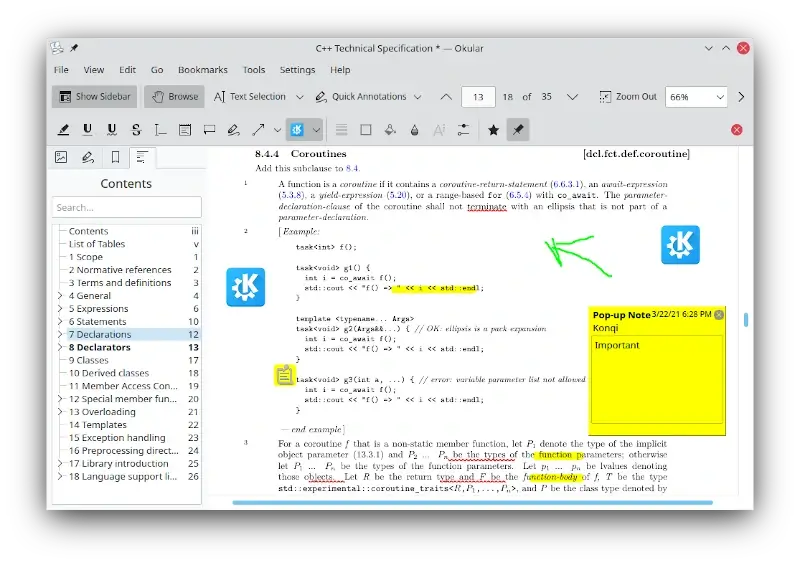 4. KDE Connect (Device Integration)
For connecting your computer and smartphone, KDE Connect comes with a number of functions. First, it lets you pair the KDE Linux distro with your smartphone, and with that connection, you can use it to check notifications, send remote input, control media playing, share files, and do many other things with it.
All supported operating systems include Linux (for mobile), Android, FreeBSD, Windows, and macOS.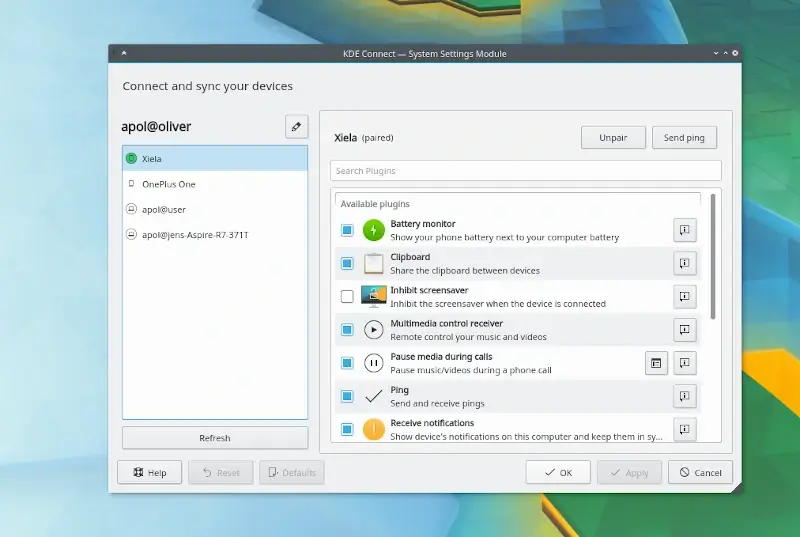 5. Konsole (Terminal Emulator)
Konsole is a terminal used to run a command shell that offers cutting-edge features like split views, tabs, multiple profiles, bookmark support, activity monitoring, and more.
Konsole is more accessible and practical because it is incorporated into so many other KDE programs. For instance, applications such as Dolphin, KDevelop, and Kate all use Konsole as an integrated terminal emulator.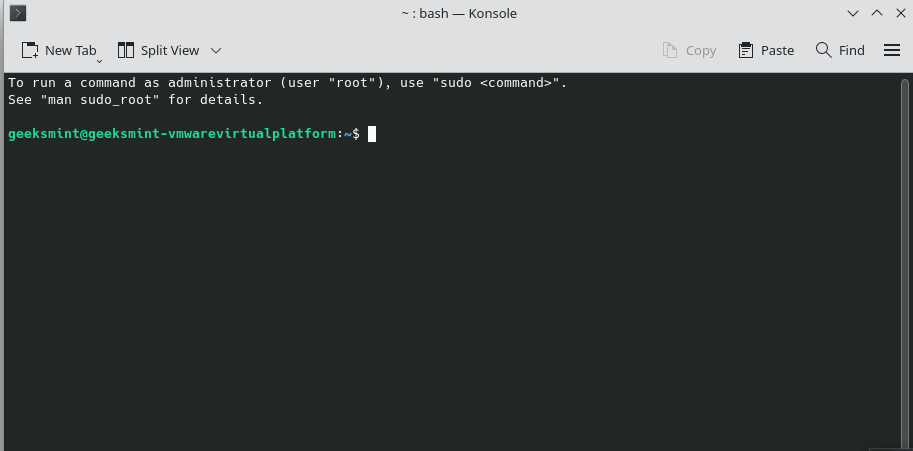 6. Kate (Text Editor)
Kate is a free, open-source, multi-view text editor and multi-document renowned for its advanced capabilities and user-friendly interface. You can browse and modify all of your text files more easily with Kate thanks to its rich features.
Kate packs the following features out of the box: customizable shortcuts, shell integration, code and text folding, spell checking, scriptable using JavaScript, encoding conversion, and more.
Additionally, Kate supported over 300 languages, making it simpler to comprehend code in practically all programming languages.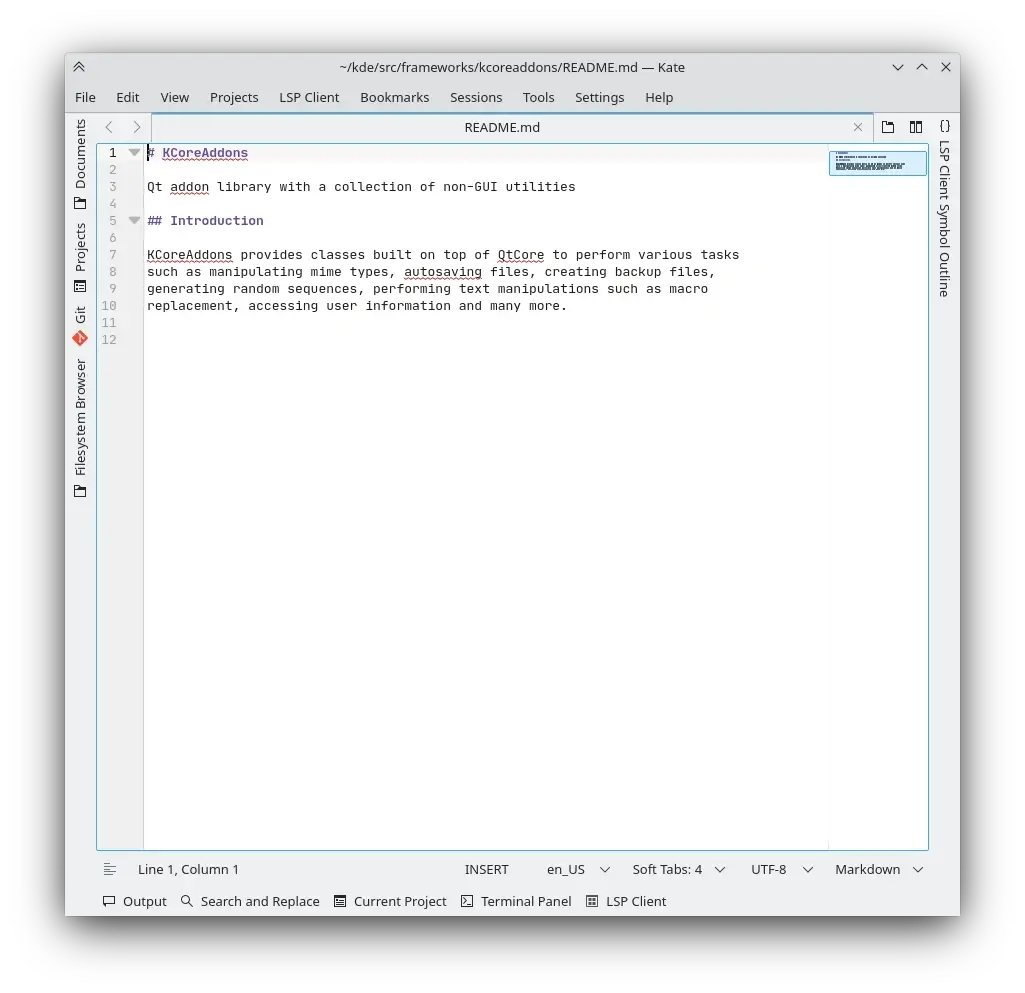 7. Spectacle (Screenshot Tool)
For taking screenshots of your desktop, Spectacle comes in handy. With this app, you can take screenshots in the following areas: a desktop, one monitor, the active window, the window controlled by the mouse, or a rectangle area of the screen.
The images can then be printed, shared with other programs for editing, or instantly stored without modification.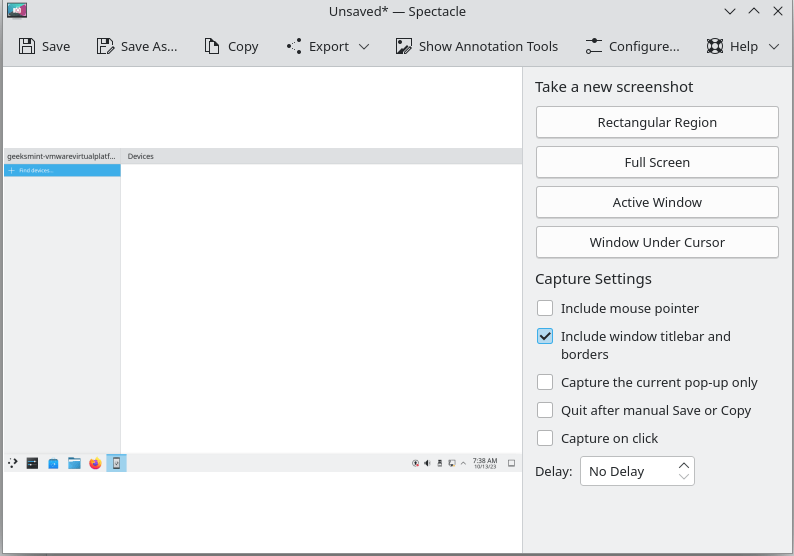 8. Gwenview (Image Viewer)
KDE's Gwenview is a quick and simple image viewer that is great for exploring and showcasing an assortment of pictures. It supports a variety of image formats and is excellent for browsing and presenting collections of photographs.
Basic image editing tools like rotate, crop, resize, mirror, flip, minimize red eye, and change brightness, contrast, or gamma are also available in Gwenview. Besides that, it does dual duty as an embedded viewer and standalone program in the Konqueror web browser.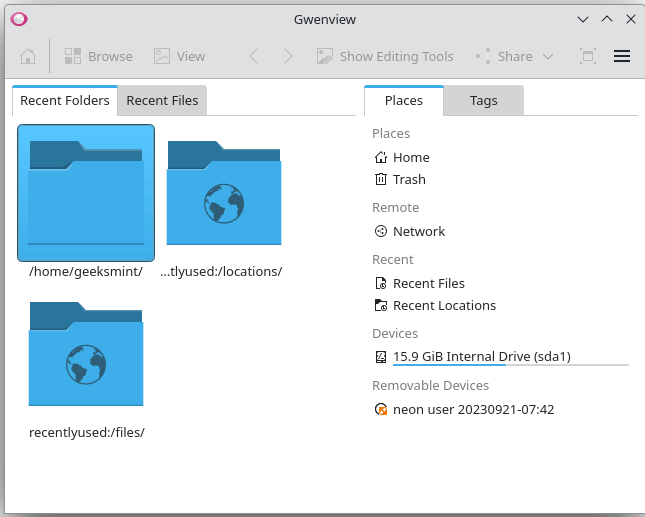 9. Ark (Archive Manager)
The KDE community developed Ark, which is a free open-source file compression and decompression program that supports a variety of file types, including rar, tar, gzip, bzip2, and more.
With Ark, users can browse, extract, make, and modify archives, and even without extracting files, read the contents of the file.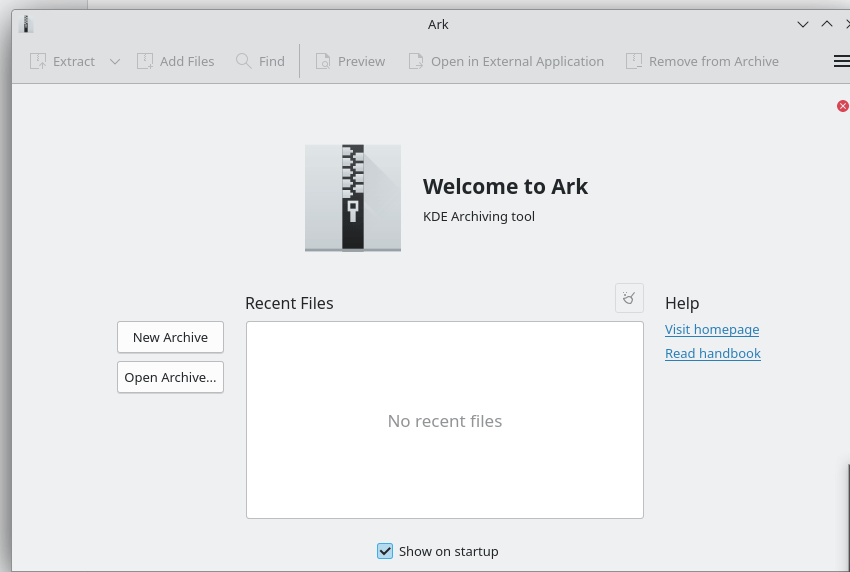 10. KCalc (Calculator)
KCalc is a scientific calculator that has all the features you would anticipate from a scientific calculator, KCalc includes trigonometric functions, logic operations, and statistical computations.
The recall of past calculation results is made simple via a results stack. User-defined precision is available, and numbers can be cut and pasted on the display.
The display's typeface and colors can be changed, which improves usability. It is simple to use KCalc without a pointing device because of key bindings.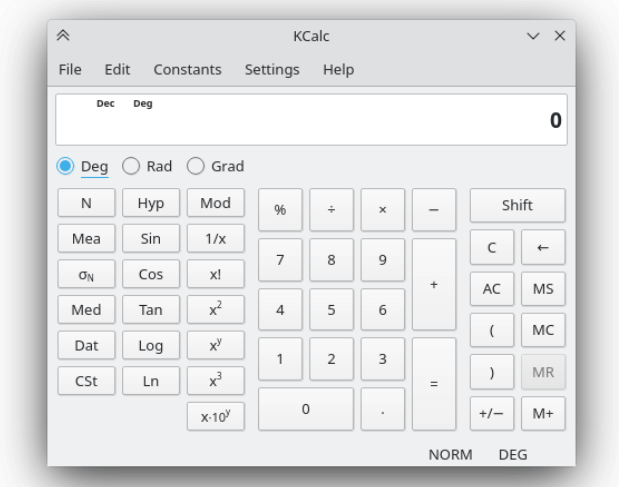 11. KFind (File Search Tool)
KFind is an open-source file search tool that can be opened from your menu section, KRunner, or as a separate search engine.
Additionally, it has been incorporated into Dolphin and Konqueror as a Find File in the Tools menu. Files can be found using the KFind search engine by name, type, or content.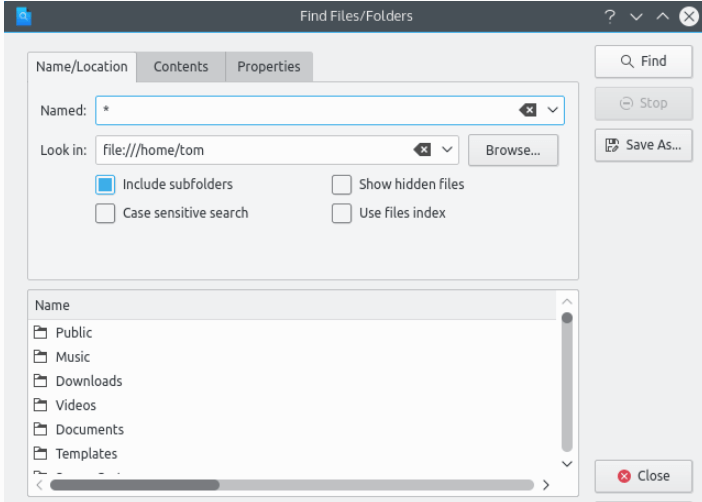 12. Discover (Software Center)
You can install applications such as games and tools with the aid of Discover. You can search apps, browse by category, view screenshots, and read reviews using Discover.
The software repository for your operating system, Flatpak repos, the Snap store, or even AppImages from shop.kde.org may all be managed with Discover.
Discover also gives you the ability to find, install, and manage add-ons for Plasma and all of your favorite KDE applications.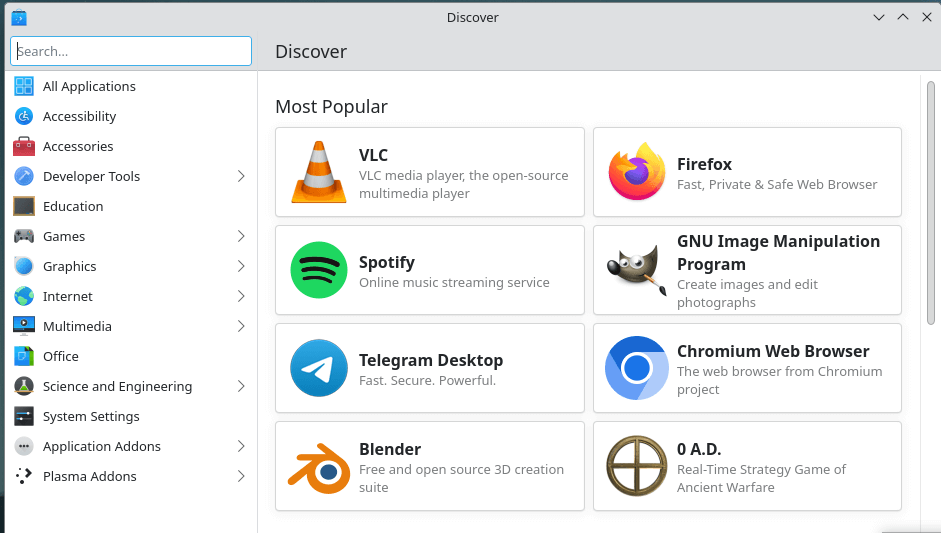 13. Filelight (Disk Space Visualizer)
Filelight is a disk-use visualization tool that shows files and folders on your computer from an intuitive perspective of concentric circles.
To examine extensive information about files and directories, Filelight can scan local, remote, or removable disks. You can also eliminate files or folders that are eating up too much space.
Dolphin, Konqueror, and Krusader file managers are integrated with Filelight, which includes customizable color schemes.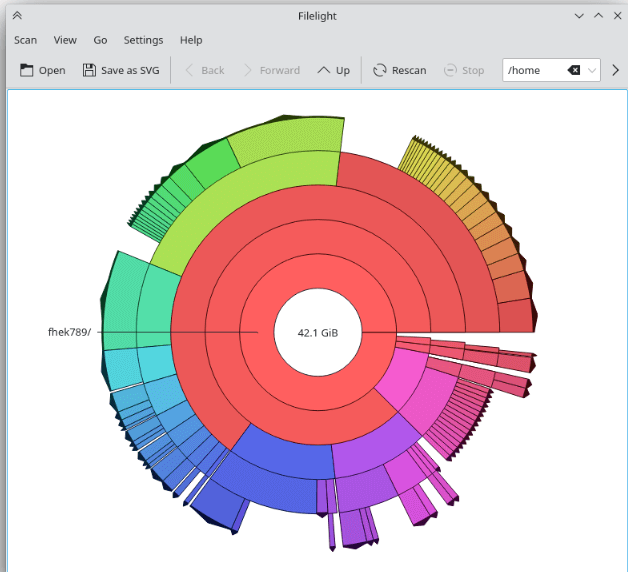 14. Krita (Digital Painting)
Krita is a free and open-source program that is used for sketching and painting. It gives a complete method for masters to create digital painting files from scratch.
Krita is a fantastic option for producing matte paintings, comics, rendering textures, and concept art. Numerous color palettes, including RGB and CMYK, are all supported by Krita at 8 and 16 bits for integer channels. 16 and 32 bits for floating point channels.
Enjoy painting with Krita's cutting-edge brush engines, incredible filters, and a plethora of useful tools.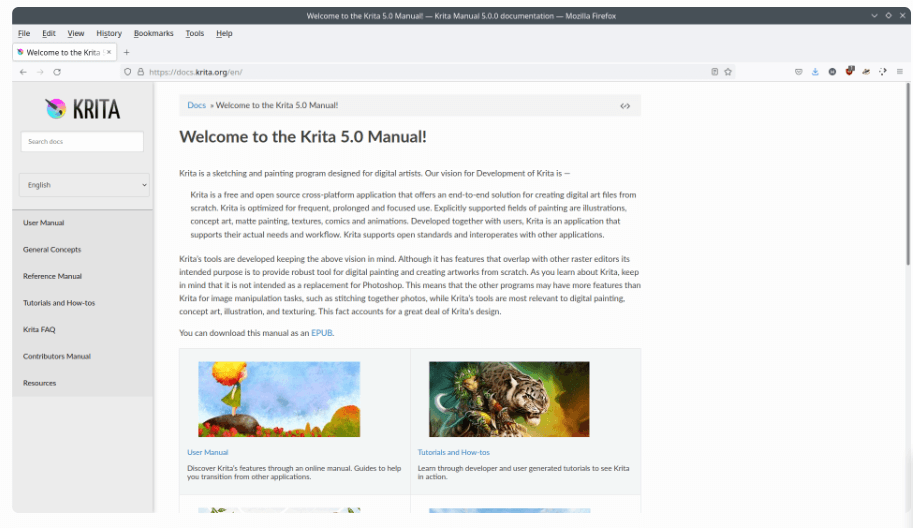 15. KHelpCenter (Documentation and Help)
As the name implies, KHelpCenter is an app that offers a single point of access to all of your KDE applications' and system utilities' documentation.
It can be launched from the command line, the program launcher, or the help menu of an application. KHelpCenter shows documentation from a variety of sources, such as man pages, KDE community apps, and more.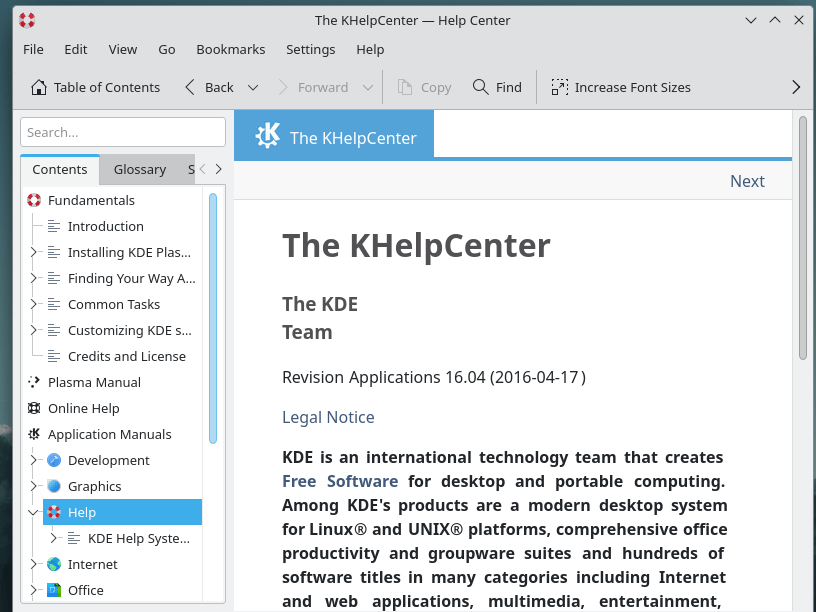 16. KColorChooser (Color Picker)
KColorChooser is an amazing tool for creating custom color palettes and color blending schemes. It can obtain the color of any pixel on the screen using the dropper function.
There are several popular color schemes present, including the oxygen color scheme and the typical Web colors. KColorChooser can be downloaded on KDE using Discover and other AppStream application stores.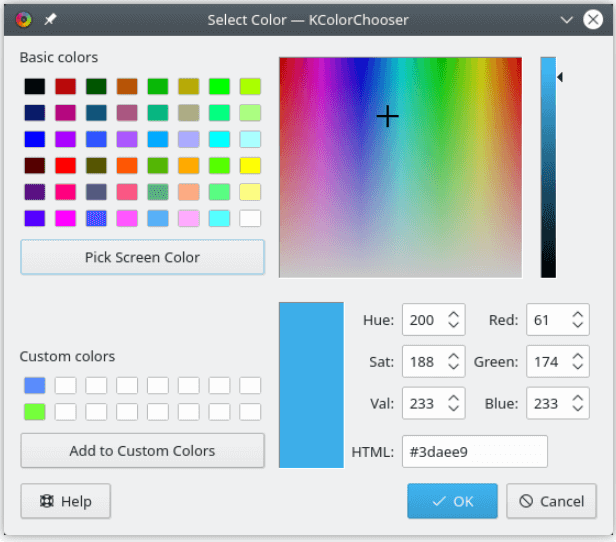 17. KGpg (PGP Key Manager)
GnuPG keys can be managed using the free and open-source encryption program KGpg. KGpg offers a graphical interface to create, manage, import, and export GnuPG keys. You can also use it to encrypt, decode, sign, and validate communications and files.
The steps below describe how to use KGpg to produce a new GnuPG keypair:
From the main menu, open KGpg by choosing Applications > Utilities > KGpg.
The application will walk you through the process of generating your own GnuPG keypair if you have never used KGpg before.
When prompted to create a new key pair, the dialog box that displays asks for your name, email address, and an optional comment.
Select your key's algorithms, key strength (number of bits), and expiration time.
In the following dialog box, enter your passphrase.
Within the main KGpg window, your key will show up. Look in the ID column next to the freshly produced key to find your GnuPG key ID.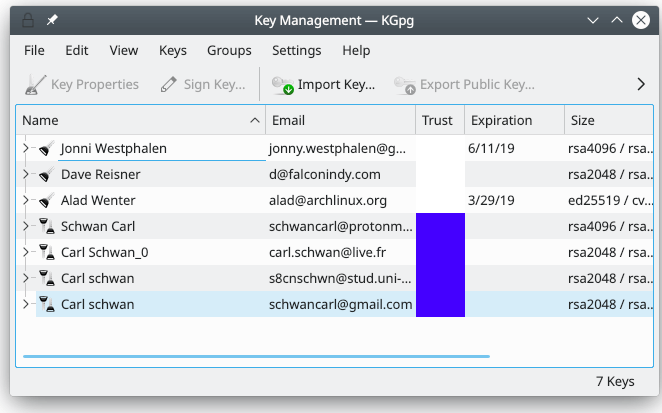 18. Kasts (Podcast Client)
If you're looking for a podcast application for your KDE Plasma desktop, Kasts comes in handy. Kasts provides an intuitive user interface (UI) and has a number of features, including variable playback speed, full system integration, episode management through play queue, and search for podcasts.
You can subscribe to podcasts using its subscription feature. Additionally, Kasts offers you the chance to make a playlist for continuous playback of your preferred podcasts.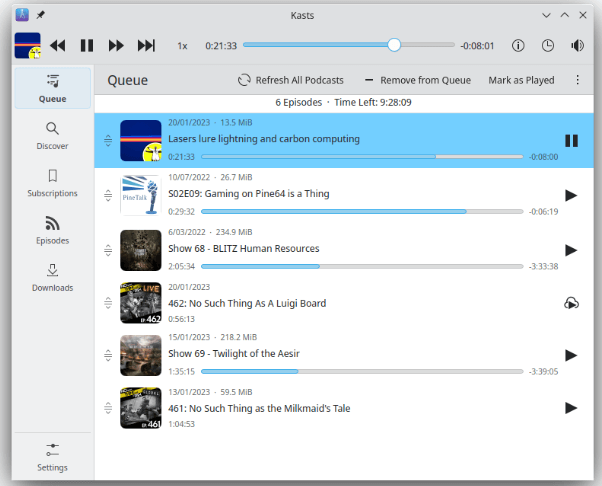 19. Alligator (RSS Feed Reader)
For Linux desktops, there are various feed reader applications that are mostly GTK-based. Introducing Alligator, a Qt-based feed reader for desktops running KDE Plasma.
It has the simplest user interface and offers capabilities like browsing and subscribing to feeds, as well as several ways to view them.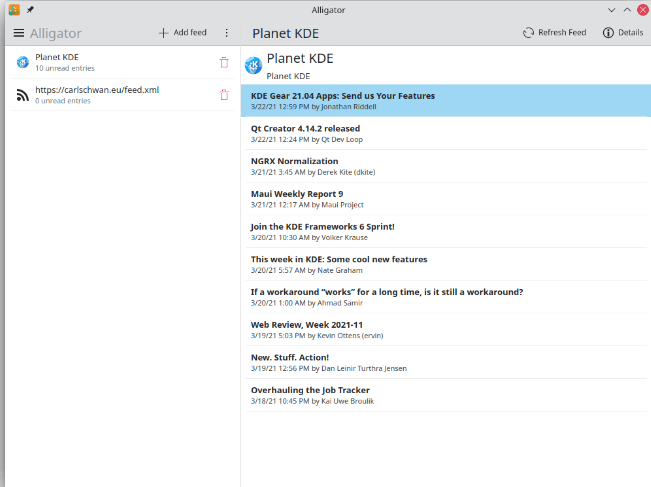 20. Krfb (Remote Desktop Sharing)
The KDE desktop application Krfb acts as a Virtual Network Computing (VNC) server, enabling other users to log in and view your screen via VNC clients.
This app has a wide range of settings, including an IP address and a connection to the system that requires a password. You may also set up the VNC service to broadcast to the LAN. For simple remote training connections and system assistance, Krfb is the ideal client.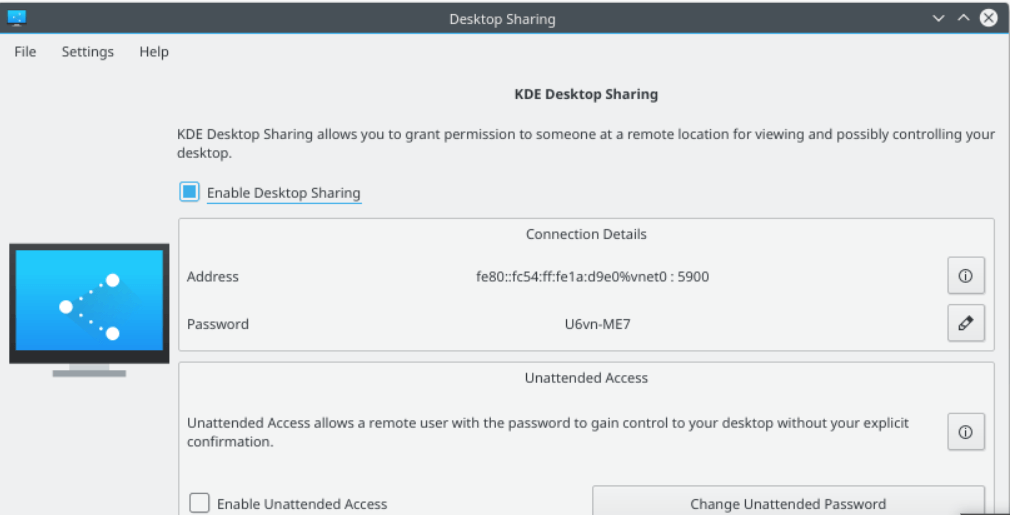 21. Pikasso (Image Viewer and Organizer)
Pikasso is an open-source simple drawing program that Is written using Rust and Lyon programming languages. This tool provides you with a blank canvas on which to sketch using mouse or touch motion.
Additionally, the fundamental colors and forms (circles, rectangles, and lines) are included. It's a great program for kids and is ideal for learning the basics of drawing.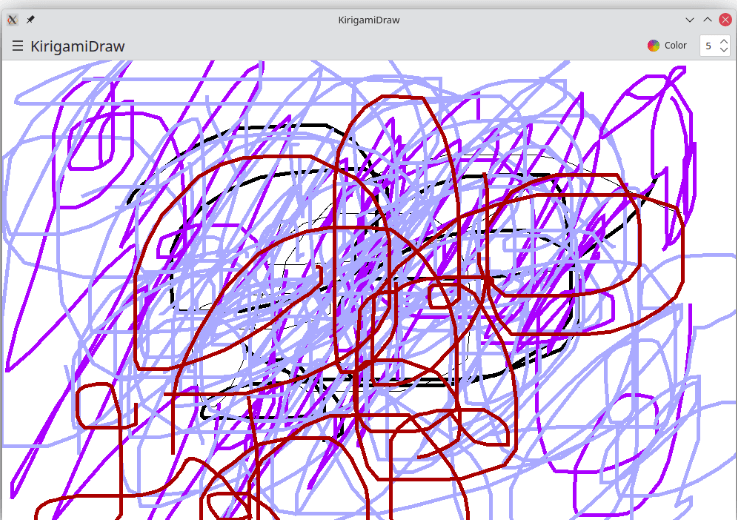 22. PlasmaTube (YouTube Client)
PlasmaTube is a desktop client for YouTube built with QtMultimedia and youtube-dl. With this application, you can watch videos and explore YouTube on your desktop.
It has extra features, including text searching and playlist subscriptions. When utilizing PlasmaTube, you can access the standard YouTube features like the view count, description, and playback control.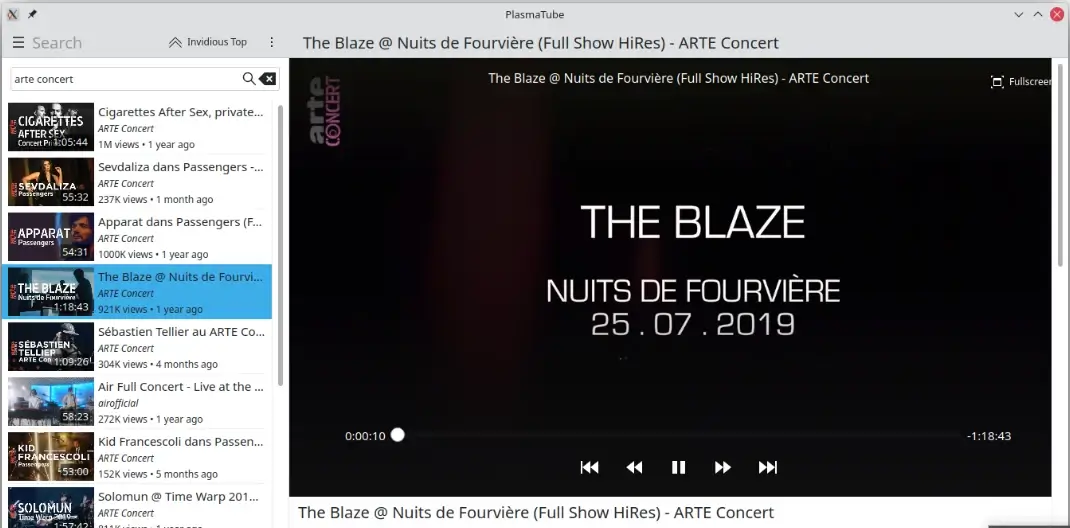 23. Khipu (Diagram Drawing Tool)
A graph plotter on your desktop is an essential app if you're a student or a teacher. Khipu is a sophisticated mathematical function plotter application that supports the following functionalities, 2D and 3D planes, dictionaries, and other features.
Additionally, Khipu's backend uses the Analitza library to perform its functions.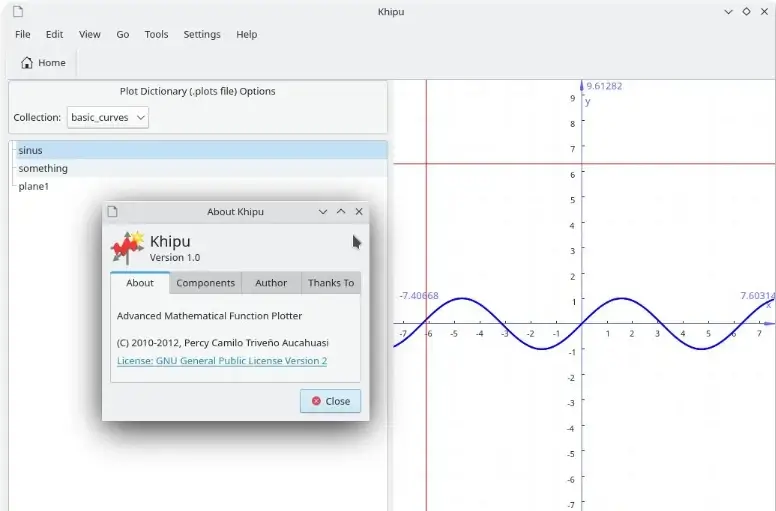 24. Kirogi (Drone Remote Control)
Kirogi is an open-source program that facilitates touch-based navigation and drone flight controls.
Additionally, you can control drones utilizing Kirogi's functions, such as flips and turns. It also supports joysticks and gamepads, live video feeds, customizing speed and altitude, and other features.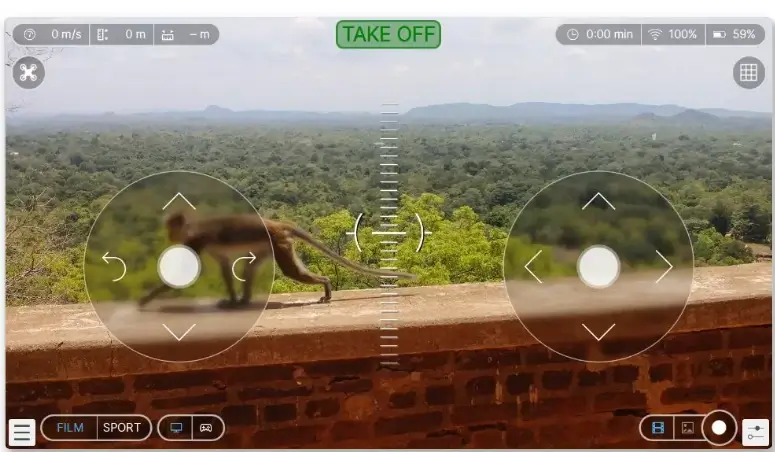 25. Vakzination (Health Tool)
Vakzination is an app that lets you manage all of your health certifications. With Vakzination, you can import any certificates that are based on PDF or QR codes. The certificates are then organized for you.
However, even though this application is designed for mobile phones, you can still install it on your KDE desktop using Flatpak.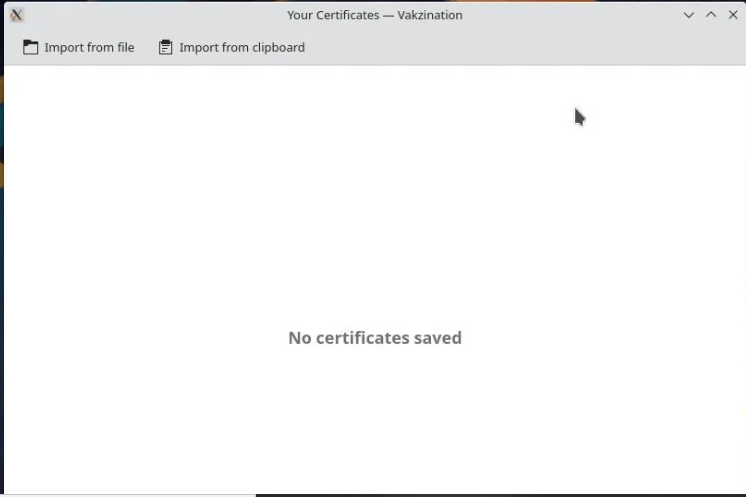 26. Nota (Text Editor)
Nota is a simple text editor with many features that you can use. The Nota text editor's key benefit is its responsive layout, which also works with Plasma Mobile.
Additionally, it has several tabs, a built-in dark mode, and syntax highlighting. Besides that, you can see a thumbnail view of the working text files during your session on its special overview page.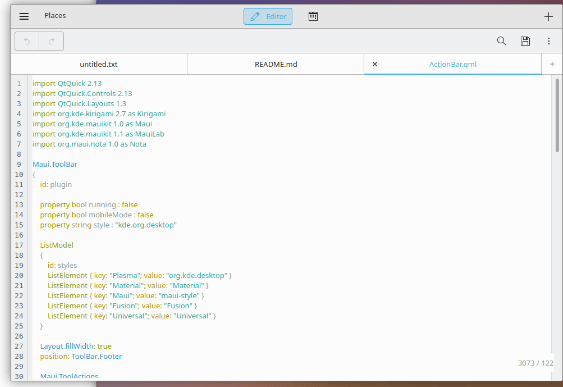 27. KDE Partition Manager
You can manage the drives, partitions, and file systems on your computer with the use of the KDE Partition Manager. You can also, quickly and without data loss, create, copy, transfer, remove, backup, restore, and resize files.
Numerous file systems, such as XFS, ext2/3/4, btrfs, reiserfs, NTFS, FAT16/32, and JFS, are all supported by KDE Partition Manager.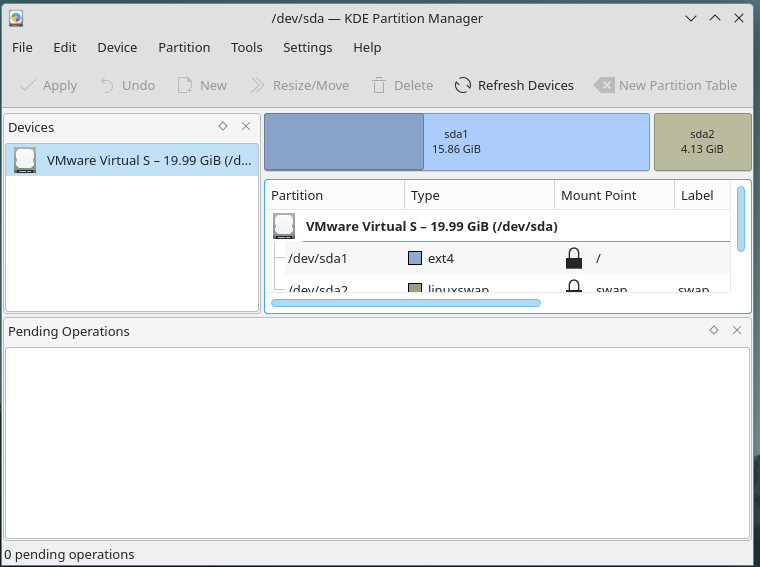 28. KSystemLog (System Log Viewer)
You can view and examine system logs on your computer using KSystemLog, a system log reader. To view log files, including kernel logs, system logs, daemon logs, and general journal logs, a graphical interface is provided.
KSystemLog has the ability to sift and filter log lines, as well as provide the admin with real-time alarm messages by email, text, and Slack. KSystemLog can be launched from the main menu. It attempts to open the /var/log/syslog file, which is the most practical log, by default.
You can choose other log files from the File menu or use the Open Log File button on the toolbar if you want to view other log files.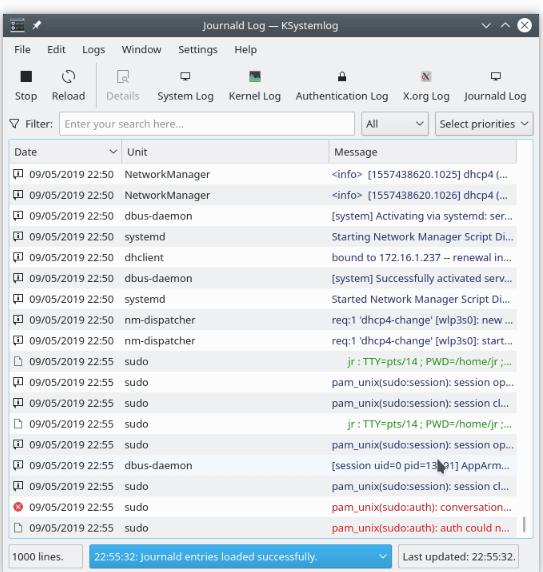 29. Yakuake (Drop-Down Terminal Emulator)
Yakuake is an open-source terminal emulator based on KDE Konsole technology that offers a tabbed interface, adjustable dimensions, animation speed, and a powerful D-Bus interface.
By navigating to Applications > System > Yakuake from the main menu, you can launch the app.

30. Skanlite (Scanning Application)
Skanlite is an image-scanning application included in the KDE Applications collection. It is designed to scan with flatbed scanners and, when used with supported scanners, can capture not only images and documents but also clear slides and film strips.
For the final scan, Skanlite offers a preview with a selection feature, and it can store photographs right away in a designated folder with automatically generated names and formats.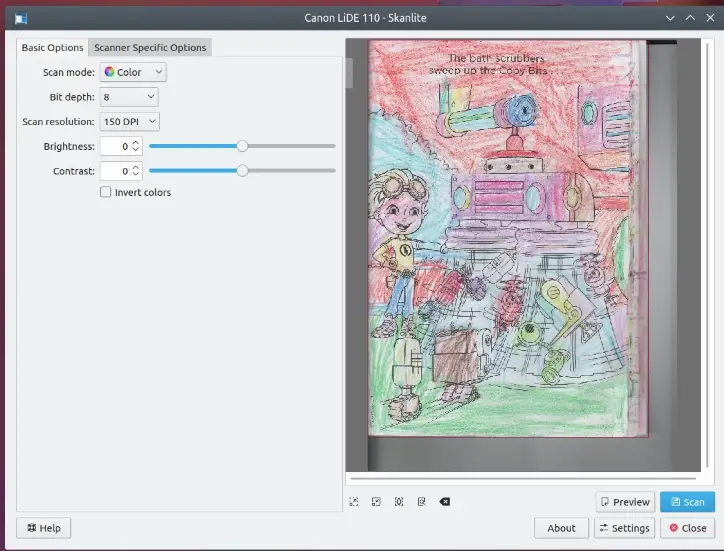 31. KolourPaint (Painting Application)
KolourPaint is a free, open-source painting program. It is similar to Microsoft Paint but with several extra capabilities, including rotation, color harmony, and support for transparency.
For sketching different forms, such as lines, rectangles, rounded rectangles, ovals, and polygons, KolourPaint offers a number of tools to choose from. Additionally, it allows text, lines, curves, selects, rotation, monochromatic, and other sophisticated effects.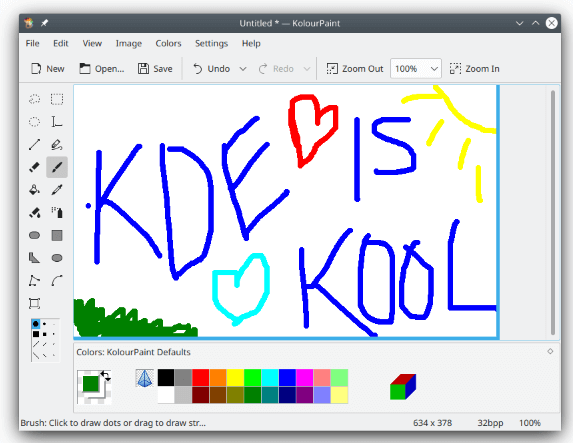 32. KMouseTool (Mouse Automation Tool)
KMouseTool is an open-source app that belongs to the KDE application suite. The app helps people who suffer from repetitive strain injuries and find it painful to touch buttons.
Every time the mouse cursor pauses for a split second, KMouseTool clicks the mouse. The amount of time that KMouseTool waits before clicking or dragging can be changed.
It's recommended to get familiar with KMouseTool's default settings before clicking. Particularly at first, you might want to keep Smart Drag deactivated. Once you feel confident clicking, practice using Smart Drag.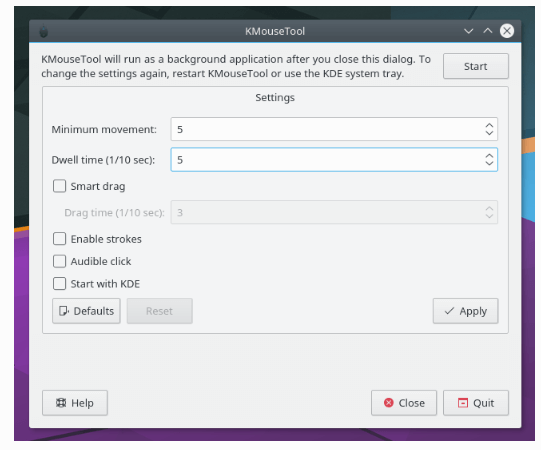 33. Kompare (Text File Comparison)
Kompare is a GUI front-end tool that makes it possible to view and merge discrepancies between source files. It can be used to compare changes to files or folder contents, and it supports a variety of diff formats and offers a wide range of settings to personalize the information level shown.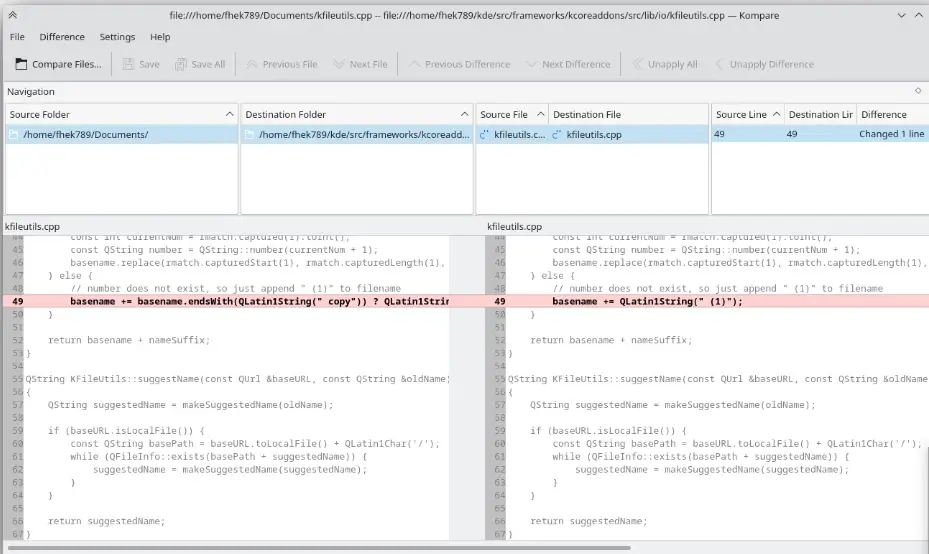 34. KTorrent (BitTorrent Client)
KDE's KTorrent is a BitTorrent program that enables you to download files by means of the BitTorrent protocol. It has extensive capabilities, including connection through a proxy, system tray integration, queuing of torrents, and global and per-torrent speed limits.
Besides that, this app has built-in functionalities such as support for webseeds, support for torrents and private trackers, support for µTorrent's peer exchange, and more.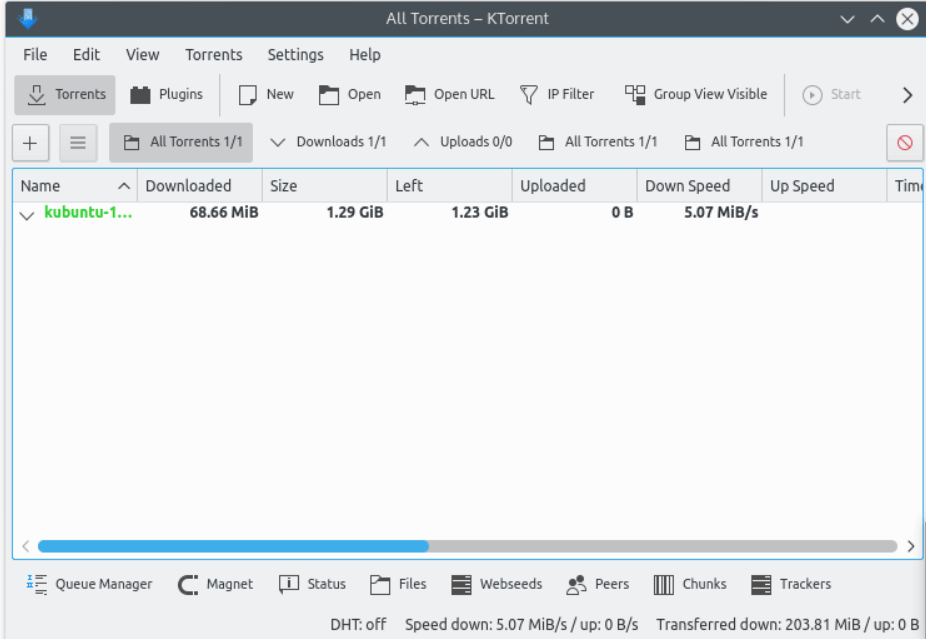 35. KTimer (Timer Application)
The KDE Applications collection includes the timer program KTimer. With this app, you can customize the text, color, and sound settings. In addition, you can enter multiple tasks and set a timer for each of them. It is possible to start, stop, modify, or loop the timers for each activity.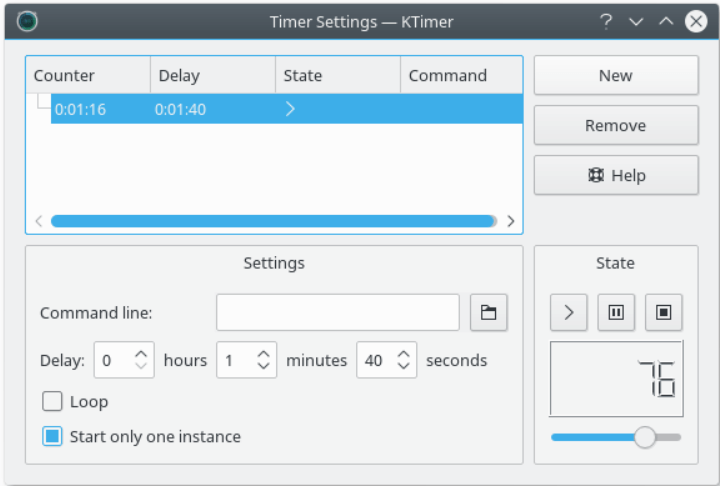 36. KDevelop (Integrated Development Environment – IDE)
KDevelop is a free open-source feature-rich integrated development environment (IDE) that offers excellent code completion, project management, and documentation integration to keep you in close proximity to the code you're editing.
Besides that, it supports several programming languages, including PHP, C, C++, Python, and JavaScript. Also, it supports QMake and CMake.
Additionally, It has a Git plugin that offers functionality for editing, navigation, and debugging for several programming languages and integrates with numerous build and version-control systems.
KDevelop works well with large-scale software projects—such as KDE or Qt—where development occurs across several interrelated frameworks and libraries.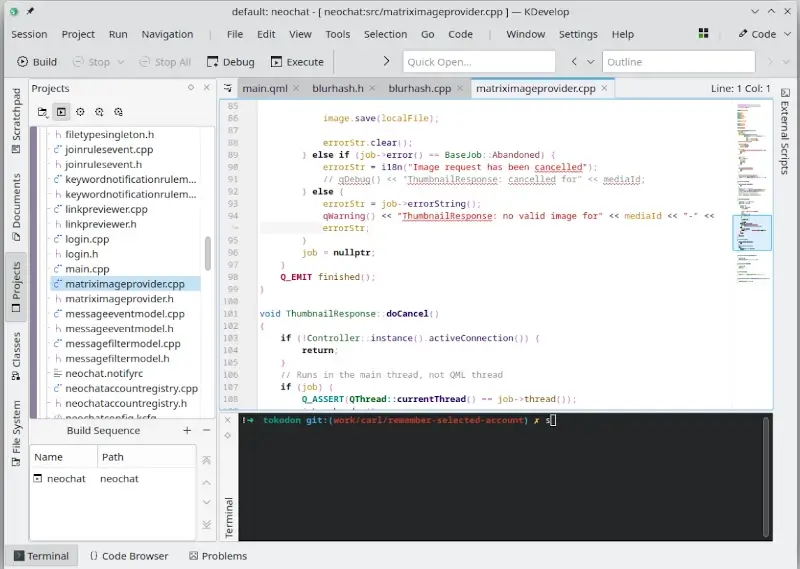 37. Kopete (Instant Messaging Application)
Kopete is a free, open-source instant messaging client that supports several protocols, including Gadu-Gadu, Novell GroupWise Messenger, AIM, ICQ, Jabber, and more.
It is designed to be an adaptable and expandable multi-protocol system that can be used for personal and commercial uses.
Users have access to all of their instant messaging platforms through a single, user-friendly interface. The user interface prioritizes people and allows you to access your contacts from other KDE apps by integrating with the system address book.
With Kopete, you can improve your instant messaging experience with tools like message encryption, archiving, and a ton of other entertaining and practical features. Because of the many features the API provides, developers can easily support a new protocol. Every protocol is a plugin that enables configuration, modular installation, and usage.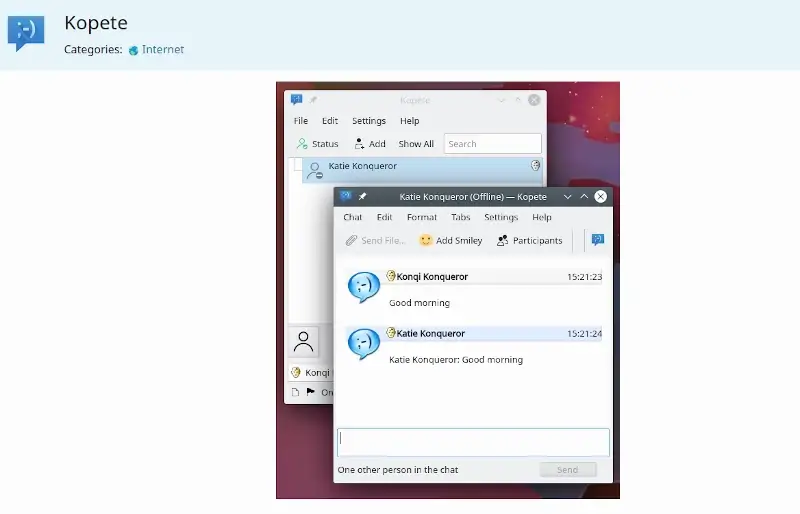 38. Kontact (Personal Information Manager)
Kontact is a free, open-source personal information manager (PIM) that is designed to help you manage feeds, news, tasks, calendars, contacts, emails, and more.
Several personal information management tools are combined into one window with Kontact to provide you with the best possible experience and increase productivity.
Additionally, it comes with several integrated tools, including KNotes, which is the computer equivalent of a sticky note; Akregator, a news reader with robust search and archiving capabilities; and KMail, an advanced email client with a plethora of features that supports numerous email providers.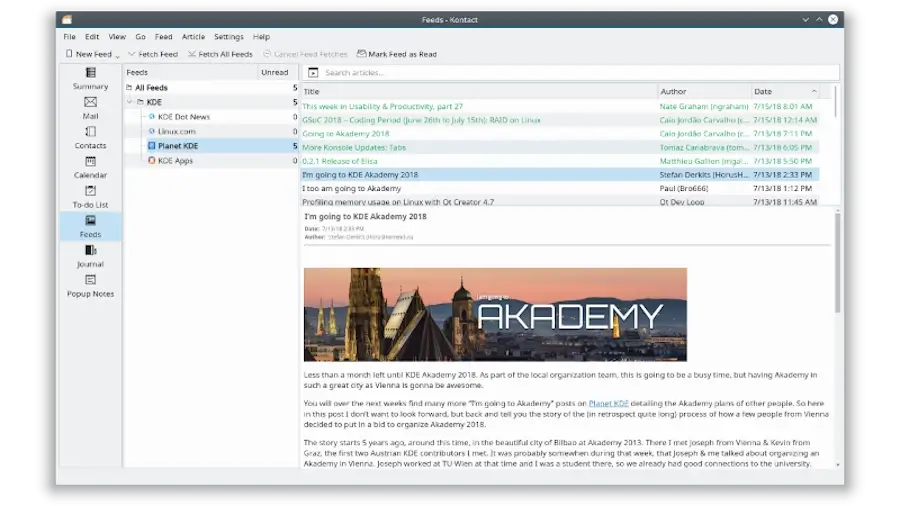 39. KOrganizer (Calendar and Scheduling Application)
The integrated personal information manager from KDE, Kontact, has a calendar and scheduling component called KOrganizer. It offers collaborative scheduling, alarm alerting, online export, network transparent data processing, event and task management, calendar file import and export, and more.
In addition, it accommodates numerous calendars and to-do lists, and it is completely adaptable to your requirements. Besides that, it supports vCalendar and iCalendar, the two widely used protocols for storing and transferring calendar data.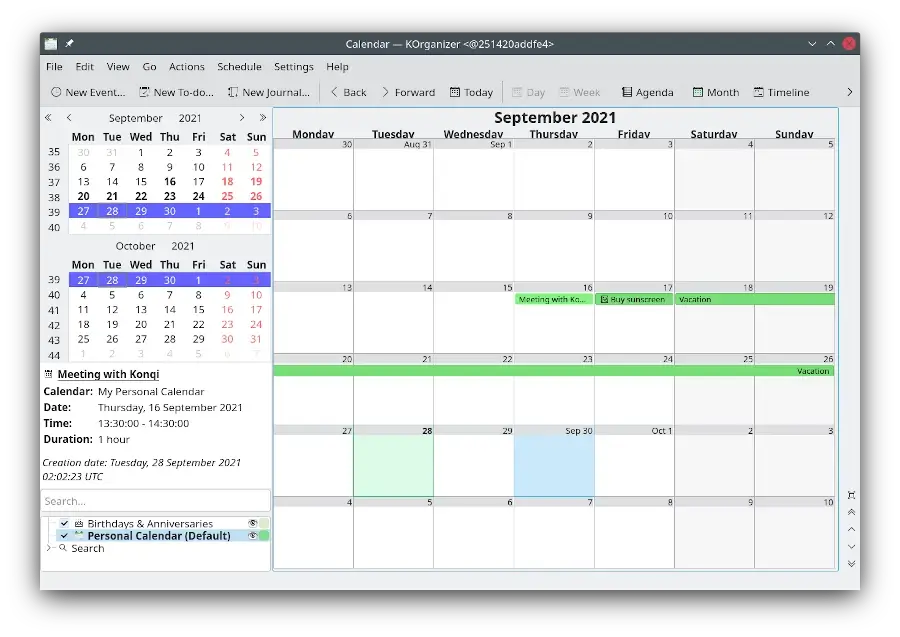 40. KMail (Email Client)
The cutting-edge email client KMail works effectively with renowned email services like Gmail. Kmail offers a plethora of tools and features to optimize your efficiency and streamline the process of handling huge email accounts.
Numerous email protocols are supported, including Microsoft Exchange (EWS), POP3, IMAP, and others. The features this tool packs include mailing list administration, flexible configuration, advanced filtering, multiple sender identities, multilingual support, and offline support.
On top of that, avatars, cryptocurrency preferences, address auto-completion, and meeting invitations are all simply integrated as events into KOrganizer by loading them from KAddressBook.
To that end, KMail offers excellent support for end-to-end encryption and secure default settings to safeguard your privacy and spam detection.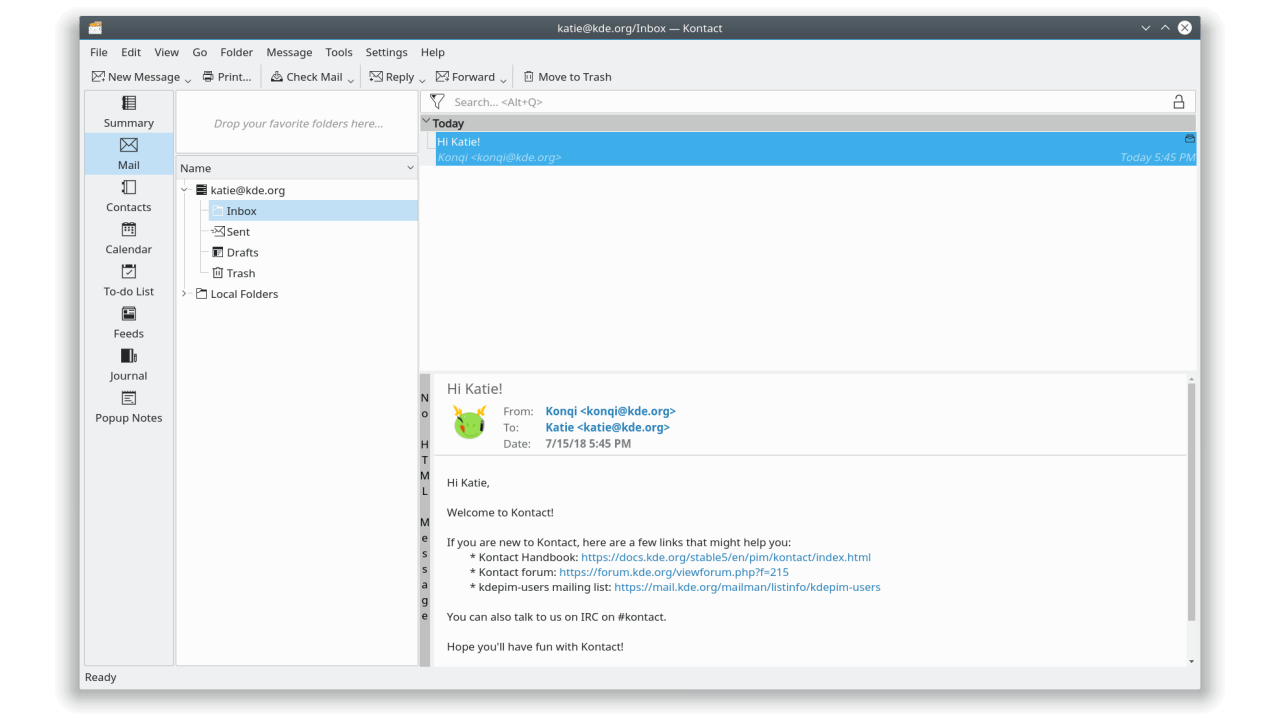 41. Falkon (Web Browser)
Falkon is a free, open-source newly developed, fast Qt browser. The original intent for starting this endeavor was solely educational. However, Falkon has developed into a feature-rich browser since its inception.
Falkon includes every feature you might anticipate from a typical web browser. It has tabs, bookmarks, and history (all of which are present on the sidebar). Above that, an integrated RSS reader, an integrated AdBlock plugin, Click2Flash to block Flash content, an SSL manager to change the local CA Certificates database, and an RSS reader to manage RSS feeds are all available.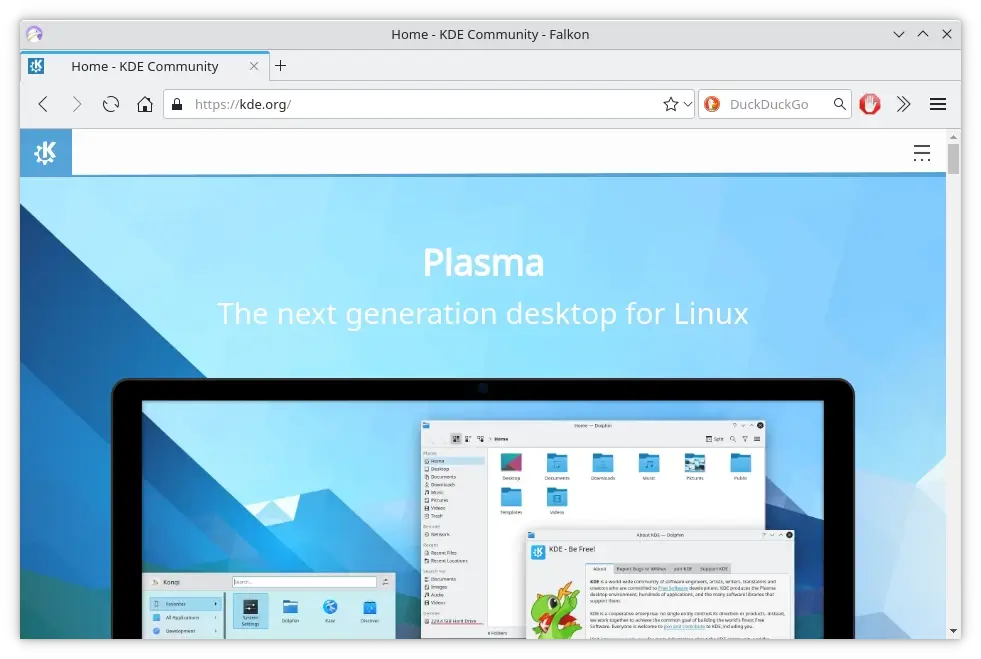 Best KDE Software for Linux Desktop Users FAQs
This FAQ section answers commonly asked questions about the Best KDE Software for Linux Desktop Users.
1. Is it possible to contribute to the development of KDE applications?
Yes, It is possible to make contributions to the KDE application development process. Global developers are invited to contribute to the open-source KDE community.
You can become a member of the KDE development team, create new features, and solve both intricate and basic bugs. Developers work together in groups according to the project they are working on.
You can visit the KDE Community Wiki's Get Involved/Development page to get started. This page offers comprehensive guidance on how to contribute to KDE development, including build instructions, necessary skills, and suggested operating systems.
2. Can I use KDE applications on other Linux desktop environments?
Yes, It is possible to use KDE applications on an alternative Linux desktop environment. Any Linux desktop environment, such as GNOME, XFCE, and others, can run KDE applications.
The cross-platform application framework Qt Toolkit is used in the development of KDE applications. This implies that KDE programs can function on Windows, macOS, and others.
Running KDE apps on a desktop environment that is not KDE-based requires installing the necessary dependencies. To accomplish this, the simplest method is to install the kde-runtime package, which contains all the necessary libraries and services.
3. Are these KDE applications free to use?
Indeed, using KDE apps is free, because the KDE community is an open-source platform that creates free software, you can typically download and install KDE products for free.
4. What sets KDE applications apart from others?
Applications from KDE are renowned for being configurable and flexible. They provide a large selection of customization choices so that users can personalize their experience.
Above that, network transparency is another feature of KDE programs that lets users access files on other computers and networks with ease. In addition, KDE boasts a vast ecosystem with hundreds or even thousands of programs that are made to function flawlessly with one another.
5. How can I install KDE applications on my Linux distribution?
The KDE software is made up of a variety of apps, KDE Frameworks, which are collections of libraries that these applications are built upon, and Plasma, which is a desktop environment for these applications to run.
KDE programs function flawlessly in every desktop setting. Applications developed for KDE are designed to work well with the components of your system.
To download and install these KDE apps, you can use Discover, which is the default package manager for the KDE Plasma desktop environment. It lets you manage software from several sources, such as the AppImages from shop.kde.org, the Snap store, Flatpak repos, and the software repository of your operating system.
Discover can also be used to locate and install tools, games, and programs. Alternatively, you can use your distribution package manager for installation purposes.
Conclusion
That said, there is an app for everyone and anything, thanks to the KDE community. Need a program to create digital graphics? You have Krita. Install Kast if you need a podcast program.
The availability of such a sizable selection of free software makes the switch to KDE for newcomers much simpler.