I have written about a good number of alternative Evernote clients before (e.g. Whatever, ForeverNote, and TagSpaces,) and I even went on to compile a list of the Top 6 Alternative Evernote (Note Taking) Clients for Linux which does not include any of the aforementioned apps.
The list of Evernote clients for Linux just keeps increasing and Electron has been playing a significant role in the development. This time around, some members of the beautiful open source community has come up with what they claim to be a refined Evernote desktop app in the name of "Tusk".
Tusk is an unofficial open-source Evernote client built using Electron to house all the features the standard Evernote web client provides together with some extras like more color schemes and a wider set of keyboard options for creating and managing notes.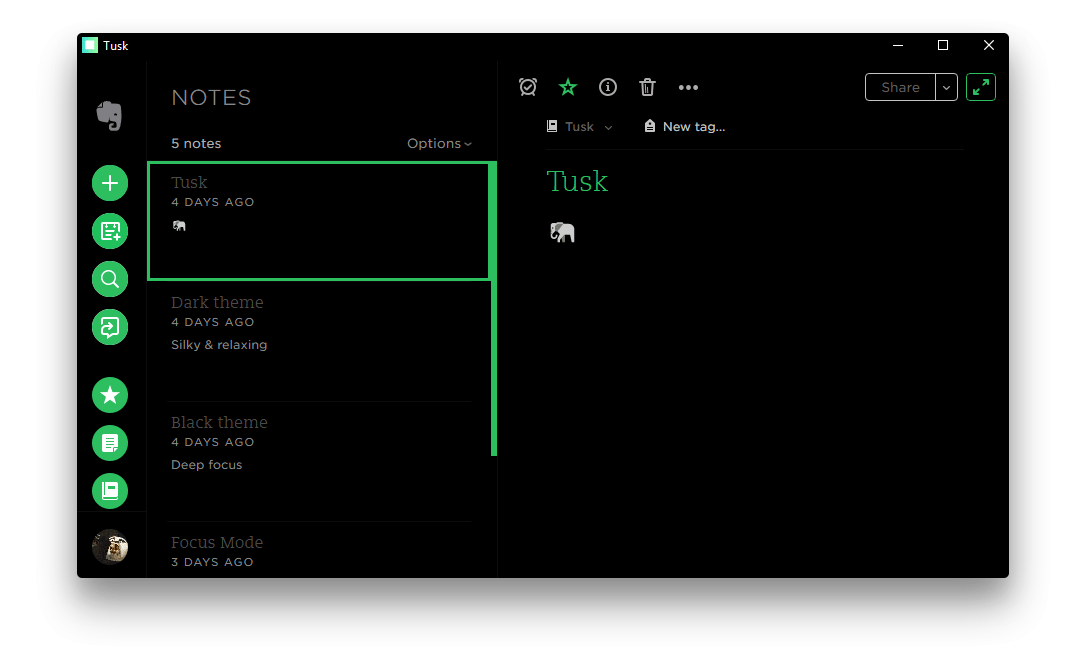 Features in Tusk
FOSS: Free to download and use with its open source code available on GitHub.
Theme customization: Light, Dark, and Black themes.
Focus Mode: a fancy way of saying distraction-free writing.
Compact Mode: Tusk has a responsive window UI.
Keyboard Shortcuts: as is expected, Tusk supports keyboard shortcuts for quick note navigation and Markdown entry.
In comparison to the other Evernote alternative clients for Linux, I've come across I haven't seen anything special about Tusk. Its main features are the extra theme options it provides its users and probably it's passion for minimalist design.
Tusk has listed features like code block highlighting, note printing, app pin lock, and automatic night mode, among others, as upcoming updates on its GitHub page so I look forward to seeing how those work out for the project.
Left to me alone Evernote Web does the trick just fine. But if you want to be able to create and manage notes while you're offline then you might just need to grab yourself a copy of Tusk. Try it out and see if you don't like it.
[mks_button size="medium" title="Download Tusk for Linux" style="squared" url="https://github.com/klaussinani/tusk/releases" target="_blank" rel="nofollow" bg_color="#46698E" txt_color="#fff" icon="fa-download" icon_type="fa" nofollow="1″]
Would you give Tusk a try or are you already comfortable with your current Evernote client? Do you even use Evernote for note taking? Drop your comments in the section below.